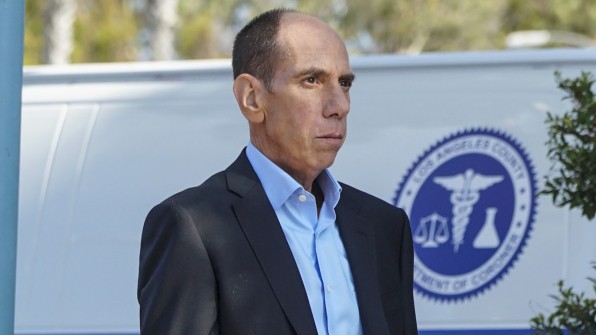 The NCIS: Los Angeles conspiracy has been building for two years and is now coming upon its conclusion. Before we dive into the intricate unraveling of this particular episode, we have to acknowledge one part of the narrative we are already certain of. Even if you've believed our heroes would all come out unscathed, we unfortunately have to accept that the tragedy of reality will play a part in what's coming. As we watch the truth unfold in part two of the three-part conclusion of this storyline, we know of one NCIS agent who will not survive. The passing of Miguel Ferrer has been a difficult blow to the show and to much of Hollywood, as the actor was born into the business which embraced him as one of the underrated greats. The show set up the story early in the season which put a clock on Owen Granger's time left at NCIS, and accelerated that clock during this conspiracy story. Whatever the consequences for the rest of the characters, and whatever direction the writers have chosen to take, we must prepare ourselves to say goodbye to Granger as we have had to for Ferrer.
Until we reach the day we say goodbye to a member of the team, we have to understand how it will all unfold. Deeks, Sam, and Callen remain in the custody of LAPD, DEA, and ATF, while Granger is in critical condition in the hospital. Dugan, the one man who could have made a difference, was killed instantly by the sniper. I'd say it couldn't get worse, but it seems that with every second it does. The good news is that the NCIS team is much more resilient than any of their captors. Deeks even makes friends with the prisoners sent in to intimidate him!
Hetty has no choice but to go completely rogue if she's going to find out who wants them all dead before. She orchestrates the "escape" of NCIS traitor Carl Brown and his attacker Vincent Garvey. Unfortunately for Carl, Hetty is done being nice. Intimidating Carl won't work and it also has no use. Using Carl as bait is much more effective. Kensi takes the reigns of the Office of Special Projects and works quickly to get communication going between the team at their various detentions. Before she can get to Sam, her friend from rehab Sullivan kidnaps her. Deeks has no choice but to make a deal with the Detective Whiting to reveal everything they want to know if they help him get Kensi back.
After two years of searching, a random email trace reveals the CIA contact who betrayed NCIS. It was none other than Sabatino, and their other friend CIA contact Sharov, who they rescued last year in Russia. That doesn't answer the question of why the CIA started all of this in the first place. Apparently Sabatino and Sharov didn't care for the way NCIS interfered in their operations in the Middle East. Their idea of 'warning' NCIS to back off was multiple attacks on them. Sabatino and Sharov thinking they could outwit Hetty is laughable. She sets off a bomb, which unfortunately only knocks out her captors, giving Carl the chance to shoot Detective Whiting. She was actually on NCIS's side so she is a good person deserving of a second chance, yet we can't help but worry because she now knows that Deeks is guilty of the crimes she accused him of.
Before Hetty blows them all to Kingdom Come, she gets Sabatino and Sharov to reveal that Kensi's captor is actually CIA Agent Ferris. For Ferris this goes all the way back to the first time Kensi went on assignment in Afghanistan. In the course of the faux White Ghost investigation Kensi accidentally hit Ferris's leg with her rifle. She is the reason he is an amputee, and Ferris believes in an eye for an eye. We can only hope fate intervenes before Ferris causes serious damage to Kensi.
Rest in Peace Miguel Ferrer. Thank you for the memories.
Tell us what's wrong with this post? How could we improve it? :)
Let us improve this post!