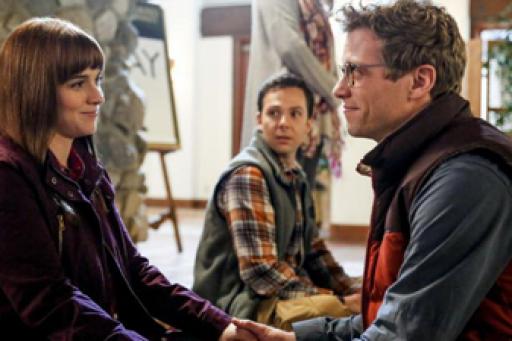 Spring has sprung, and to quote the wise old owl from Bambi, everyone on NCIS: Los Angeles is Twitterpated! (I use this in the original context before Twitter was created.) It's actually that much sweeter that we are using this term in the context of couples who have known each other for years. Friendship led to something more for Kensi and Deeks, and now it's time for another OSP twosome to take the next step in their relationship. Sometimes if you're willing to take a chance, the view is sunnier from the other side.
NCIS is brought in to help the NSA investigate a cyber attack on the U.S. Treasury where a list of undercover IRS agents and their targets. One suspect is found dead. The other suspects are a married couple named Tara and Paul Nelson, both of whom have the tech experience to break into the U.S. Treasury. They are the only ones who could have the data to sell to the highest bidder. Though Kensi and Deeks usually go undercover, for this particular assignment they just don't fit. Eric and Nell go undercover at a couple's retreat where the other suspects in the cyber attack are. Ironically it is a couple's retreat where the best tech of the tech world come to disconnect. Nell and Eric connect with each other so well, we are all Kensi and Deeks going "Awwww".
While the OPS geeks are away, Dave Flynn from the NCIS Cyber division takes over in their absence. The good news is that Eric is distracted by the fear of pants to be too worried for long about someone else playing with his toys. Dave guides Sam and Anna to Trevor Young, the man who murdered their first suspect. He is not helpful since he and his killer end up dead. Tara and Paul Nelson are quite pleasant for potential cyber terrorists. They bond with Eric and Nell instantly. When Eric and Nell catch up to them after a time, they are informed that Tara was forced to cooperate because her sister was kidnapped. Sam and Anna get to Tara's sister just in time, while Eric proves what a long way he's come by blowing up the terrorist who blackmailed the Nelsons. As a reward Nell treats Eric to one whopper of a kiss! Hetty's going to have her hands full with all these couples in the office.
Hetty sends Callen on a special assignment that is probably not great for his health. To say that Callen was angry by her betrayal is an understatement. To find out that Joelle had a loving husband and son waiting at home the entire time she was "investigating" Callen is infuriating. Now maybe Callen could get over it from the perspective of an agent. He himself has had to assume the role of the loving boyfriend for the sake of the case. For that particular reason Callen can happily let Joelle go. For her to say she never knew and doesn't have any current knowledge of the ridiculous vendetta her CIA friends had against NCIS is appalling. I think we can all agree we'd love to insult her for being a terrible agent in that respect. Maybe one day she'll be arrested by her own and get her comeuppance, but I digress. The real point Hetty was trying to make is that whatever Joelle is, he's better off now. The team is finally on even footing again, Anna is his perfect match, and he has a relationship with his family, something he never thought would be possible. Perspective was the point.
Is NCIS: Los Angeles turning into the NCIS love nest?