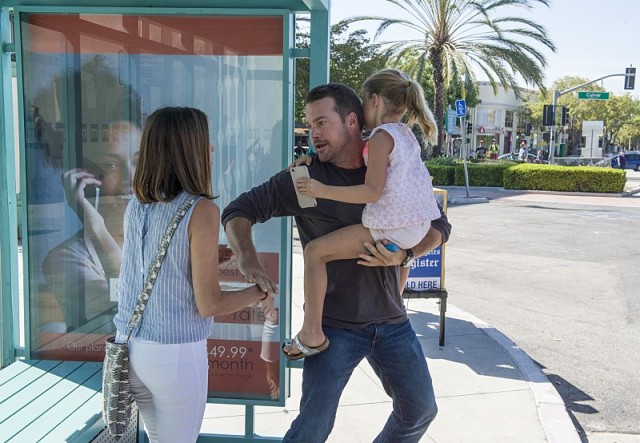 This week's episode of NCIS: Los Angeles is no ordinary episode. It's the show's 150th! There's so much excitement and so much action I feel like eating cake! I'll do that later. For now, I'll just recap.
The day starts out normal enough. Callen and Sam close a case after a long night and reward themselves with a smoothie breakfast. Their day is rudely interrupted when a random cellphone is dropped on their table, and the caller challenges them to save a square full of people before a bomb detonates. Ordered to ditch their phones and ear wigs, the team immediately knows that something is awry.
Sam and Callen actually meet with their caller who takes great pleasure in giving them orders and threatening to blow things up. Deeks and Kensi are dispatched to find the bike messenger who dropped off the phone to Sam and Callen, but can't exactly ask a dead body questions. Therefore, they are forced to just trail Sam and Callen's breadcrumbs and do manage to get a little info about the caller as well. The dirtbag is Chad Brunson, brother of Tyler Brunson, a criminal taken out by Sam during last year's "Third Heart" episode. It's part revenge, part sick amusement. This case is urgent enough that Nell and Granger are also needed out in the field to track Brunson's bomb. Their work narrows the search the core four have to do before the bomb reaches the Los Angeles Convention Center. They stop the bomb and Brunson but are still left with the troubling fact that Brunson was able to get their names from someone inside NCIS.
Another way to make this episode standout was to feature some key Densi scenes. The operation the team was working before all this craziness brings up the subject of money between the couple. Deeks is a simple guy with simple tastes, and Kensi doesn't need the finer things in life either. However, even a guy with simple tastes can't help but want to spoil his girl every once in awhile, and Deeks feels a bit insecure knowing he doesn't have the means to give Kensi the world. No amount of money or lavish gifts make up for the happiness that Kensi feels everyday just eating breakfast at home with her boyfriend, and she tells him so.
You can't have a great episode without a little quirkiness, which per usual is provided by Eric Beale. Eric was serious about firearms training and has also been taking jujitsu. Well, attempting jujitsu. Sam may need to do a little more hands on training with Eric…and maybe get him a helmet just in case. He'll definitely get assistance from Nell, who is sure to be riding a new wave of confidence after Granger compliments her on her skills. All in all, I could not have asked for more from this episode.
Was the landmark 150th episode of NCIS: Los Angeles everything you hoped it would be?
[Photo credit: Neil Jacobs/CBS]