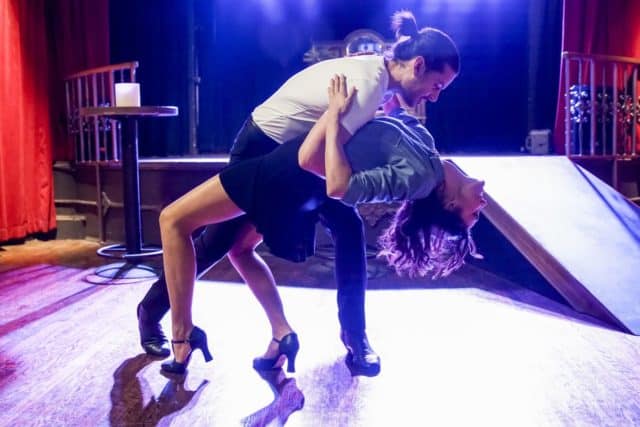 NCIS: Los Angeles has been waiting a long time to showcase Daniela Ruah's dancing skills. Finally, a case comes along which gives her character Kensi the opportunity to use her extracurricular hobby at work. Read on if you want to know how stopping the leak of classified information led to Kensi slipping into her ballroom heels and taking a criminal for a spin around the dance floor.
NCIS usually doesn't get called in on wild goose chases, but since this one is serious enough that someone gets killed, they make an exception. Victor Larmont is the disgruntled ex of a woman who designs nuclear tech submarines. He is desperate for money, so the legitimacy of his claims is questionable. However, someone is trying to kill him, so NCIS has to investigate. His ex Rebecca claims to know nothing. She's happily moved on with a Cuban doctor named Alonzo Raul, who is well off enough to buy her a Porsche. The game of playing one ex over the other is tedious, but it must be done in case there is actually something there that compromises more than a marriage.
Kensi and Deeks go undercover at the club where Victor works, Deeks as a custodian, Kensi as a dancer. Years of dancing with her girlfriends have given Kensi skills! As if grinding all over Kensi wasn't a good enough reason to dislike her dance partner Perez Bianco, the guy is a loan shark. The reason Victor was so hard up for money was because he was behind on payments to Victor for his divorce lawyer. Victor is just a puppy who got mixed up with the wrong owners. Luckily he's able to find some inspiration by teaching Deeks how to dance to impress Kensi.
At the club, Kensi discovers a Swann Tranceiver Ham radio. Don't be fooled by its simplicity. These radios are dangerous now because there is no digital record, and the codes are manual and hard to crack. This is like Christmas for Hetty, being able to teach old school spy work. Victor Larmont was right all along. His ex-wife was selling classified information from her job, it just wasn't willingly. Her lovely fiancee was a defected Russian spy who used her bird drawings to hide the blueprints for the submarine, and partnered with Perez Bianco to communicate drops. Callen and Sam may have stopped Raul, but Kensi gets bonus points for disarming a man while dancing!
Check out Daniela Ruah's dancing skills from her time on the Portugese version of Dancing With The Stars.
NCIS: Los Angeles Season 8 Episode 20 Review: "From Havana With Love"
Summary
The latest NCIS: Los Angeles case gives Kensi an excuse to use her Latin ballroom dancing skills.