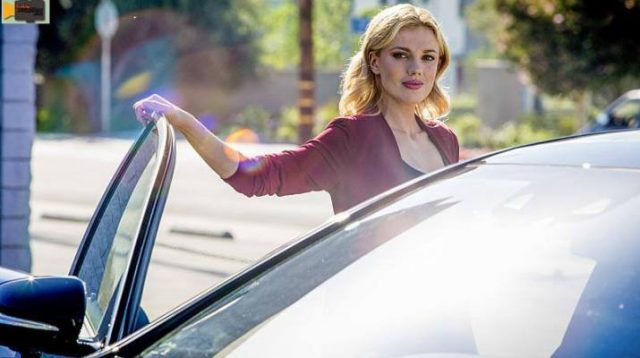 If you thought NCIS: Los Angeles was short-handed with Kensi down (portrayer Daniela Ruah filmed her current scenes before her maternity leave), this episode strained everyone a bit further. Not only was Kensi out, but Deeks and Sam also spent the day away from this week's case to deal with other important matters. When you're down three agents, it's time to call in reinforcements. Anna Kolcheck returns to help her Los Angeles friends while they're short-handed, and enjoys her reunion with a certain special agent in the process.
Hetty gives Deeks the day off to be with Kensi, which puts NCIS down by two. Luckily they have a secret weapon. Anna Kolcheck has been working as a Special Deputy Marshall in Chicago, but has decided to move back to Los Angeles. Since she's licensed with another agency, she can help NCIS with their current investigation while her transfer paperwork goes through. This makes for some very interesting sparks between Anna and Callen. We can assume they got very friendly when Anna was last in town, especially after Callen helped rescue her father. He certainly seems happy to see her. Anna, Callen, Nell, and Granger investigate the shooting of Brandon Noah, a Navy machinist who was working on a classified drone project. He was paying a debt to a defense contractor buddy with a lot of quick cash. Noah was working a side job at a body shop that specialized in custom auto parts. What they're actually manufacturing are illegal receivers for AR15 firearms. Anna is already inside checking out the private office filled with full cases of the guns when she comes face to face with the shop's owner and Noah's shooter. Lower recievers are the only parts of these machine guns you can't buy online (debate the ease of access to weapons in the U.S. among yourselves). Noah figured out the shop's true purpose. Callen, Granger, and Nell take care of the gunmen who depend on the number of bullets instead of their aim, while Anna takes care of the shop's owner. Don't ever threaten a Russian spy unless you can follow through on the threat. Talk is cheap.
The team is already stretched to its limit, but if they don't find the mole soon, everything could get much worse very quickly. Hetty lets Sam in on the deal she made with the government. If they don't find the mole in 83 days, Hetty will no longer be apart of NCIS, and the entire Los Angeles Office of Special Projects could be at even greater risk. She sends Sam to visit Carl Brown in prison. Remember Carl admitted to being the mole two years ago. Sam finally gets to the bottom of just why Carl admitted to being the mole. Carl's weak spot is the woman who convinced him to do so. Sam finds out from another inmate that a $50,000 bounty has been put on Carl's head. It's only a matter of time before Carl is taken out by the woman he loves. News of his impending death gets Carl to finally give up a name-Natalie Grant. After Carl admitted to Sam that he knew the information would make Sam's son a target, I'm not inclined to say Carl deserves the mercy Sam showed him.
Deeks's mother is all worked up about Kensi's sporatic coma movements. Mama Deeks is convinced that Kensi will miraculously wake up, but she's also been watching way too many movies while sitting vigil with her future daughter-in-law. Deeks wants nothing more than for Kensi to wake up, but he also needs to prepare for any and all possibilities. If and when she wakes up, it's possible she might not bounce right back. They were warned that Kensi's spinal injury could put her at risk for partial paralysis. Kensi is making significant improvement, 50% from when she arrived according to her doctor. She's probably fighting to wake up just to tell Deeks to stop making sad, sorry jokes with the doctor. Her fiancee's voice does the trick. Kensi finally wakes up, but can't use her left hand. Considering she just had a month of beauty sleep this could be temporary, or it could be what Deeks feared.
Should Anna stick around the NCIS Office of Special Projects even if Kensi does return to full form?
NCIS: Los Angeles Season 8 Episode 5 Review: "Ghost Gun"
Summary
Anna Kolcheck returns to help NCIS: Los Angeles while they are short-handed, just as Kensi's condition takes a turn.