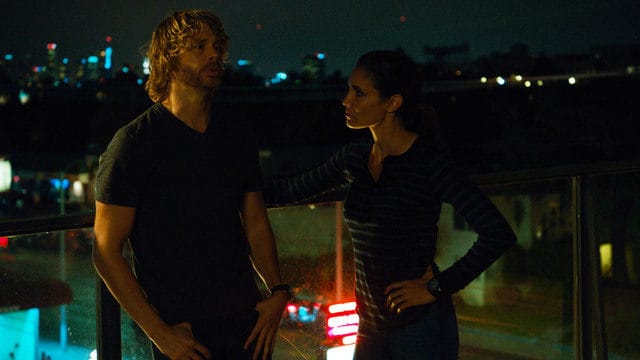 If the events of the latest NCIS: Los Angeles proved anything, it's that Special Agent Kensi Blye and LAPD Detective Marty Deeks belong together. Avid fans of the couple have already seen them go through too many life-and-death incidents to prove it. For almost eight years, they've been partners, friends, lovers, and finally, an engaged couple. In the last few years, Kensi and Deeks have had conversations about the logistics of their future together, and what it would mean for their careers. While on the job, they've never (okay, almost never) let their relationship affect a mission. This deep into their partnership, they have to consider the possibility that their time with NCIS may need to come to an end.
If Deeks and Kensi weren't people who identified themselves by their jobs, they wouldn't have fallen for each other. Therein lies the double-edged sword. They couldn't have fallen for people who did anything else for a living. They both run on the adrenaline and the intensity of spy work. Deeks brought out Kensi's softer side. Kensi got Deeks to a place where he started making definitive, long-term plans for his life. The deeper they fell in love, the higher the stakes, because now they had something to lose. Thus far, they've been able to strike a good balance between their personal and professional relationship. However, things have been more complicated since Kensi's accident last year. That brush with death put her in a coma, with subsequent temporary paralysis. Even then, they haven't had to make that dreaded 'Final Goodbye' call-until now.
In "The Silo", Kensi had one shot to stop a nuclear holocaust being carried out by her former boyfriend. She knew that there was a chance she wouldn't succeed, so she had to make that dreaded call to her fiancee. In the back of his panicked mind, Deeks probably knew Kensi would succeed. Still, the call was jarring enough for him to ask, "What are we doing?" When they get married, they will no longer be partners. Should they decide to have children and both continue working for the Office of Special Projects, tough decisions will need to be made. They have learned from the example Sam and his wife Michelle gave them. Michelle left the CIA to raise her children, but her husband's enemies ultimately took their revenge on her. Deeks and Kensi have a plethora of options available to them. The problem is, once they make a decision, there may be no going back.
What should Deeks and Kensi do about their future together?
NCIS: Los Angeles Season 9 Episode 7 Review: "The Silo"
Summary
NCIS: Los Angeles's fan favorite couple may need to consider new career options if they want a future together.