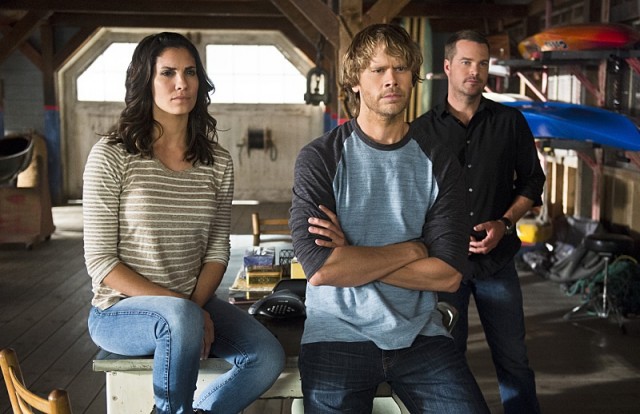 The cases that are personal always hit the hardest, and this week it is Sam's turn to get a blast from the past on NCIS: Los Angeles.
Hetty and Granger inform Sam that his first partner before Callen, a man named Mark Ruiz, is being looked at as a person of interest in an ATF bust gone wrong, especially since Ruiz hasn't checked in with his handlers. Sam fills in the team if only to clear Ruiz's name, but doesn't tell them why Ruiz left NCIS in the first place. What isn't public knowledge is that Ruiz left NCIS because of a serious drug addiction. Sam wants to respect Ruiz's personal story, but Callen is concerned that Ruiz may have relapsed. Whatever the case, Callen stays close to his partner if only for support.
Sam goes to Ruiz's wife to get a clear location on his former partner, and it's a reminder that between the drugs and the job, it wouldn't be the first time Ruiz has chosen other things over his family. When they finally do catch up with Ruiz, he is not too happy to see Sam and runs. Sam is forced to arrest him and put him in a box in the boatshed. Ruiz explains how the buy for the explosives went bad, but at the same time that he's begging Sam to let him continue the op, he is vaguely accusing Sam of betraying him.
Clearly the lines get blurry when you care about someone. Kensi and Deeks's own lack of personal boundaries aside (evidently Callen and Sam hear way more than the couple thought) they are suspicious of Ruiz and decide to dig. After being locked out of Ruiz's sealed NCIS file, they do some more investigating and figure out that Ruiz is an addict. Their care for their friend puts them on the offensive, but Granger trusts Sam and asks them to do the same.
So Sam goes undercover with Ruiz one more time to find the explosives. These former partners have to learn to trust each other again in order to make the deal work and save Ruiz's reputation. That's difficult to do when Ruiz is under the false assumption that Sam slept with his wife while he was in rehab. Sam is the most loyal man though, someone not capable of cheating on his own wife let alone sleeping with his partner's. Ruiz believes him, and proves it by saving Sam's life and catching a bullet for him. He recovers and it seems the rift is finally healed.
Loyalty can be a slippery slope, but when it's matched with a good judge of character, the result is pretty rewarding.
[Photo credit: Neil Jacobs/CBS]
Tell us what's wrong with this post? How could we improve it? :)
Let us improve this post!