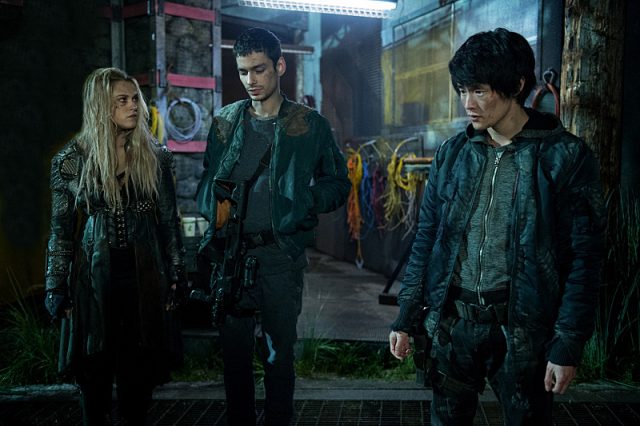 At San Diego Comic-Con, I had the chance to sit down with some of the cast and crew of my favorite shows. At the press room for The 100, I spoke with Eliza Taylor (Clarke Griffin) and Christopher Larkin (Monty Green) about what's coming up for their characters in Season 4, and their hopes for the future of their show.
This was one of my more memorable interviews. For one, Eliza and Christopher interviewed each other for a little bit. Two, I was sitting so close that I made a guest appearance on writer Kim Shumway's tweet. Yeah, that's me next to Eliza. I'm basically famous.
Once I got over being totally star-struck, here are some tidbits I gleaned from talking with the two stars. First thing's first, are they going to work together more in Season 4? "I hope we get to work together more," Taylor told us. Expanding further upon her hopes for the next season, Taylor continued, "I would really love the band to get back together." Even though Bellamy and Murphy were not a part of the original "band"(as Larkin pointed out), Taylor said they could "come too."
I asked about their relationships going forward, romantic or otherwise. Larkin said this of his relationship with Jasper: "He and Jasper are finally in a hopeful place." But, Larkin continued, things will be different now because he has Harper. He's never had a female to distract him from that relationship before. "Jasper was his female," Larkin said. Larkin asked to Taylor on who she would choose between Harper and Jasper. "I always love you and Jasper together," Taylor said. Guess that settles it.
Taylor, expanding on that, added,"Anytime anyone asks me who I would play if I wasn't Clarke, I either say Monty or Jasper." Larkin pressed her for which one she says more, to which she responded, "Monty." Hopefully she wasn't pandering to the audience there.
Of course, what we really all wanted to know was what's coming up in Season 4."I think there's going to be a lot of…conflicts," Taylor said. "I think there's going to be a lot of people very angry at [Clarke] for giving them back their pain. You're welcome, world." We could probably have anticipated that, but how will Clarke feel about all of it? "She's going to feel very overwhelmed and horrified."
Alright, before you go, here's a straight up spoiler for Season 4, straight from Taylor and Larkin themselves: No levers.
You read it here first, folks.
It was an absolute pleasure meeting and speaking with these two, and I hope to do it again soon.
What do you guys think? Are you excited about Season 4? Let us know in the comments!
The 100 returns at mid-season on The CW