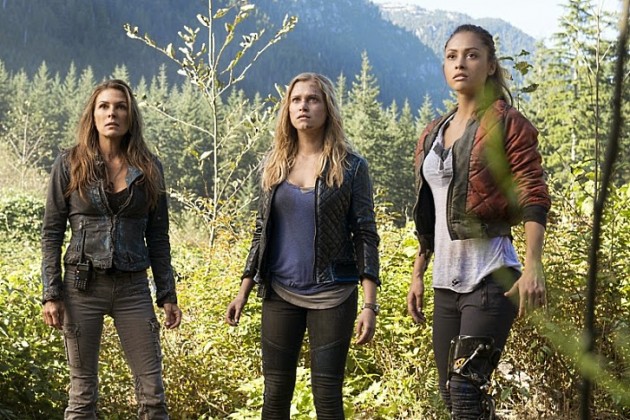 Wow. Even after we missed a week, this week's episode of The 100 has lost no momentum whatsoever. Every episode they've done is more and more engrossing, and so much fun to watch. The best part about it is that I have no idea what's coming next.
This week, Clarke takes a band of rescuers down to Mt. Weather, only for them to split up again. Jasper and Monty encounter more trouble on the inside, We all make some interesting discoveries about the civilization inside Mt. Weather, and Jaha and Kane are faced with an impossible choice.
I was really impressed with the "large group of rescuers" story for several reasons. The first is that it was a HUGE leap forward for Abbie's character. Paige Turco has done a pretty good job in this series so far, but I've not been particularly interested in her character. However, after her time in the tent with Raven, she realized just how well the "kids" had been doing for themselves on the ground. I've never been more impressed OR interested in her story. Reason number two is the exploration of the new Finn/Clarke dynamic. Clarke thinks Finn has become someone else. A monster, perhaps (Maybe she and Octavia should talk about that)? I'm so glad that The 100 hasn't fallen into the "CW Teen Drama" sub-genre, and seems to care more about creating real relationships and conflicts between the characters. The final reason, of course, is that scene with Bellamy and Octavia discovering Lincoln's "condition". I wasn't always a fan of the Bellamy/Octavia sibling dynamic, but now that Octavia has become a warrior, it's become ten times as interesting.
I thought the whole plot involving the two chancellors was excellent. Henry Ian Cusick and Isaiah Washington have given some of my favorite performances in the series thus far, and putting them together in a different scenario was a GREAT idea. However, the commander of the grounders stole the show. I didn't really see that coming at all. She contrasted between an innocent girl doing a terrible task and an undercover grounder commander SO well. I was really impressed. IMDB did not yet list the name of that actress (by the time I had authored this post), but I'm betting she's one to watch, folks. Just an excellent performance all around.
So, how about the fact that the people of Mt. Weather behind every single bad thing that happens out on the ground? Not only have we discovered that they are solely responsible for the creation of Reapers, but they are also the reason that the drop ship crashed, AND they manufactured the acid fog. This isn't the first time the show has reminded me of The Walking Dead, but it does seem to be hinting at the "humans are more dangerous than supernatural environment" kind of story. Aside from dropping literally ALL of that information in one episode, we also found out that only some of the Mt. Weatherites are evil. I've been a fan of Raymond Barry's performance as President Wallace since his first appearance, but he really stepped up his game in this episode. I was actually surprised that he didn't turn out to be a bad guy. I mean, he might still, but I have to give him (the charater) props for standing up for Jasper and Monty. Somebody's gotta.
I'm really impressed with where the show is going. I want to know more about every single one of these stories. I'm constantly surprised by the twists and the turns, and there's not a single uninteresting character. Moral of the story is, if you're not watching The 100, you should be.
What do you guys think? Did you guys enjoy this episode as much as I did? Let us know!
Photo via The CW