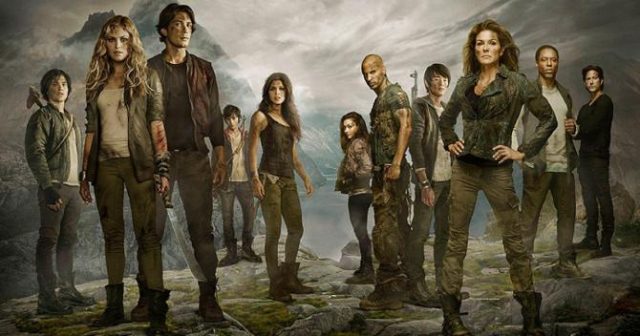 The first month of a new year is always a transition, even in television. We're still getting used to 2017 in January. Luckily February is now upon us which means it's time to get excited about new and returning shows. Some of our old favorites are returning for whole new seasons, and if those don't satisfy you there are plenty of new original series to get excited about. Here's a look at what to look forward to on television this February.
Returning Shows:
-The 100 (February 1, The CW)
Thought you knew what a post-apocalyptic world looked like? Hang on, because The 100's fourth season will amp up the desperation, the fear, and the visual effects like never before. Now forced into a world with a ticking clock until it is completely uninhabitable, Clarke and company have to make tough decisions about how they will survive. Some will fight, some will wonder what the point is, and as always, alignments have a way of shifting when faced with impending death.
-The Expanse (February 1, Syfy)
The first two hours of Season 2 of the Syfy series picks up with all three Solar System factions on the brink of war as they fight for their own socioeconomic resources. Basically take all of our political problems and magnify them to the edges of the universe, and you can see that in 200 years, the human race probably won't be as evolved as you think it will be. That doesn't mean anyone is going to stop fighting for respect, or turn a blind eye at problems which will affect Earth, Mars, and the Outer Belt.
-Reign (February 10, The CW)
The story of Mary, Queen of Scots will come to an end with its fourth and final season on the CW. This final chapter of the royal's story will have her return to her native Scotland where she will prepare to take back her crown and unite her country once more under one political and religious sovereignty. History tells us how successful Mary actually was, but that doesn't mean this won't be a tour de force for a queen who has nothing left to lose.
-Girls: The Final Season (February 12, HBO)
The hit HBO drama returns for its final season to find Hannah, Jessa, Marnie, and Shoshanna inching ever so slightly more towards some reality. Your early 20's are a time for exploration, and about 500 mistakes later you hope you still have a chance at being the person you wanted to be. It's going to be real, it's going to be rough, it's life, and in usual Girls fashion, who the heck cares if you don't?
-The Walking Dead (February 12, AMC)
If you thought the first half of the Walking Dead's seventh season was intense, hang onto your guts, liver, eyeballs, etc. Hopefully there won't be as much graphic death during the second half of the season as we're still recovering from Negan's bloodbath. Rick will be done laying down, which leads him to seek out Ezekiel for help. Let's just hope that Shiva is tamer than Lucille.
-Humans (February 13, AMC)
Oh the dangers of self-awareness and independent thinking! The second season of Humans flips a switch on artificial intelligence, almost literally. Fear grows twofold as more synths are drawn towards feelings and emotions, but the consequences are a little too real for some humans to stand. Depending on which side of the argument you take, this show is a tough lesson in playing God, and what it means to be alive.
-The Mindy Project (February 14, Hulu)
Is Mindy going to get her groove back? We sure hope so due to the tragic irony of the show returning on Valentine's Day. We'll never stop rooting for Mindy to find her happily ever after. Given how close Mindy has come to that, again, again, and again, we'd like to turn that frown upside down. She may get the chance to, again, again, and again, when her life is subjected to the "Groundhog Day" effect. Even though Mindy screwed up with Ben, that doesn't mean second, third, and fourth chances aren't possible, right?
-Billions (February 19, Showtime)
Paul Giamatti and Damian Lewis continue their cat-and-mouse game without their right-hand girl to keep them from keeping them from spinning out into the ether. It's so easy to think of yourself as the wounded and wronged person of the story when you're not comparing opinions. That's the beauty of this series. Absolutely no one is an angel, everyone makes excuses for their behavior, but the chase is so good we just can't stop watching.
https://youtu.be/tmZcNrHYzts
-The Detour (February 21, TBS)
"It's fine being weird, you should try it some time." Enough said.
-Major Crimes (February 22, TNT)
I do love a show that cuts through all the drama and gets right to the point. No nonsense, no fuss, just good, honesty work with a few laughs thrown in. That's not to say that we aren't completely invested in Sharon and Flynn's relationship now that the two have come to a good place. Nothing derails fuzzy feelings like a heart attack. Personal and professional roles may shift in light of Flynn's condition as well as the void left by Taylor's death. Never mind, life-and-death scenarios seem to be what we're sticking with for the second half of Season 5.
New Original Series:
-Powerless (February 2, NBC)
Anyone who was present at Comic-Con has been waiting very patiently to see the protagonist of the story not be the superhero, but instead their insurance agent. Ever wonder who cleans up the mess after superheroes are done saving the day? We never really did get a clear answer on who paid for all the building damage Superman made while saving the world from Lex Luthor. Vanessa Hudgens stars as Emily Locke, a claims adjuster focusing on small acts of good that are often overlooked by the enormity a world filled with superheroes. You don't need to be all powerful to be a hero, you can even be powerless!
https://www.youtube.com/watch?v=PaIHAlsc6no
-Superior Donuts (February 2, CBS)
A comedy about a donut shop might not seem like a recipe made for funny, but it's going to surprise you. Quality neighborhood establishments struggle under the weight of expanding franchises, so what better way to revive a struggling donut shop than to bring in a millennial with a can-do attitude? Let's face it, if you don't recognize the brand or have a flashy sign, you have to rely on social media to help bring in customers. Judd Hirsch's character Arthur will learn to accept help from Jermaine Fowler's character Franco to save his business from going under, even if it means learning a whole new language-millennial.
https://www.youtube.com/watch?v=Lk9tUhpNoPU
-Training Day (February 2, CBS)
How far is too far to protect a city? That's the question this spinoff of Antoine Fuqua's 2001 film asks. In the film Denzel Washington took a young Ethan Hawke completely out of his element into the grittiest elements involved in his reality of being an LA narcotics officer. Washington won the Oscar that year for his role as corrupt detective Alonzo Harris, so Bill Paxton has some big shoes to fill. Adapting the film to television means that in the long-term that Paxton's character will have less latitude with which to hang himself, coming into physical form by way of his rookie partner. The goal is that redemption might be reachable before someone gets killed, but cleaning up the most corrupt and soulless crimes is never that clean.
-Santa Clarita Diet (February 3, Netflix)
Now I've been itching to see Drew Barrymore back on-screen in any capacity, but this is definitely a first for her. Zombies are in right now, so why not make one a wife and mother in suburbia? Timothy Olyphant is living half of this marriage, supporting his wife through her "change". I'm pretty sure if women had the option between menopause and zombiism…actually given the way Barrymore portrays it, maybe we should take a poll.
-APB (February 6, FOX)
Most billionaires are pretty territorial of their toys, but not this one. Gideon Reeves decides to use his money for the good of the city by taking over a Chicago police precinct, impressing some and annoying others. Sure the technology is cool, but can it replace real police work? That's uphill battle Reeves faces to prove he has what it takes to help protect a city. Does he understand the enormity of the task he's taking up, especially if his motivation is more personal than he lets known past his cocky persona?
https://www.youtube.com/watch?v=KtJMI1yGc2o
-Imposters (February 7, Bravo)
Ooops, I married a con artist! Ezra Bloom feels like the biggest schmuck in the world when his wife Ava takes all his money, then blackmails him into silence so he can never find her. Schmuck feels appropriate, especially when Ava's other husband comes knocking in the exact same dilemma, and together then find Ava's other spouse, her wife! It's too tragic not to laugh, and you'll probably feel better about your relationship when you watch three different spouses try to reclaim their lives while their wife lives off their spoils.
-Legion (February 8, FX)
Fargo series creator Noah Hawley brings the X-men mythology to television based on the dynamic title comic book character. There could not have been a more perfect choice of mutant to bring to television than Legion, aka David Haller. Haller is one of the most complicated Marvel Comics characters because when we first meet him, he is a diagnosed schizophrenic unaware of his abilities. It creates a new layer for a mutant's lack of control over their powers. Not to mention, if Haller can't trust his own mind, how can we as viewers trust what we see? If Haller's unreliable narration isn't enough to draw you in, the fact that he is the son of none other than Charles Xavier, Professor X himself, should.
-Doubt (February 15, CBS)
Katherine Heigl once again returns to television, this time as Sadie Ellis, a top dog attorney who falls for one of her clients. The twist is that he may or may not be a murderer. Though Heigl hasn't had the greatest success in the television medium as she has on the big screen, supported by an admirable cast that includes Dulé Hill, Laverne Cox, and Elliott Gould, the show has a chance at success.
https://www.youtube.com/watch?v=6PkKtDHdjNg
-The Good Fight (February 19, CBS All Access)
Do I even need to explain how good this is going to be? Any fan of The Good Wife cheered when it was announced that there would be a spinoff, and the trailer pretty much speaks for itself. Christine Baranski and Cush Jumbo were at the top of their game in the original series's final season, and now they get another chance to shine all on their own. The fight is going to be good to watch, not so good for anyone who gets in the way of the women who come to claim what they deserve. Not to mention there are no holds barred on the cursing, so this is about to get more real than it has ever been.
https://www.youtube.com/watch?v=2c1LihE9kFw
-Big Little Lies (February 19, HBO)
Some of the most dynamic actresses in Hollywood join together to reinvent the sudden murder in a sleepy ocean town. Based on the novel of the same name by New York Times best-selling author Liane Moriarty, Shailene Woodley stars as Jane Chapman, a young mother on a collision course with the most violent experience of her life. She meets two other mothers through her son's school who have their own dangerous problems, but who are unknowingly tied to Jane's past and present circumstances. This limited series examines the kinship formed through helplessness, and has the right cast and production team to pull it off.
-The Blacklist: Redemption (February 23, NBC)
We haven't even come to the end of The Blacklist's fourth season yet, and Tom Keen's chance at redemption looks very promising. The chance to right the wrongs of the world he's been bristling against since he became a father is very tempting, especially to viewers who know how emotionally compromising his new mission will be. Nothing says asking for trouble like working alongside your nemesis and your biological mother who has no idea she's your mother.
https://www.youtube.com/watch?v=W3o2VYR0wDg
-Taken (February 27, NBC)
We've seen the films, now we'll see the origin story of the unbeatable CIA agent Liam Neeson was in the film. Before he ripped his way through Europe to save his daughter from sex traffickers, Bryan Mills already had a taste of tragedy that we just didn't see. Now we will go with Mills on his journey as he becomes the man we saw in the first film. While we probably won't stop looking for comparisons between Neeson and Clive Standen's portrayal of Mills, we should look at the series with fresh eyes and the long-game journey it is.
Which show are you most looking forward to this month?
Tell us what's wrong with this post? How could we improve it? :)
Let us improve this post!