Paul Teutul, the star of 'American Chopper', has recently hit hard times. It is reported that he is millions of dollars in debt and that he has filed for bankruptcy. He had made some effort to sort out his dire financial situation by selling off his property, but this also did not work in his favor. Before news of his financial problems was made public, he listed his property for $2.89 million. It is a rustic home in Montgomery, New York, that is set in a 38-acre retreat. Unfortunately, the house did not sell, and he was forced to slash the price to $2.49 million just three months after it was originally listed.
Sadly, slashing the price by $400,000 was just not enough and after a year he had to list the house again at the significantly lower price of $1.65 million. Despite the substantial 42 percent price cut, the reality star has still not had an offer on his property. So, why hasn't Teutul been able to sell his home?
There are many features to this home that you would think would appeal to buyers as this property is certainly unique. It boasts top-of-the-range amenities and has a stunning outlook. Some other features of this three-bedroom and two-bathroom property include a massive garage, a large pond, a swimming pool complete with waterslides, and volleyball courts. Therefore, the home offers plenty of options for the homeowner's leisure time.
The location is another factor that should appeal to many people. It would make the ideal weekend retreat for city dwellers as it is in a pleasant and quiet location that is easily accessible from Manhattan as it is just a two-hour drive.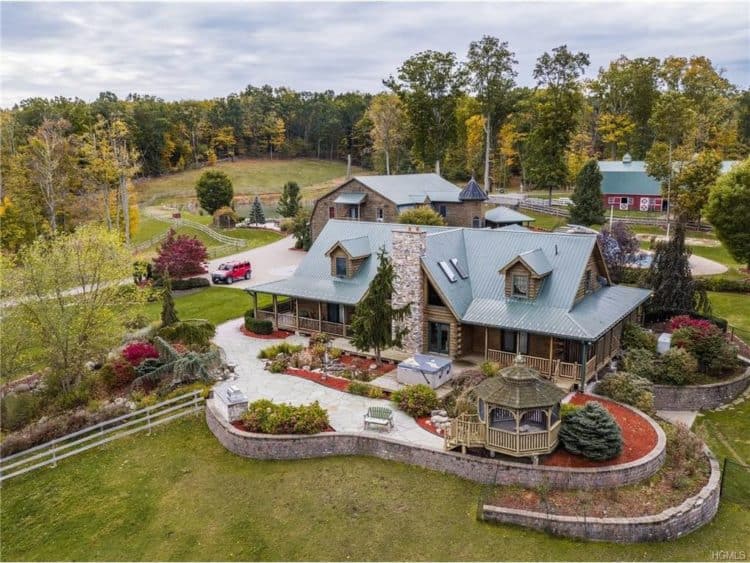 One possible reason for the lack of interest in this property is the price compared to the median price of other properties in the area. There are very few properties that sell for over the one-million-dollar mark in that area, with the average house selling for $355,000. The listing agent explained that in the last year, only 16 homes had sold for over one million. Furthermore, many of these were on and off the market for several years before they were sold.
Another financial factor that may have affected the listing is taxes. The annual tax cost of the property is $50,000. This makes it an unrealistic option for those looking for a vacation home as they will not want to incur these additional costs.
It is also possible that families are not interested in the property because it isn't family-friendly. Although it boasts three bedrooms, these are on different levels and families prefer homes with bedrooms all on one level. The land that comes with the property is another potential deterrent for family buyers. While having land will appeal to many people, working families do not want the extra responsibility of caring for the land.
Teutul himself could also impact on the sale of this house. The listing agents are carefully screening viewers to make sure that they are genuinely potential buyers and not people simply wanting to view the house because of Teutul's celebrity status.
His bankruptcy proceedings could also potentially complicate the sale. Anyone who buys this house may have extra paperwork to complete with the home's creditors. Not only could this mean it takes longer for the sale to close, but it is also an inconvenience for any potential buyers. It may deter many people from buying this property when there are other homes in the area that are cheaper and do not have these problems attached to them.
Despite the problems that Teutul has experienced trying to sell his home, there is still hope of a sale. According to the listings agent, this house has had its fair share of viewings, so it is not that nobody is interested in buying the property. There have even been a few offers, but they have been too low for Teutul to accept, especially considering that he has already dropped the price significantly on two occasions. The listing agent believes that the house will sell and that the ideal buyer is someone who lives in the city and wants a weekend getaway. She also believes it is a great property for people who love animals and skiing, due to the land and the skiing in the area.