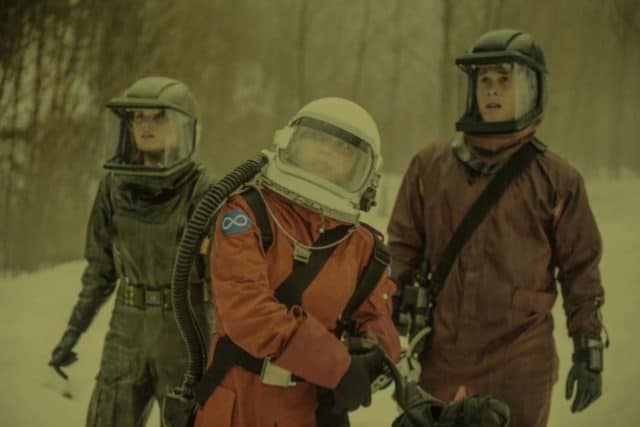 Time and time again, The 100 outdoes itself. Rarely have I seen a show get progressively better with age, but The 100 has done exactly that. I was sure that they wouldn't kill off all their characters, but I was not sure how they would keep the show going once disaster struck. I am happy to report, however, that they have exceeded my expectations in every way. I'm only disappointed in the slightest because I want Season 5 to start tomorrow, and now I have to wait until midseason 2018.
This week on the season finale of The 100: Everyone at the bunker quietly falls to Octavia's rule as "Praimfaya" approaches. Clarke, Raven, Bellamy, and the rest of the surviving crew work quickly against the clock, to get back to the Ark before the storm hits. A time jump shows life after the storm.
Sacrifices are made and new bonds are forged in this finale episode. There were so many emotional, cathartic moments, and yet it was still such a fast-paced, pulse-pounding episode. "Praimfaya" was packed with both emotions and thrills at every turn. Above pretty much everything else, though, it was an exercise in how much the characters have grown.
Murphy and Monty's interactions (which had not really happened much before this episode) were the first indication of just how much these characters have grown. Though they started off Season 1 level tense, when things got dire they quickly mended their relationship and even bonded. Obviously, over three years Murphy has grown from hated by all to beloved by many, and Monty shows growth in accepting Murphy as part of their team, despite the rocky past. Richard Harmon and Christopher Larkin really stepped up to the plate for this episode, and it paid off.
Then, Bellamy's growth is clear. You can see Bellamy becoming the leader that Clarke has been for the last few years by seeing his sister as an adult, helping Raven through a crisis, and even bringing Echo back from the brink of suicide. He has not always exhibited maturity in past situations, but it was good to see him step back into the leadership role. Especially because of what I'm going to talk about next. I was so impressed by Bob Morley's seamless transition from hothead Bellamy into leader of the new world Bellamy.
Clarke's growth was harder to notice right up until the end. Because she had been a leader for so long, and has always made tough calls, to a point "Praimfaya" didn't show anything out of character. Until it did. Clarke essentially sacrificed herself for her friends. She climbed the tower to adjust the satellite, fully expecting that she would not survive the storm. Clarke has made tough calls in the past, but they always included death of someone and survival of her. Instead, she moved into full-on self-sacrifice, and gave herself up for the survival of humanity (She didn't really, but more on that later). Eliza Taylor brings such an elegance to Clarke, which it made it so compelling to watch her sacrifice, and then catch a glimpse into her future.
Here are a few other thoughts:
As soon as Clarke collapsed during the storm, I turned to my wife and said "No way they kill off Clarke". Maybe I'm starting to be able to predict this wildly unpredictable show.
I'm wondering what the new group of people means for our old friends. We're not getting a whole new cast, right? I need to know what happened to everyone.
Overall, this episode was an absolutely incredible cap to a phenomenal season. It was exciting, emotional, and ushered in a new era for this show, that could continue for years to come. It's an excellent show, so hopefully it will.
What did you guys think? Did you enjoy the episode? Let us know!
The 100 returns to the CW in 2018.
The 100 Season 4 Episode 13 Review: "Praimfaya"
Summary
Clarke, Bellamy, and Raven lead their team against the clock to beat the storm on the season finale of The 100.