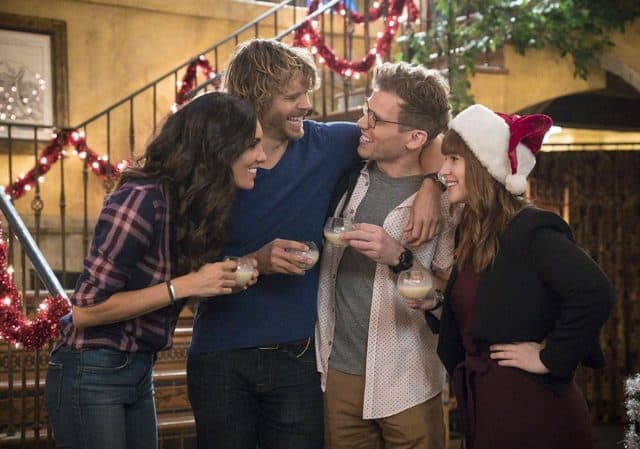 NCIS: Los Angeles can only do Christmas one way, with a lot of laughs. I truly can't tell what is more hilarious: Deeks and Kensi driving around town in Christmas-themed biker helmets, Nell and Hidoko wheeling a Palm Christmas Tree all around the office, or Callen sending an Evite. For all this laughter, there is a lot of reflection. This will be the first holiday season without Granger or Hetty. Per Mosley's instructions, it must also be done without the tinsel. Now, I can understand not allowing holiday decorations in a workspace based on respect for nondenominational traditions and beliefs. Sam has more reason than anyone to dread this holiday season. It's his first without his wife, Michelle. But NCIS has bigger problems. Forget decorations. Christmas itself becomes at risk when the entire west side of Los Angeles loses power due to a Ransomware attack.
NCIS figures out that Edward Parsons, a man who worked for the power company, was paid $20,000 to take out the grid. The ransomware wasn't even for his benefit. He just needed the smaller amount so that he could pay off his mother's mortgage and medical bills. Given the cost of living the sad sap has had to deal with, you can't be that upset with him. What he did was stupid and reckless, but not malicious. The real threat was Alicia Fuentes, the heir to a huge cartel. However, she wanted nothing to do with the family business. Neither did her imprisoned brother Jorge, despite being put in jail for falling in line with the family business. All Alicia wanted was to get her brother home to spend the holidays with his son. Unfortunately, that required her knocking out the city's power grid to break him out of jail. NCIS recognizes that no one was intentionally hurt. Some people, no matter their mistakes, deserve the chance to be happy, at least for a short time. The Fuentes siblings won't get away with what they did, but at least they have the chance to make better choices.
I gotta give it to Hidoko. From her appreciation of Sam's serene state in a crisis, to staying out of Densi's latest holiday squabble, she has really found her comfort zone within the team. She's so integrated into the team that she and Nell are sharing SAT scores. Nell really needs a friend to pull off Christmas. She really feels the loss of Granger and Hetty on the team. Everyone has accepted that nothing is going to be as it was, but that's where the holidays come into play. It's not just a time for celebrating, but also a time for reflection and healing. Thankfully, Mosley recognizes this and acts accordingly, by making NCIS more festive.
Instead of helping out on the case, Callen spent the majority of his day searching for Finn. Remember Finn? He's the kid who stole the identity of one of Callen's aliases to buy things. Finn has been using Callen's undercover name to once again rent out a place to other people. This was the one thing Callen asked him not to do in exchange for not turning him in for fraud and identity theft. Granted, Finn stole a false identity, but he still used it to illegally purchase and lease things. This time around though, he used the money that he earned to buy presents for the other kids in the orphanage. Callen, of all people, knows what it is like to grow up in one of those places, without anyone to care if you open a present on Christmas morning. Callen can't begrudge Finn that.
Though there was plenty of Christmas cheer, will NCIS: Los Angeles be able to bring Hetty home in 2018?