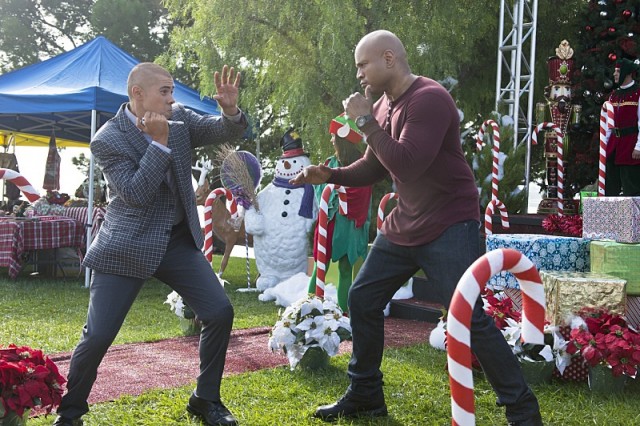 NCIS: Los Angeles packed a holiday punch for its midseason finale, literally. Don't worry. though; there was also plenty of silliness and heartwarming moments to spread the holiday cheer.
Eric and Nell are in hyper-Christmas mode, and I mean that literally. From rehearsing for a performance for a Toys for Tots event in perhaps the most adorable adult song-and-dance number I have ever seen, to getting sugar highs in OPS, these two are filled to the brim with Christmas. Even Granger, who 95% of the time is humbug embodied, can't help but crack a smile at the duo's antics by the end of the day.
Others' festivities in this week's NCIS: Los Angeles are a bit more toned down. Callen's decorating skills in his house are limited to a picture of Sam's family and a Christmas card from a psychopath. Never mind that he has no problem decorating Sam's car with a red nose and antlers. Despite his vocalization that he would end his relationship with Joelle, he still hasn't done so. It's understandable: no one wants to break up right before the holidays. As much as Callen and Joelle care about each other, their relationship has run its course, though they agree that they can at least give themselves until New Year's to make the end official.
All Sam wants for Christmas is a quiet holiday with his family. Christmas isn't Christmas without the whole family, so Sam is trying to will a light workload so that he can pick up his son Aiden at the airport. Sam is so insistent on solving the latest case in record time he temporarily takes the jingle out of Eric's bells! The case of the week follows a North Korean spy killed in broad daylight in a traffic accident because his cover had been blown. Hetty may have to cancel Christmas since before the spy's accident, he was purposely injected with something deadly before the car did him in. His import-export associate Hobbs knows way more than he's telling. Despite playing dumb. Hobbs actually was unknowingly helping spies get into the country. Now Hobbs has been tasked with retrieving information on the dead spy's identity so that his handlers can erase all traces of his existence. The team stops this play in the middle of a busy holiday-themed event, inspiring small children and Aiden Hanna to want to join the team. Callen finds the spy who injected their victim in the first place so they also have their killer. Granger realizes that the girl in the box is the daughter of an ex-girlfriend of his who once shot him. Whether or not this is true or a story Granger makes up is up for debate. It's more than a little implied that Granger could be biologically connected to her, not that it matters given Granger's perpetually shady life.
Kensi and Deeks also have a dilemma with their holiday plans. They want to spend the holidays together with their mothers, but both of their mothers want to cook Christmas dinner. You do not want to get in the middle of a mother and her kitchen on a holiday. The case at least works to distract the couple for awhile from this problem. Love has not only made Kensi happy, it's made her downright silly in time for the holidays. Things do take a serious turn when Deeks confesses that he did actually murder his former partner. It's a huge sign of trust in their relationship. Yet Deeks didn't need to be so nervous, since Kensi confesses that she'd already figured out the truth and decided that Deeks would tell her when he was ready. Sam even saves the couple from a Christmas crisis by offering to host Densi and their mothers at the Hanna household.
Happy Holidays to the NCIS: Los Angeles team for a fantastic first half of Season 7! Looking forward to what the new year will bring.
[Photo credit: Neil Jacobs/CBS]