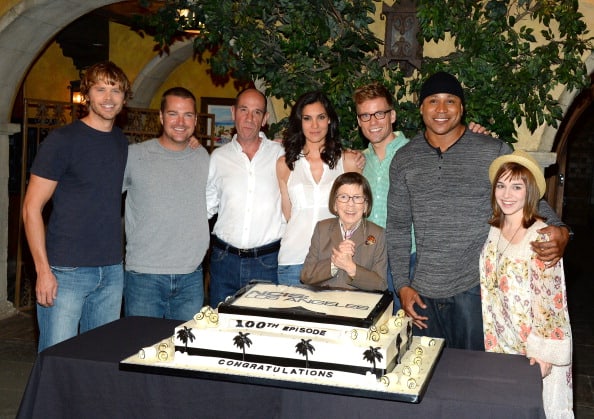 CBS has found a winner with the NCIS franchise. The show NCIS was a spin-off of CBS' popular drama JAG, which aired from 1995-2005 (the first season being on NBC). Who would have thought that a spin-off series would have two of its own spin-offs? One of those dramas is NCIS: Los Angeles and stars LL Cool J and Chris O'Donnell. The series is currently in its 7th season and is a staple on Monday nights. Here are five things you may not know about the stars who play your favorite Special Agents who are part of the Naval Special Projects group.
1. LL Cool J helped Daymond John Become Famous
LL Cool J, who plays Senior Field Agent Sam Hanna on NCIS: Los Angeles grew up in New York City, the same neighborhood as Shark Tank investor and fashion icon Daymond John. When Daymond was starting to make a name for his FUBU brand, he convinced LL to sport a sweatshirt for the brand in one of his music videos. After that, the clothing line flourished.
2. Daniela Ruah was a Portuguese Soap Star
Daniela Ruah, who stars as Kensi Blye on NCIS: Los Angeles, has been acting since she was a teenager. From 2001 to 2007, Ruah appeared in four different Portuguese soap operas. The first was in the role of Sara in Forbidden Gardens. Additionally, Ruah was the winner of the Portuguese version of Dancing with the Stars in 2006. Her first American role was in the soap opera Guiding Light.
3. Chris O'Donnell has a College Degree
Chris O'Donnell, who appears as G. Callen on NCIS: Los Angeles, began his acting career when he was in high school. One of his first roles was starring with Michael Jordan in a McDonald's commercial. Though he appeared in many feature films like Fried Green Tomatoes, that did not stop the actor from attending college. O'Donnell would graduate form Boston College with a Bachelor of Science degree in Marketing.
4. Linda Hunt has a Familiar Voice
Linda Hunt has played Hetty Lange on NCIS: Los Angeles since it began in 2009. When you started watching the series you may have thought her voice sounded familiar. Hunt has done voice work in television and movies for years. She was the voice behind the Tylenol commercials in the 1990's and was also the voice of Grandmother Willow in the 1995 Disney film Pocahontas.
5. Eric Christian Olsen Played a High School Student in his 30's
Eric Christian Olsen joined the cast of NCIS: Los Angeles as Marty Deeks towards the conclusion of the series' first season. Prior to that, Olsen has made a name for himself playing high school and college aged students in movies like Not Another Teen Movie and The Hot Chick. In 2009, Olsen starred in the comedy Fired Up!, which focused on two high school football players who attend cheerleading camp. When the movie was released, Olsen was 32 years old.
Who is your favorite NCIS: Los Angelese character? Let us know in the comments section below.
Photo by Mark Davis/Getty Images