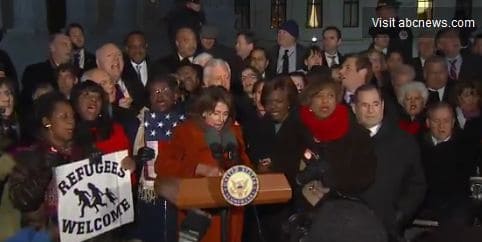 Not only have Democratic lawmakers been rallying against recent Donald Trump orders, but Republicans have voiced their dismay for the administration's recent policies. However, in a stunning display of "unity" leader Nancy Pelosi tried to get a different rallying cry together. In unison she tried to get a big group of people to sing "This is Your Land." While in practice this was a very patriotic and unifying thing to do, I think it's safe to say that the effort fell just a bit short of being inspirational. Check out the video below:
.@NancyPelosi and Democratic lawmakers sing "This Land Is Your Land" at DC rally against Pres. Trump's immigration order. pic.twitter.com/l8LiEKMWRx

– ABC News Politics (@ABCPolitics) January 30, 2017
One of the nice things about the rallying cry is that the crowd was definitely pretty pumped up. While I can sit here and poke fun, you still have to admire the enthusiasm and how passionate some people have been in the last 3 days. But it's just kind of funny to watch don't you think? I mean Nancy did a pretty decent job of getting through the first rendition but I'm not so sure she was expecting a second, or third, or even fourth.
I was waiting for the "you're taking too long" Oscars music to start playing. Hopefully you had a little fun watching this considering just how serious politics have been in the last few months. Just smile people. It's good for you!