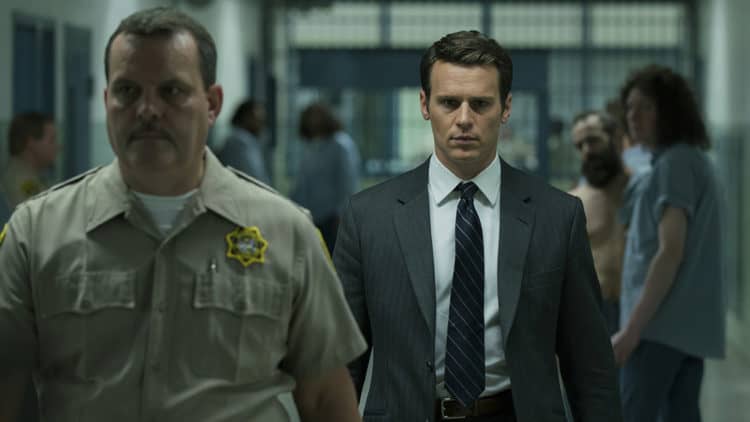 Mindhunter is a show that you can find streaming on Netflix. So far, only one season of the show has been released, but there are definite plans to release at least one more season. If the actors or the fans have their way, there will be several more that come along after that.
The first season of the show really did take fans by storm. If you're not yet familiar with it, it's about an FBI agent that handles some of the most difficult cases, mainly those involving psychopaths that ultimately turn into serial killers. It's his job to go after them, and in order to do his job successfully, he has to get inside their heads. Here's what's known about season two so far.
At the moment, everyone is losing their minds about when the upcoming season will be released. After all, it's been quite a long time since the first season was completed. This left fans wanting more, but they've already had to wait for a long time. Unfortunately, they will have to wait even longer. According to the actors who are on set, filming for the second season has not yet been completed. Keep in mind that the first season was released roughly a year ago. Therefore, many fans were hoping in earnest that the next season would be released in the next few weeks. However, that's simply not possible when filming hasn't even been completed yet. A more realistic release date would probably be some time next year, although Netflix has not yet nailed down anything specific. That fact alone is driving fans bonkers. There are a couple more things that should be discussed here, though.
It only stands to reason that any time a show resonates with its fan base, they want to see the same people coming back to play those characters again. Fans have been waiting with bated breath to see if the same actors are going to reprise their roles. Fortunately, it does look like all the prominent players from last season will be returning. So far, Netflix has kept everything pretty hush-hush, but some of the scenes have already been filmed and there are no reports of any major cast changes. However, there is at least one addition. Damon Herriman will be playing none other than Charles Manson, the creepy serial killer who got everyone to commit his murders for him while he sat back and masterminded the whole thing.
Last but certainly not least, anybody that's waiting for the show to come back on wants to know what season two is going to be all about. It has been confirmed that the next installment of the show will revolve around the murders that took place in Atlanta from 1979 through 1981. In total, there were no less than twenty-eight people killed, including children. These crimes rocked the African-American community, as every single one of the people murdered were of African-American descent. You might also expect to see the detectives profiling the case struggle with the idea of getting into the mind of a serial killer, as those types of things can obviously start to rub off after awhile. That being said, there don't seem to be any plans to have anyone one the team go rogue and start their own killing spree, at least not yet.
One of the things that the show has done fairly well is keep things real. While it is indeed a fictional show, it also deals with events that have had a major impact on history, so those involved have thus far done their best to ensure that things don't get the "Hollywood effect" to the point that they are no longer remotely related to the events that actually happened.
It's no wonder that so many people have been waiting for the return of this show. It has a way of grabbing your attention in the first few moments and it refuses to let go once you start watching. There will be about ten episodes released for season two, and fans can't wait to see what all them entail. For now, it looks like they will have to be satisfied with streaming the reruns of season one until the next round finally gets released.