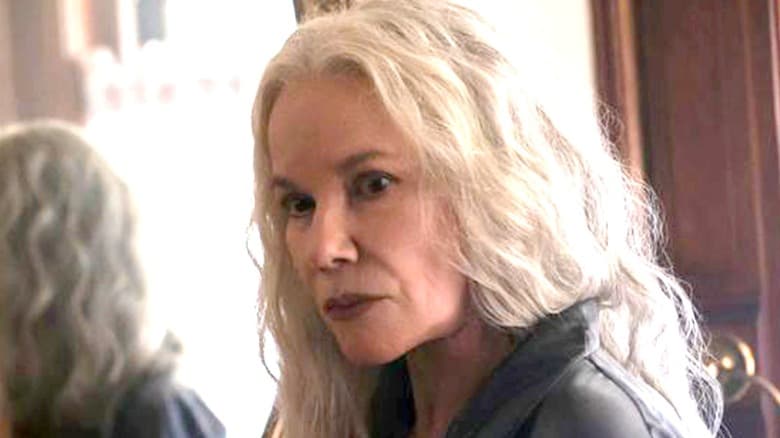 Blumhouse is definitely doing its best to set the standard for horror, but as many hits as it's had, there are some misses here and there, and then there are movies that have the potential to be great and kind of trip near the finish. It's easy to wonder how long it's been since we've seen Barbara Hershey, but the truth is that she's been keeping fairly busy over the years and hasn't really stepped away from the business at all, though her star has been dimming just a bit over the course of her career as her status as a Hollywood legend is intact. That's why it's likely to survive this movie, which has the elements of a great horror/thriller, but not the follow-through. It's actually kind of tough to say this about Hershey since she's such a great actress, but there's not much to write home about when it comes to this movie since from start to finish it's so incredibly vague and offers only a few hints here and there of what's going on that even paying close attention to the movie doesn't really help.
Figuring out what's going on isn't too hard since after suffering a stroke in front of her family, Judith Albright is sent by her daughter to an upscale retirement home as it's understood that her daughter and grandson don't have the experience or the facilities necessary to take care of her any longer. But one downside of this movie is that right away it conveys the message that retirement homes are little more than control centers for the elderly where the illusion of freedom is given and families tend to dump their relatives and eventually forget about them. Given that this is how many people see retirement homes anyway, the message kind of sticks around like a piece of gum on the bottom of one's shoe, not always visible but still there as a sticking point that comes up now and then.
As good of an actress as Hershey is, however, playing a woman that's been recovering from a stroke doesn't appear to be her forte. She was easily more believable in Beaches with Bette Midler when she was suffering from viral cardiomyopathy, which is a bit complicated but requires a heart transplant to fix. But in The Manor, Hershey kind of fails to shine as bright considering that as she goes through her days, she notices a few things here and there that don't feel right. At night, she's plagued by visions of a strange, dark presence in her room that she can't understand. When her roommate passes away mysteriously, leaving a cryptic note after days of acting squirrely, Judith can't help but feel that something is wrong. At this point, she's found a small cadre of friends who are a little bit odd, but are still the only people that she's able to speak to within the place. It's easy to say that a person might be expecting something to happen now and then, but the jump scares, few in number as they are, aren't nearly enough to get a person's interest to stick with this movie since while it does have a few recognizable faces, it's still not quite enough to count as something that people might see as a gripping horror movie.
The one bright spot in Judith's life during the movie is her grandson, Josh, who continues to visit her even when his mother is telling him to let go since his grandmother is beyond their level of care. If that doesn't feel like it's a bit harsh, to just dump your mother in a retirement home and hope that she's taken care of, then people might need to remember who raised them and why it's important. That's actually one of the most horrifying parts of this movie to start with, since the thought of plunking one's mother or father in a retirement home, no matter how nice, is a huge decision that should be the individual's to make, but is far too often made by the children and any interested parties that are willing tell their parents or elders that they know best and that they can't care for them.
In fact, the revelation that her three friends are witches, and were about to sacrifice her, is kind of secondary to Judith's predicament. Even the tree-creature, the guardian of the forest, isn't that big of a deal when compared to the fact that her daughter placed her in a home and then turned her back. It's uncertain if this element was meant to be so powerful, but it came off as the most forceful part of the movie, while the rest was kind of, well, just there. In terms of how good or bad this movie was, it's easy to state that it was not Hershey's best.