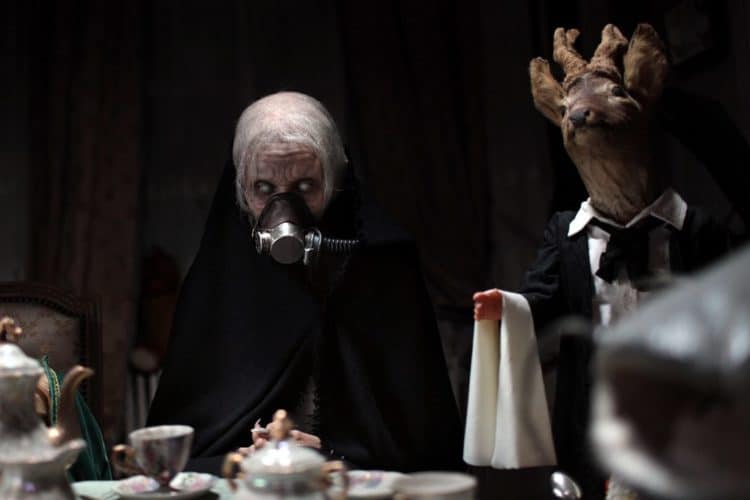 Going over the top with a vampire movie has become the norm in a lot of ways since the desire to do something that people haven't seen has become a popular idea, hence the reason why Twilight became such a big hit. Livid is different in that it takes a slightly darker and more obscure approach than many movies, and that's saying something. It all starts when Lucy, a young woman learning how to be an at-home nurse, is introduced to Mrs. Jessel, a bed-ridden woman who happens to be one of her patients that Mrs. Wilson, her mentor, introduces her to. The home that Mrs. Jessel resides in is old, musty, and looks a bit rundown. Essentially it's the type of home in a horror movie that one should be looking at and saying 'Nope', but that's not how horror movies typically work since quite often it happens that the spooky, scary houses might unnerve people just enough to make them question the sense of walking into them, but there's usually something that gets them back in the door at some point.
For Lucy, the initial reason is that soon enough it's going to be her job. But when Lucy ends up telling her boyfriend Will and his brother Ben about the rumor that Mrs. Jessel has a treasure stash somewhere on the property, one can easily see which direction this movie is going in. Will, who is a fisherman with his father and resents his place in life, has no trouble thinking that Mrs. Jessel's house might yield the type of score that can help him change things around, but while Lucy goes ahead with the idea, she's adamant about not destroying anything, as she remains fairly reluctant. When the three enter through the basement and start searching the mansion, however, they find nothing that's particularly valuable. When it's mentioned that Mrs. Jessel, who is supposed to be a complete invalid that is technically alive but still dead to the world, has a key affixed to a chain around her neck, the three make their way upstairs to retrieve it after deducing that it must fit the only door that they can't open.
After obtaining the key, they enter the locked room to find a covered form standing on a pedestal, and make the horrifying discovery that the body of a young woman in ballerina garb is attached to the pedestal. Lucy, who knows a little about Mrs. Jessel thanks to Mrs. Wilson, assumes this is the corpse of Anna Jessel, the old woman's daughter who died long ago. When she places the key in the pedestal and turns it, music plays as the corpse begins to dance. Hearing sounds from the level above, the three decide to make their way out of the house, only to find that every way is barred. As they try to find a way out they get separated, and after seeing Mrs. Jessel behind him in a mirror, Ben passes out and wakes up in another part of the house without realizing how he got there. It doesn't matter much since three veiled forms stab and pummel him to death before feeding on him. Will is next to go as he runs into his undead brother, who's been turned into a vampire by the creatures that attacked him. Mrs. Jessel ends up finishing Will off after he fends his brother away, and it's then that she turns her attention to Lucy.
Finding Mrs. Jessel seated at her daughter's table, complete with a tea party and several 'guests' that have odd animal heads, Lucy takes Mrs. Jeseel's hand and learns even more about Mrs. Jessel and her daughter Anna. At one time Mrs. Jessel was an extremely strict ballet instructor, and upon throwing one girl out of her class she and the rest of the class are startled by a scream from another room. What Mrs. Jessel finds is that her daughter, Anna, has killed the young girl she kicked out of class. It turns out that the Jessel's are vampires, and that Anna and her mother didn't really see eye to eye since Anna tried to escape before, only to realize that she wouldn't survive.
When Mrs. Jessel and Mrs. Wilson, who's been helping Jessel for years, attempt to switch Anna and Lucy's souls, they're successful, but Anna still ends up killing both women as Lucy helps, finally tossing Mrs. Jessel over the upper floor balcony. When talking about vampire movies it's fair to think that the subject could go in a lot of different directions, but while this movie was dark and foreboding and went to a level that a lot of vampire movies don't think about these days, the ending was still a bit tough to reconcile with since it felt a little too neat and more than a little idealistic. But if people enjoy it, meh.