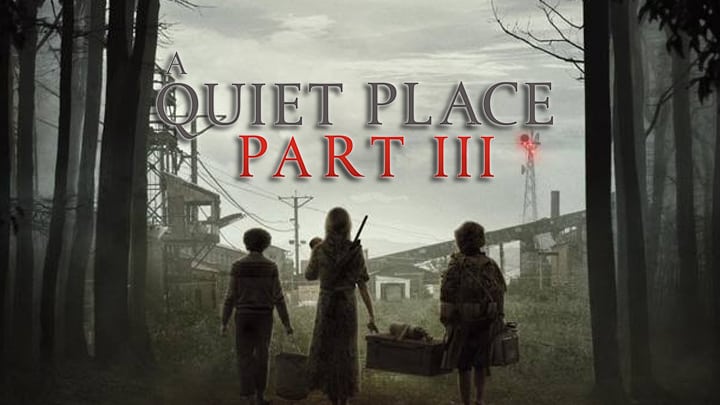 There wasn't much doubt that A Quiet Place Part III would be happening, since the idea took off in a way that had a lot of people leaning forward in anticipation as they tried to figure out what was going on and what was going to happen next. There were dozens of questions on the lips of many interested fans when the first movie came out, and when the second one came along, many people couldn't help but be excited when the aliens were shown in greater detail. Apparently, with a third movie on the way, it does feel that people are going to want to see even more, and they're bound to get the chance considering that it does sound as though the next movie won't be a traditional follow-up as people are expecting. To clarify why this might be the case, it sounds as though the stars that people have grown used to won't be returning to take on their expected roles, and that the third movie will be exploring the post-apocalyptic world that remains from a different perspective since this is a worldwide phenomenon.
That might be kind of a shock for a lot of fans to hear since they might want to keep exploring the world through the eyes of the family that was introduced, to begin with, but the idea of taking the story and creating a wider look that might allow fans to see how people in other parts of the world have been handling the invasion is intriguing, to say the least. Quite often when it comes to invasion movies the scope is narrowed to keep from causing a level of disinterest that would keep the fans from fully enjoying what they're seeing. By focusing on a smaller group or an individual the story tends to become more personal and ends up gripping the audience a little more as they identify with the survivors and invest in them in a way that's harder to do with a larger community.
When speaking of a post-apocalyptic world there are good and bad examples of how to tell such a story, and so far A Quiet Place has managed to focus mainly on the family unit that has driven the main part of the story. But movies and miniseries such as Independence Day and The Stand, or even the Resident Evil series, tell tales that are so grand in scope that focusing on the main characters becomes a little tough, and trying to care about everyone keeps people from focusing on the main points within the movie that are pertinent to everyone. The hope would be that the third movie in this story wouldn't widen the scope too much and would instead focus on a group or individual in another part of the world to show how different people handle the same problem. There's not much more to tell other than that the movie will be changing a bit in terms of the actors and the location while telling the same story from a different point of view, but that sounds like enough to keep the level of interest that's needed for this movie to sound like something that could work just as well as the first two.
It does feel that the third movie might be getting set up for failure even though so far the story has been interesting and terrifying given the nature of the creatures and how they hunt. Human beings are noisy creatures after all, and thus easy prey for something that hunts by sound. But switching things around this drastically in the third movie and then expecting people to become invested in a new cast sounds like a tall order since there have been two movies in which people have come to know the family that has endured so much and been through absolute hell just trying to survive and to keep their kids alive. The next movie will need to introduce another group in a manner that will make people like them instantly and gain a deeper understanding of what they've been going through and why they're worth caring about, otherwise it's bound to rely heavily on the overall plot and less on the characters, which still feels like an incomplete plan.
But thinking of how effective the story has been at this point it doesn't sound impossible, nor does it sound like something that might be delivered in a half-assed way that would seriously damage the faith that's already been put into this idea. John Krasinski and everyone working on these movies deserve a great deal of credit for making something that might have gone unnoticed if not for the great acting and the extremely terrifying premise of how noise can get a person killed by something they don't understand. Hopefully, part 3 will end up wowing us as the first two movies did.