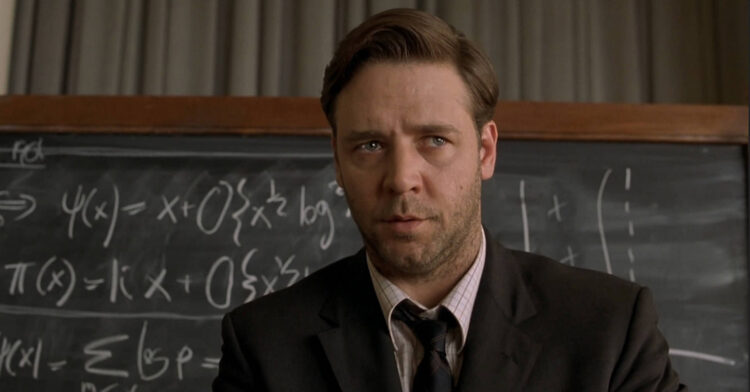 It's tough to talk about those with mental issues these days since a lot of folks tend to see this as taboo, and even bringing it up is bound to earn a person a heavy scowl. Even if the story being told has enough truth in it to make the tale contemplative, there are going to be plenty of naysayers that don't want to talk about it and don't want to see this condition glamorized in any way. Of course, with A Beautiful Mind, it's more centered around the idea that Nash was less complex than the actual person that Russell Crowe portrayed. When it comes to biopics though, one can't help but think that there are going to be a lot of moments when one has to fudge a bit of history to make things a little more exciting. The truth is that this movie wasn't exactly the type to keep anyone on pins and needles, but it was filmed in a way that made a lot of people believe that Nash's story was a little more intense than it might have been, while his character was a little easier to figure out.
The reverse does sound as though it was true since after reading just a bit of the actual story that was John Nash's life, it would appear that he wasn't quite the same person that's seen on screen, at least in theory. Those that lived through this true story were likely more upset at what was left out than what was altered since there are moments in Nash's life where he doesn't come off looking like a poor, schizophrenic individual who believed that he was helping his country in some grandiose manner. It was a bit of a struggle to get through this movie in some instances, especially when the figments of John's imagination began to appear.
In some ways, it was easy to tell that these people were not there, since no one else bothered to notice them or even ask about them. Once they became an issue that John had to deal with, however, it was a bit obvious that this man was not well. Some would admit that this wasn't much of a secret from the start since John is seen as a man that was difficult and arrogant to begin with, as his time at Princeton saw him interacting with his fellow students in a manner that made it clear that if something didn't make sense, he didn't like it. But there was progress made at Princeton as well considering that as he learned and advanced in his academic career it was a bit obvious that he was something special and was bound to do great things with his knowledge. The way he went about applying his knowledge was kind of hard for some folks to follow since let's be honest, the type of mathematics Nash was doing in the movie, and has done throughout his life, is a bit beyond some of us, and there were no doubt viewers that were ready to go back to the story when the mathematics were being applied. Yes, my hand is up in that regard, since I detest math despite knowing that it's absolutely necessary to life.
Getting back to the movie, however, John was a troubled human being, in life as well as in the movie, but his delusions are heavily debated since it doesn't appear that the movie really kept to the truth of his troubles. Coming up with the imaginary figures that he saw in the movie was no doubt for drama and for effect since it was another tool that explained away his condition. But throughout the movie, it is easy to note that John deteriorated over time as his condition continued to worsen until finally, he realized that he was in fact ill and that his wife and others had been right all along. Working with a biopic feels as though it's bound to come up against a few obstacles since the real-life events of one individual or another will likely prove to be a little difficult for many directors who want to go off in their own direction.
For the sake of this movie, however, it was something that was able to hold up just long enough to ferry the audience to the end in a manner that was somewhat entertaining and even capable of giving people a look at a character they might have otherwise never known about. While the real John Nash is said to be even more complex than the character that Russell Crowe portrayed, the fact is that this movie served as a window into Nash's life in a small way at least, and made it possible for people to grow interested in the real individual. If nothing else, it's a way to honor those that have done something great in their lives no matter that their story is a bit muddled.