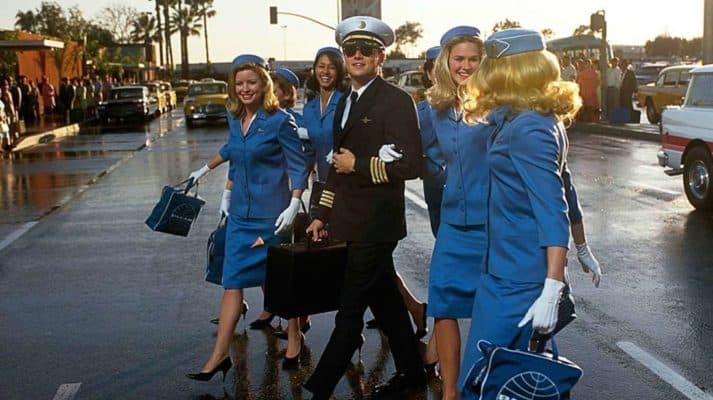 Criminals — we don't like them. But we'd be lying to ourselves if we didn't admit that the lives they lead are generally intriguing, to say the least. That's why directors make movies about them all the time — because of the unconventional lives they choose to pursue. While no one here is glorifying the crimes they have committed, their stories remain some of the most interesting ones out there. If you are on the lookout for biographical films about real-life criminals, look no further. Here are some of the most interesting movies about true-to-life crooks and culprits.
Catch Me If You Can
One of the most well-known crime movies of the past 25 years, Catch Me If You Can depicts the insane adventures of convicted felon Frank Abagnale. Here is the synopsis of the movie, according to IMDb: "Barely 21 yet, Frank is a skilled forger who has passed as a doctor, lawyer and pilot. FBI agent Carl becomes obsessed with tracking down the con man, who only revels in the pursuit." The movie boasts an impressive list of A-list actors playing various real-life figures, most notably Leonardo DiCaprio as Frank Abagnale and Tom Hanks as Carl Hanratty, a character that is based on FBI agent Joseph Shea. Other actors who appeared in the movie include Martin Sheen, Christopher Walken, Nathalie Baye, Amy Adams, James Brolin, Nancy Lenehan, and many more. Almost universally acclaimed by critics, Catch Me If You Can enjoys a 96 percent certified fresh on Rotten Tomatoes. MovieFreak was all praises for DiCaprio's beguiling portrayal of Abagnale. "Arguably the most gifted young actor of his generation, Leonardo DiCaprio has definitely been a victim of his own success. Leo bashing was all the rage there for a while after his monster smash Titanic."
The Polka King
Another biographical comedy film about a real-life crime, The Polka King depicts the story of polka band leader Jan Lewan, who was sent to jail in 2004 for operating a Ponzi scheme. Jack Black plays the role of Jan Lewan. Other stars appear in the movie, including Jenny Slate, Jason Schwartzman, Jacki Weaver, Vanessa Bayer, JB Smoove, Willie Garson, and Robert Capron. In an interview with Newsweek, Black explained the process involved in transforming into Jan Lewan for the movie. "It was tough. There are some sounds in that accent that, if you weren't born and raised in Poland, are very difficult. It's like a musculature thing. Your mouth isn't used to making those shapes. I have a great accent coach here in L.A., Elizabeth Himmelstein, who is kind of my acting coach, too. We discover things in the material through accents that are invaluable to me as an actor." Karen Han of The Daily Beast praised the careful direction of the movie, writing: "There are undeniably moments in which Lewan, played by Jack Black, comes off as heroic, but director Maya Forbes does her best to keep the ship on course. Black repeatedly returns to the confessional booth to ask for forgiveness for what he's doing."
The Wolf of Wall Street
Another DiCaprio film listed here is The Wolf of Wall Street. Premiered in 2013, a good decade after Catch Me If You Can, Leonardo DiCaprio stars in The Wolf of Wall Street as Jordan Belfort a former stockbroker and convicted felon. His memoir, published in 2007, served as the basis for the movie, which was directed by Martin Scorsese. Aside from DiCaprio, other movie stars appear in the film as well, including Jonah Hill as Donnie Azoff (Danny Porush), Margot Robbie as Naomi Lapaglia, Kyle Chandler as FBI Agent Patrick Denham, Rob Reiner as Max Belfort, Jon Bernthal as Brad Bodnick, Matthew McConaughey as Mark Hanna, Jon Favreau as Manny Riskin, Jean Dujardin as Jean-Jacques Saurel, and many others. Belfort himself makes a brief appearance in the movie. The Wolf of Wall Street was nominated for several awards at the 86th Academy Awards, including a Best Picture award and a Best Actor award for DiCaprio. A review by Flavorwire wrote favorably about the movie: "Scorsese is fascinated by procedure, by drawing back the curtain and showing us how things happen, though he keeps the picture nimble and entertaining enough to avoid burying himself in the minutiae."
The Wizard of Lies
Perhaps the darkest movie on this list, The Wizard of Lies tells the story of notorious businessman and fraudster Bernie Madoff, who ran the largest Ponzi scheme in history. Robert De Niro is perfectly cast in the movie as Madoff, who plays the role to perfection. Other performers included in the film are Michelle Pfeiffer as Ruth Madoff, Alessandro Nivola as Mark Madoff, Hank Azaria as Frank DiPascali, Nathan Darrow as Andrew Madoff, and Sydney Gayle as Emily Madoff. The New Republic, while poking fun at the movie's cheesy title, praised the movie's overall casting: "Robert De Niro has been in some bad comedies in recent decades, but there's no altering the fact that he is one of Hollywood's great treasures. Now he's back, in HBO's The Wizard of Lies, doing what he does best: playing a gangster who is difficult to get a moral read on. White-collar the crime may be, but Bernie Madoff is a character cut straight from the mob-flick tradition. Michelle Pfeiffer, meanwhile, is one of cinema's most compelling molls. There's something very similar between the characters of Madoff's wife Ruth and Elvira Hancock in Scarface (1983). Neither woman smiles, ever, and their blonde hairdos look like helmets designed for defense. Both women have knifelike bodies which communicate the combination of strength and fragility that is the definition of the word "brittle."
The Hoax
Last on the list is The Hoax. A 2006 comedy-drama, the movie tells the story of Clifford Irving, a writer who masterminded a hoax to publish an autobiography of Howard Hughes. The catch: he's never even talked to Howard Hughes before. Here's the official plot, according to Rotten Tomatoes: "In the early 1970s, author Clifford Irving (Richard Gere), with accomplice Richard Suskind (Alfred Molina), attempts to pull off one of the greatest media scams of the century. He writes a fake biography of reclusive billionaire Howard Hughes, claiming that Hughes authorized it, and sells the book to publishing giant McGraw-Hill." The movie stars Richard Gere as Clifford Irving, Alfred Molina as Richard Susking, and Hope Davis as Andrea Tate.