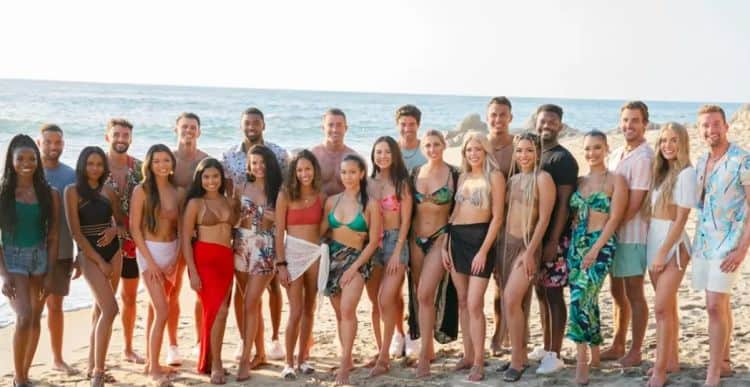 Thanks to advances in modern technology, dating is now more accessible than ever before. However, that hasn't made it easier for people to find the person of their dreams. As a result, some people turn to reality TV in hopes of finding that special someone. Statistically, looking for love on reality TV isn't the best idea. However, that doesn't stop countless people from giving it a try year after year. That said, not all reality dating shows are equal. There are some that are focused on lasting relationships while others are centered on hooks up and casual dating. Either way, many of these shows provide an incredibly entertaining experience for viewers. As a result, reality dating shows often find themselves at the top of people's lists of guilty pleasures. If you're looking for a new show to add to your watch list, we can think of quite a few that might deserve a spot. Keep reading to see our take on the 10 most entertaining reality dating shows on TV.
10. Too Hot To Handle
When Too Hot To Handle debuted on Netflix in the spring of 2020, people all over the world were spending a lot more time at home due to COVID-19. The show provided a fun escape and its unique premise was something viewers had never seen before. In Too Hot To Handle, a group of hot young singles are sent to a beautiful beachfront house. While many of the cast members admit they hope to find love, they also seem to be stuck in an endless cycle of dead-end "situationships." The show is hosted by a virtual assistant named Lana who explains to the cast that they are not allowed to engage in any sort of physical activity during their time on the show. If they do, each infraction will result in money being deducted from the $100,000 grand prize. Cast members are then encouraged to foster more meaningful connections with the person they're attracted to. Even if you've never seen the show, you can probably guess that cast members don't make it too long before that $100,000 pot starts to shrink. Too Hot To Handle came in 10th on the list because the show is somewhat of a catch-22. On one hand, it's a little gimmicky and someone annoying that the cast members don't even try to stick to Lana's rules. On the other hand, though, breaking the rules is what makes the show entertaining.
9. Love Island USA
Love Island originally debuted in the UK in 2015 before making its way to the United States in the summer of 2019. Like Too Hot To Handle, Love Island USA is another dating show that features a good-looking young cast who spends most of their time shirtless at the beach. It's also a competition where prize money is involved. That said, the competition aspect of Love Island USA is what makes it fun to watch. At the same time, though, reality dating shows that are centered around competition often attract people who are looking for a chance to be on TV, not necessarily people who are looking for real love. However, there are always some people who genuinely do catch feelings during their time on the island. Unfortunately, though, the relationships formed on the show don't tend to last.
8. Dating Around
Dating Around isn't as popular as some of the other shows on this list, but it definitely deserves more attention than it gets. The show is Netflix's first original dating show and it has a very interesting concept. During each episode, the show follows one person who goes on five different blind dates. These dates are often with a wide range of people. In the show, we watch people navigate the awkwardness and excitement that comes with getting to know someone new. Even though Dating Around is a very simple 'what you see is what you get' kinda show, it's still incredibly entertaining. It has a level of authenticity that is missing from almost every other reality dating show. It's also a great example of how beneficial it be to date around as opposed to trying to force a long-term situation with the first person who comes around. At the end of each episode, the person chooses which one of their blind dates they'd like to see again. While viewers never get to see if the couples make it beyond the show, the ending always represents the possibility of a newfound romance.
7. F Boy Island
F Boy Island is newer than the rest of the shows on our list, but it's made a great impact in just one season. As HBO Max's first reality dating show, F Boy Island puts a spin on the dating show genre. As mentioned before, many of these competition-style reality shows — especially the ones that take place on islands — attract people who aren't really looking for love. F Boy Island hopes to weed those kinds of people out. The show features three female contestants who are hoping to find love among a group of 24 men. However, out of that 24, only 12 of the men are actually there for romance while the other 12 are there are just there because they're hoping to win a cash prize. It is up to the women to decide whose intentions are pure. Many critics have expressed that the show actually creates an empowering environment for women and it can also encourage the fboys to want to be better.
6. Love Is Blind
When Love Is Blind premiered on Netflix in February of 2020, it had reality dating show fans in a chokehold. The show has officially taken the concept of blind dating to a completely new level thanks to its one-of-a-kind format. The series centered around 30 men and women who were looking to get engaged. Over the course of 10 days, the participants are put through a very intense speed dating process. The men and women go on a series of dates in pods that completely restrict them from seeing one another. This forces them to get to know each other for who they are as people and now their physical appearances. The idea of getting to know someone based on their personality makes sense, but having to do it in 10 days led to a lot of people rushing to make decisions that eventually came back to bite them. Of course, however, this helped make the show very entertaining. For the most part, the couples on the show ended up crashing and burning. But surprisingly, the Love is Blind experiment actually worked for some people. Lauren and Cameron Hamilton, the crowd favorite from season one, are still happily married. Amber and Matt Barnett are also still going strong. Love Is Blind has been renewed for a second season, but it's unclear when it will air.
5. Indian Matchmaking
Indian Matchmaking is another reality dating show you may not have heard of, but it's one you should definitely watch. The Netflix original series follows an Indian matchmaker named Sima Taparia as she works to help match single Indian/Indian American people who are looking for love. They are all trusting her to use her techniques to pair them with someone they will be compatible with. Sima takes her job very seriously and she collects information on each of her clients which she refers to as "bio data". She realizes that she is up against other more modern options for people to find love, but she insists that her matchmaking method is tried and true. The series gives viewers a chance to see what dating culture is like in another part of the world and it's also a reminder that many relationship experiences are universal. Indian Matchmaking has officially been renewed for a second season. Chances are that it will air sometime in 2022.
4. The Bachelor/The Bachelorette
The Bachelor and The Bachelorette are two of the most popular reality dating shows on TV and they are also two of the most entertaining. Even though they are both competition shows, many contestants are really hoping to find love. One of the things that makes these shows unique is the fact that, unlike other competitive dating shows, only one side is doing the competing. The bachelor and the bachelorette get to sit back and make up their minds while everyone else in the house competes for their affection. The one-sided nature of both shows tends to lead to lots of drama, which in turn equals entertainment.
3. Married At First Sight
Most people would agree that marrying someone just moments after meeting them sounds ridiculous. That, however, is what Married at First Sight is all about. In the show, a group of experts works to match single men and women based on qualities and characteristics they feel would make them compatible. Each cast member meets their spouse for the first time at the altar. The couples then have eight weeks to decide if they want to stay married or get a divorce. Each season, the couples go through ups and downs with some of them realizing that they weren't as ready for marriage as they thought. Despite the help of the experts, Married at First Sight has a very low success rate in terms of couples who stay together. Less than 30% of the couples featured on the show are still together.
2. 90 Day Fiance
At this point, there are a handful of shows under the 90 Day Fiance umbrella, but they are all extremely entertaining. Originally, 90 Day Fiance followed couples in which one person was from the United States and the other was from another country. The American partner would apply for a K1 vista so that their significant other could legally come to the country. However, there's a catch. If the couples don't get married within 90 days, the visa will expire and the non-American partner will have to leave the country. Due to distance, many of the couples on the show haven't spent much time together. They're forced to use their 90 days to get to know each other while also trying to decide if marriage is the right choice. As you might be able to tell, there is no shortage of drama and you'll find yourself very invested in these couples.
1. Love/Life After Lockup
Love/Life After Lockup airs on WE TV and is easily the most entertaining reality dating show on the air right now. The first iteration of the series, Love After Lockup, follows people who are dating someone behind bars. Life After Lockup follows the couples once the person has been released. The series features a wide variety of couples, some who appear to have genuine feelings for each other and somewhere it's clear that someone is being used. No matter what, all of the couples have way more than their fair share of drama and it makes for great TV.
Tell us what's wrong with this post? How could we improve it? :)
Let us improve this post!