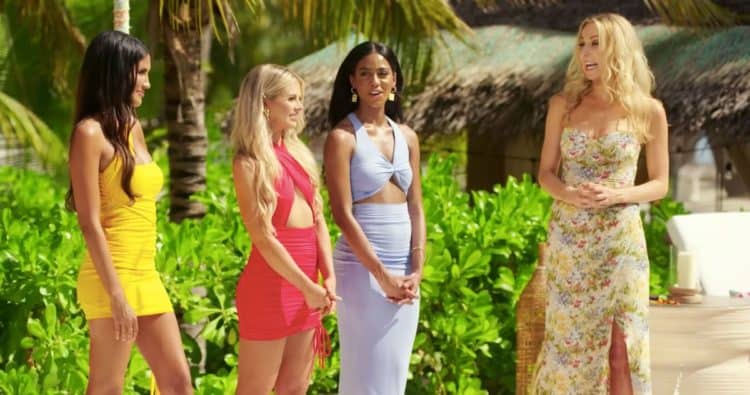 Over the last 10 years, reality dating shows have become more popular. This has forced producers to get more creative when it comes, and it looks like HBO Max's FBoy Island is the latest iteration. The upcoming series puts a new spin on the concept of looking for love. In the show, three single women will attempt to find the perfect man for them on an island with 24 eligible bachelors. However, not all of the guys are there for the right reasons. 12 of them are 'nice guys' and the other 12 are 'f boys' who are only on the show to win a cash prize. It'll be up to the ladies to see through the lies and find someone worth their time. Keep reading to learn 10 things you didn't know about FBoy Island.
1. The Show Is Hosted By Nikki Glaser
Every great dating show needs a great host, and FBoy Island has one. The show will be hosted by comedian Nikki Glaser who had her own TV show on Comedy Central called Not Safe with Nikki Glaser. Although Nikki has lots of TV experience, this will be her first time hosting a dating show. That being said, we're sure she's still going to kill it.
2. Season One Will Consist Of 10 Episodes
These days, people are all about binge-watching the shows they like. As a result, they usually like to know how many episodes are in a season before they get too invested. Potential fans will be happy to know that there will be 10 episodes in the first season of FBoy Island which is typical for these kinds of shows.
3. The Guys' True Intentions Won't Be Revealed Until The End
We already know that only 12 of the men on the show are going to have good intentions. However, we won't find out which guys are which until the last episode. This means that viewers are going to have to use their best judgment to try to guess which men are really trustworthy.
4. The Show Takes Place In The Cayman Islands
There's something about a beautiful island that makes the perfect setting for a dating show, and FBoy Island will continue to follow this format. The show was filmed in Grand Cayman early in 2021 at a villa on the beach. If you have to risk getting your heart broken on TV, you might as well do it on an island.
5. The Show Has Some Dating Show Pros Behind The Scenes
FBoy Island definitely has all of the things it needs to be successful, largely thanks to the people behind the scenes who are experienced in the dating show department. According to Man of Many, "Elan Gale, the mastermind behind the Bachelor franchise is leading the series, in collaboration with Love is Blind chief Sam Dean."
6. The First Three Episodes Will Be Released All At Once
As mentioned earlier, binge-watching is what it's all about these days and that's something HBO Max understands. Viewers will be able to watch the first three episodes of the show when it premieres on July 29th. The next three episodes will be released on August 5 and the last four episodes will come out on August 12.
7. The Show Is HBO Max's First Dating Show
Since its inception just over a year ago, HBO Max has already pushed out lots of great original content. FBoy Island will be the streaming service's first step into the dating show world. If the series is successful, it could result in HBO Max giving more dating shows a try in the future.
8. The Show Has Its Own Social Media Accounts
There are lots of people who enjoy following shows on social media because it allows them to keep up with what's going on in between episodes/seasons. People will be excited to know that FBoy Island already has verified social media accounts on Facebook, Instagram, and Twitter.
9. The Show Features A Diverse Cast
In general, dating shows get a lot of flack for not having very diverse casts. Although FBoy Island still fits a lot of the existing stereotypes about these kinds of shows, there is a good amount of diversity among the cast members. Hopefully, this will allow the series to appeal to a wider range of viewers.
10. People Are Already Excited About The Show's Release
Even though we still have some time before the show's debut, there's a good amount of excitement already surrounding the show. This is likely thanks to the FBoy Island social media accounts which have been getting people engaged through bolls and other interactive posts.
Watch The Trailer For FBoy Island Below