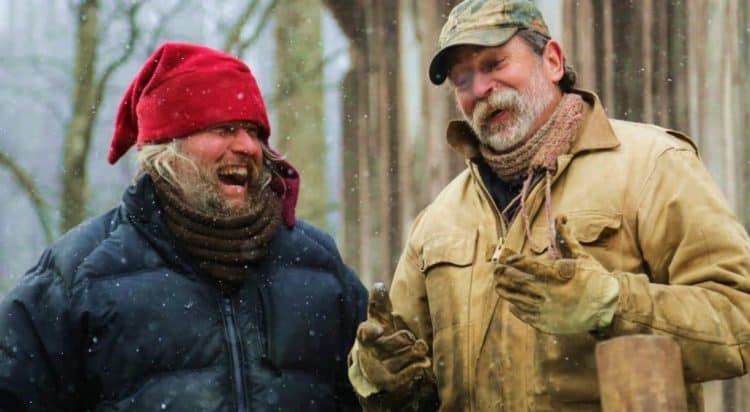 We all enjoy the reality television series "Mountain Men," but what do we really know about the rugged and skilled outdoors men who are the stars of the show? While there are quite a few reality TV series that are staged, we can tell you that "Mountain Men" is the real thing. What we see these men do on the show is just the tip of the iceberg in comparison to what they've done in their private lives. Here is the secret truth of "Mountain Men" we don't know about, just from watching the show.
Eustace Conway
Many years before achieving celebrity status on the series, Eustace Conway was a genuine mountain man who operated a nature school on his private property, located in North Carolina. He had been in business for several years without breaking any laws or having any safety issues or incidents on his property. The trouble started when the building officials from the local authority claimed that the buildings he utilized for the nature school did not meet code. Conway asserted that this hadn't been a problem in previous years. The county laid down ridiculous demands for compliance that would have made it impossible for him to run his operation. They shut down his school, so he challenged them in a court of law. The amazing thing is that the State stepped forward and instituted a new law that granted him an exemption, allowing him to win the day.
Neighbor disputes
Conway had another issue with a neighbor named Margaret A. Palms. Palms claimed that Conway started a property dispute with her over the space that the two shared on the property line. She informed the press that she and Conway had been friends before the dispute and alleged that he put up barriers to prevent she and her family from leaving their property. She also claimed that he tied their gate shut and plastered posters all over their fences. The judged dismissed the charges. Although Conway has been stereotyped as being "a little crazy," he is among the most interesting and beloved characters on the show.
Tom Oar
Tom Oar impressed his neighbors so much that they called producers of the "Mountain Men" show and highly recommended him. Upon their visit, they learned that he's a mountain man who lives the life authentically, making custom knives, moccasins and other hand made wilderness goods. They decided that they absolutely had to have him on the show. Tom still makes his handmade items and has them for sale, but because he doesn't have an internet store, you'll have to drive to his Montana home to buy them. There's no guarantee he'll have anything in stock though. Because of the show, his products are in high demand.
Charlie Tucker
Charlie Tucker was a legend years before he became a reality television figure. He gained celebrity status by building a cabin on his property in the North Maine Woods with his own two hands. His house became a local tourist attraction and it was one of two stops on the tour. When producers met with him, they discovered that he had the stubbornness and willpower that would make him an excellent addition to the show.
Rich Lewis
Rich Lewis is another mountain man who was a celebrity to the locals before taking part in the show. Hea earned a reputation for fighting mountain lions and was known as "protector of the people" in his neck of the Montana woods. In 2007, a marauding mountain lion killed two dogs and was becoming a threat to animals and people in the are. The Department of Wildlife negotiated a deal with him to hunt down the mountain lion and kill it to eliminate the threat. During the fourth season of the show, he lost his best friend and dog Brandy. Viewers Bill Lang, Lucas Sims and Dan Tanner felt bad for him, so they found him a new canine companion and make the 1,700 mile trek to his homestead to present him with their gift.
New found fame
Multiple magazine and news reporters are recognizing the fact that these are real mountain men and each of them have a story to tell. The men are handling their popularity well, but many of the journalists in search of a story are discovering that the lifestyle isn't what they're used to. Some making the journey to interview these guys have run into some interesting and uncomfortable circumstances. They soon discover that living off the grid can be dangerous and it lacks many of the creature comforts that city people take for granted. These are just a few of the things we didn't know about the mountain men, that make them such interesting figures.
Tell us what's wrong with this post? How could we improve it? :)
Let us improve this post!