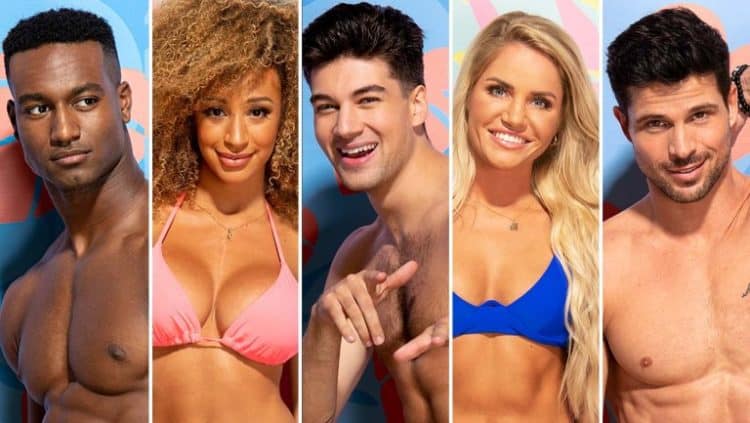 The cast of CBS's first season of Love Island has been revealed, and if first appearances are anything to go by, host Arielle Vandenberg's prediction that "It's going to be one hot summer" looks more than likely to come true. With its inaugural season premiering on July 9, CBS hopes to bring home some of the huge success the show has already seen internationally by following the same basic formula. Like its UK equivalent (which is already 5 seasons down and counting), the show takes a batch of 11 single men and women, all with either the looks of a model or the actual title of one, partners them up, locks them away in a stunning Fijian villa, and then sits back and watch the sparks fly. With the aim of the game being to remain a committed couple for the duration of the show, the new partnerships will be tested to the limit with the introduction of a series of games, challenges, and tempting newcomers to the island. To find out more about the cast, keep reading.
Arielle Vandenberg
Taking on hosting duties this season will be American actress and model, Arielle Vandenberg. Vandenberg began performing at the age of 5, initially in ballet, tap, and jazz and later in community theatre. Her credits to date include recurring roles on Meet the Browns and Greek, along with singular appearances on shows such as CSI: Miami, Bones, How I Met Your Mother and Numbers. She's also featured in numerous TV commercials for brands such as Progressive Auto Insurance, Mercedes-Benz, State Farm Insurance and Coca-Cola Zero. In 2013, meanwhile, she had the honor of starring in the music video to the Arctic Monkey's single, R U Mine. After landing the Love Island gig, Vandenburg took to Instagram to share her excitement with her 1.2 million followers. "I feel so honoured to be a part of this amazing @cbstv family! WOW! I'm buzzing right now! I've waited my whole life for a moment like this! And it feels exactly as I imagined! PERFECT! Thank you thank you thank you @loveislandusa & @cbstv for choosing me to as your host! I LOVE LOVE!!! LET'S GOOOOOO!!! Ahhhhhhh!!!!!"
Alana Morrison
21-year-old college student Alana Morrison from New Haven, Connecticut admits to never having had a boyfriend, but would like her first to be funny and on the goofy side. If she could pick any celebrity in the world to hook up with, it would be Odell Beckham Jr. Alana describes herself as "a very optimistic person that tries to look for the lessons in everything," and lists one of her greatest achievements as winning prom queen despite not running, campaigning or nominating herself for the title.
Elizabeth Weber
When 24-year-old New York City native Elizabeth Weber isn't fantasizing about her celebrity crush, Shawn Mendes, she loves traveling to new and exotic destinations and keeping fit with a game of beach volleyball or some rollerblading. In her spare time, she loves to hunker down with a good mystery movie.
Kyra Green
Kyra Green is a 22-year-old from Los Angeles who dreams of finding her dream man, who seems to be a mash-up of her celebrity crush, Johnny Depp, and an artistic soul with a skater vibe. In her spare time, Kyra likes to help out as a volunteer and dreams of one day finding the kind of partner who's happy to volunteer with her.
Alexandra Stewart
25-year-old publicist Alexandra Stewart has yet to find her dream man in her native Los Angeles but is hoping to find someone as close as possible to her celebrity crush, Liam Hemsworth, during her time in Fuji. If she can't find a Liam, anyone romantic, compassionate, supportive, and tall will do.
Caroline "Caro" Viehweg
21-year-old Los Angeles marketing student Caroline "Caro" Viehweg would love to find her celebrity crush Dwayne the Rock Johnson on the island- failing that, she'd prefer her ideal man to be spiritual, but always able to see the funny side of life.
Yamen Saunders
24-year-old Yamen Saunders from Los Angles is a real estate agent who describes Amber Rose as his ideal woman. Yamen is a party-loving extrovert but is always willing to offer an understanding ear and some helpful advice to those who ask.
Zac Mirabelli
22-year-old grocery store cashier Zac Mirabelli from Chicago is looking for a fun loving, goofy partner who's always on hand to offer support and who somehow manages to bring out the best in him. He's not looking for just a casual hook up either- Zac is on the lookout for his future wife. "I'm a relational kind of person," Zac told CBS. "I have always enjoyed being in a relationship more than a random hookups. It is a deep desire of mine to find a loving wife and build a family of my own."
Michael Yi
29-year-old Michael Yi is professionally good looking (yep, he's a model), comes from Miami, and regards Jennifer Garner as one of his all-time favorite pin-ups. Yi isn't quite sure what he's looking for in love but feels certain he'll know when he meets "The One". in his spare time, Yi loves to cook, work out and skateboard.
Weston Richey
25-year-old Weston Richey is a photographer from Dallas who lists building his own house as one of his biggest achievements. He's joining the show in the hope of meeting a girl with a great smile and a sunny personality.
Cashel Barnett
Cashel Barnett is a 25-year-old from Sacramento, California, who combines a career in modeling with one in music. Tina Fey is his dream girl, and Cashel would love to find someone as equally funny in real life… although real life it will need to be, as Cashel admits to being old school when it comes to dating, and would never consider meeting someone using a dating app.
Mallory Santic
Hailing from Vancouver, Washington, 25-year-old Nike Analyst Mallory Santic is looking for someone motivated and independent, with a carefree, fun side. While spontaneity ranks highly on her list of turn-ons, loud chewing ranks amount the lowest.