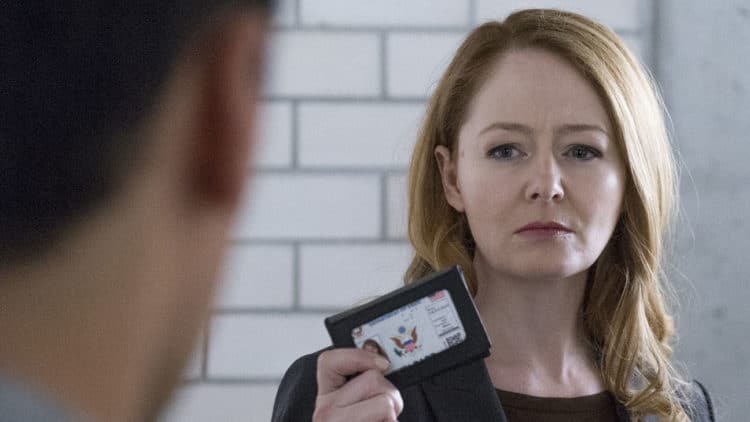 Finding success in the American market isn't always easy for actors from other countries. However, Miranda Otto was able to make the transition to American movies and films with ease. She made her Hollywood debut in 2000 in the film, What Lies Beneath and she has been a presence on screen ever since. In 2015, she was cast a role on the popular series Homeland earned her a Screen Actors Guild Award nomination. Most recently, she landed a main role as Zelda Spellman in the Chilling Adventures of Sabrina. Continue reading for 10 things you didn't know about Miranda Otto.
1. She Studied Medicine
In many ways Miranda Otto was destined to be an actress, but she didn't always see it that way. At one point in time, she was studying medicine and had plans to become a doctor. Ultimately, she couldn't resist the urge to act.
2. Her Dad Is A Famous Actor
Miranda's father, Barry Otto, is a well-known actor in Australia. Many would consider him one of the most legendary actors the country has ever seen. Growing up with a father in the business, helped shape her perspective on the industry. Even though it inspired her in many ways, it also showed her the harsh realities that come along with a career in acting.
3. She Came Close To Quitting Acting
We've all had jobs that we've wanted to quit at one point of another. As much as Miranda loves acting, she still almost walked away from it. In fact, there have been multiple times where she's considered quitting acting. She told Daily Mail, "There have been times in my career where I thought of stopping acting along the way and doing something else, and then some fantastic role comes along just as I'm thinking, "I don't know if I can keep doing this."
4. She's A Fan Of Euphoria
Even though she's a star herself, Miranda is also a fan of other people's work. One of the shows she enjoys binge watching is the HBO series Euphoria. In it's first season on the air, the show quickly became a hit for it's unique portrayal of the teenage experience.
5. She Was Attracted To Th Dark Nature Of Sabrina
People who grew up in the late 90s/early 20001 will probably remember the show Sabrina the Teenage Witch. However, The Chilling Adventures of Sabrina is a completely different type of show. Instead of the funny and light vibe of the original show, this version is much darker. It's that darkness that attracted Miranda go the role.
6. She Likes Her Privacy
Even though she has spent a good portion of her life in the spotlight, Miranda actually enjoys her privacy. She isn't the type of person who feels the need to be on every scene or at every event. For that reason, she continued to live in Australia for the early parts of her career.
7. She Lives In Canada
Since working on The Chilling Adventures of Sabrina, Miranda had relocated to Vancouver, Canada. However, she also has a residence in Los Angeles. She and her husband often travel between the two places in order to meet the demands of their schedules.
8. She Doesn't Like Playing Characters That Resemble Her
For some actors, being able to relate to the characters they play is very important. That isn't the case for Miranda Otto, though. She actually prefers to play characters that don't resemble her. During her interview with Daily Mail she said, "I don't enjoy so much playing myself. I much more enjoy trying to dive into a character. The more specific it is in the writing, the more fun it is for me."
9. She Was Pregnant While Shooting A Film
Working during a pregnancy can be exhausting no matter what your job is. However, it's especially tiring for people with job that require them to spent lots of time on their feet. Still, Miranda managed to shoot the 2005 film War of the Worlds while pregnant with her first and only child.
10. She Loves To Go Back Home
Having a home base to return to is part of what keeps lots of people grounded. No matter where Miranda Otto decides to move, Australia will always be her home. Most of her family still lives there and she loves to go back as often as possible to spend time with her loved ones.
Tell us what's wrong with this post? How could we improve it? :)
Let us improve this post!