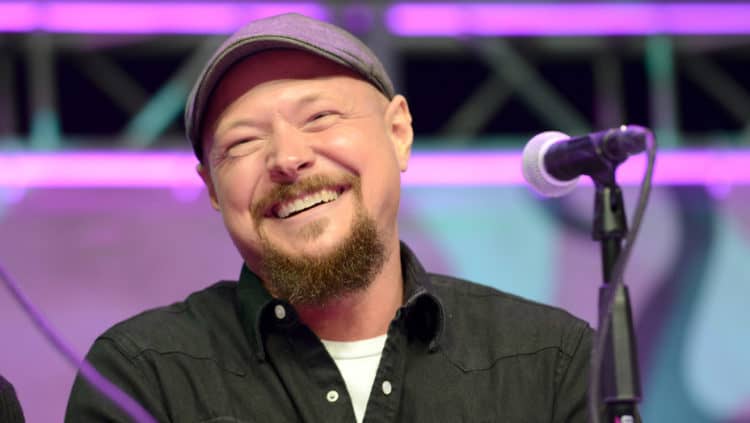 If you were around during the late 90s/early 2000s, then you probably have fond memories of Nate Richert. If that name doesn't ring a bell, you probably know him better as Harvey Kinkle from Sabrina the Teenage Witch. Known for being Sabrina's boyfriend, Harvey was king hearted and trust worthy. During the show's run, Nate appeared in more than 120 episodes and he became a fixture on TV screens all across America. When the show ended in 2003, however, Nate almost completely disappeared from the spotlight. Since the internet was a much different place in 2003 than it is in 2021, figuring out what happened to him simply wasn't as easy as it is now. If you've secretly been wondering what Nate has been up to all of these years, you've come to the right place. Keep reading to find out what happened to Nate Richert.
Life After Harvey Kinkle
Despite being a big star during his time on Sabrina the Teenage Witch, Nate didn't have much of an acting career before or after the show. In fact, according to his page on IMDB, his role as Harvey was his first ever on screen appearance. After the show ended, he had three minor roles between 2004 and 2006 before disappearing from the screen completely. Just because he wasn't acting didn't mean he wasn't busy, though.
Music Career
As the mid 2000s approached, Nate decided that he wanted to focus on something else that he had always been passionate about: music. He is a talented singer, songwriter, and guitarist who has released several songs over the years. Nate released his debut album, Halogeen Moon, in 2012. He also has a YouTube channel where he uploads videos of his performances.
Nate made a very brief return to acting in 2020 with an appearance in the TV series Home Work, but it doesn't look like he has any plans to get back into acting on a full-time basis. There is a chance, however, that Nate could return to the entertainment industry to do behind the scenes work. He does have some experience working as a director and producer.
Hard Times
Landing a major role on a popular TV series is something that lots of actors dream of. While the opportunity may seem like a great one on the surface, it can have some negative repercussions. One of them is the fact that once people get used to seeing you as a certain character, it can be hard to make people see you differently. Although it's unclear why Nate made the choice to walk away from acting, it likely had to do with a lack of opportunities.
In a series of tweets published in 2018, Nate spoke out in support of fellow actor Geoffrey Owens after news broke that Geoffrey was working at a local super market. Nate said, "I've been an actor for 32 yrs (since age 8). I'm extremely lucky to have had any success at all, let alone solid work in film and TV for 6yrs (20yrs ago). I'm currently a maintenance man, a janitor, a carpenter, and do whatever random jobs I can get to pay the bills. I do improv and songwrite to maintain my sanity."
Nate and Geoffrey's reality ends up being the case for lots of actors who were one a part of popular shows. Although people still recognize them, opportunities eventually start to dry up. But even with all of the ups and downs Nate has faced, he tries to stay positive and he's thankful for the journey he's been able to go on.
Nate's Personal Life
Things seem to be going well for Nate in his personal life and he is happily married to an actress named Malorie Felt. She has been in the entertainment industry for nearly a decade and has been cast in a handful of on screen roles. It's unclear exactly how long the couple has been together and they don't appear to have any children.
How Can You Keep Up With Nate?
If thinking about Nate's days as Harvey Kinkle gives you that 90s nostalgic feeling we all know and love, the fun doesn't have to stop here. Nate is pretty active on social media and he has accounts on Twitter and Instagram. On top of that, he also has an account on Cameo where he records and sells personalized video shoutouts. These videos can make a great gift for any occasion for the Harvey Kinkle fan in your life. Unfortunately, however, Nate isn't taking any new Cameo requests at the moment.