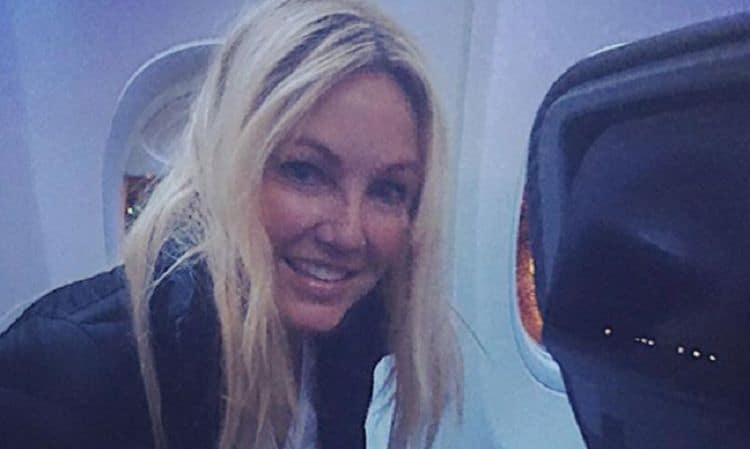 Heather Locklear has long been the kind of symbol in show business that has kept young men and older men alike excited in more ways than one and yet has had a decent and very professional standing in Hollywood for a long time. There have been some legal issues in her life throughout the years behind the scenes, but when it comes to her reputation in show business there's been nothing but admiration from those that have remembered her younger days and the way she seemed to light up the screen in such a big way. There are obviously moments she'll always be remembered for, as in her cameo in Wayne's World 2, and several other moments that people can remember, but one thing about Heather is that no matter what happens in the years to come she's earned her place in history.
Here are a few things about Heather you might not have known.
10. She was married to Richie Sambora at one time.
If you have to ask who Richie Sambora is then you likely don't listen to Bon Jovi. She was also married to Tommy Lee for a while, who's even more well-known thanks to his time spent with Pamela Anderson.
9. Heather quit UCLA to pursue an acting career.
This is kind of amusing really since her father was a UCLA administrator. Some might say that would be kind of a slap in the face, but all in all things did turn out okay since she did eventually make her acting career work for her.
8. She was rejected by the cheerleading squad in high school.
This might be kind of hard to swallow, but she was in fact turned down by the cheerleading squad and thus made her way towards the drama club where her true calling seemed to be waiting for her. Obviously she had to keep moving forward with her education for a while until she figured out just what she wanted to do.
7. Heather was charged with a DUI in 2008.
It sounds like this was dropped in 2009 when she plead guilty to reckless driving. This seems to be a problem for a lot of those in show business and a lot of times it seems that they get a slap on the wrist when the rest of us would be headed off to jail or at least to community service. But all in all they do get arrested now and again, even if they get let off the hook occasionally.
6. William Shatner was one of her acting mentors.
There are a lot of people out there that could be counted as worse than ol' Captain Kirk when it come to acting mentors. After all the guy has been around for quite a while and he does know a thing or two considering that he's been a fan favorite for so long.
5. In 2017 she was arrested at home for domestic violence and battery of an officer.
It does seem as though Heather has been going downhill with her behavior as of late. A lot of it could be due to medications that she's been taking throughout the years, but after a while one has to think about just how much the medication is to blame. In reality one might think that she's not handling getting older or being away from the spotlight all that well, but it could easily be something else too.
4. Her opinion is the older you get the farther from the camera you need to be.
There are a lot of people that might disagree with her since the older actors of this day and age are certainly not giving up any time soon. The older one gets the more decisions they have to make for the time they have remaining. Heather has done her bit and had her fame, it's not selfish to want to step back a bit and enjoy life.
3. In 2008 a 911 call was made by someone that said that Heather was going to commit suicide.
When the police arrived she was just fine, but it was still treated as a real call and she was seen as troubled all the same. This apparently isn't the first time since in 2018 it happened again. It would appear that Heather hasn't been doing too well lately.
2. She's been nominated for several awards and won a small handful.
Among the few she's won was the Golden Raspberry award for Worst Actress in Return of the Swamp Thing. This is the one award that almost no one ever wants to win since it's quite honestly an award for being that terrible.
1. Melrose Place was one of her crowning achievements.
On the show Melrose Place she was one of the hottest stars and gained a lot of fame that catapulted her career forward. At this point though a lot of the younger generation know nothing about her.
At one time she was one of the women that turned a lot of heads.