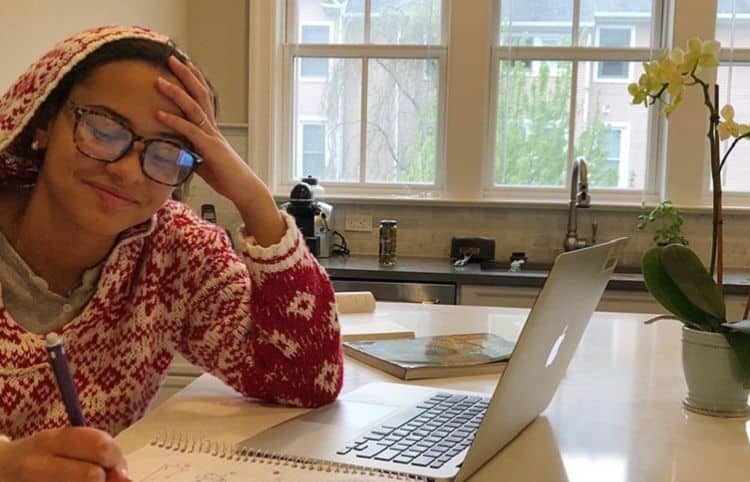 Ashley Aufderheide is a young American actress who is best known for her appearance in the comedy-drama "Infinitely Polar Bear." This emerging young star is still in her adolescent years, but she's had an interesting life so far, and she's just getting started. She already has a growing number of fans who want to know as much as they can about her, so here are 10 things you probably didn't know about Ashley Aufderheide.
1. She is also a model
Ashley is a stunningly beautiful young girl of just 14 years of age, and she's been working as a professional since she was just three years old. This is the age that she first started her modeling career. She has modeled clothing and appeared in advertisements for some of the biggest names in the fashion industry. To name just a few of them, she's modeled for GAP, Ralph Lauren, Juicy Couture shot by Steven Meisel, Saks, and many others. While some hopeful young women are struggling to break into the modeling business, she was practically born into it.
2. She has worked for years before becoming an actor
Although it might sound a bit strange that a 14-year-old girl has years of work in the entertainment industry, in Ashley Aufderheide's case, it's the truth without exaggeration. She is certainly no stranger to the camera, but prior to becoming an actress, she did other things within the entertainment business. She has done commercial work as well as voiceovers. It was acting that came after all of these other experiences.
3. Ashley is a phenomenon
Ms. Aufderheide is a seasoned professional already. If she plans to continue her career in the acting and entertainment business, then she already has a good start on it. She is a talented and versatile young lady who has a brilliant future ahead of her. This is whether she stays in show business or decides to do something else. She is one of those people who seems to have talent oozing from her pores.
4. She has received critical acclaim as an actress
Ashley was cast in the lead role for the film "Infinitely Polar Bear" as Faith Stewart. Her performance was so convincing that she received praise and critical acclaim for it. The film made its premiere at the 2014 Sundance Film Festival. This was truly her breakthrough performance and it firmly established her as a talented professional within the industry. She appeared in the film with Mark Ruffalo, one of the big names in Hollywood and it's a good association that has given her career a big boost.
5. Aufderheide also appeared with Morgan Freeman
Ashley is making some very valuable connections in the film industry. She is appearing with veteran actors who simply don't put out bad movies. Having her name linked with them builds her credibility for future roles. She appeared in the film "Going in Style in the role of Morgan Freeman's granddaughter.
6. Ashley also had another leading role
Even though she hasn't been in acting for long, she certainly is scoring her share of leading roles. Another lead that she took was in the movie "four Kids." She starred with Russell Brand, Matthew Goode and Paula Patton in Ireland in the film "It" as well.
7. Ashley has been a professional actress for 5 years
Her debut in film was in 2014 with "Infinitely Polar Bear." This was followed by a part in the television series Unforgettable as Maya Rawlins-Murray the same year for one guest appearance. Things were beginning to pick up for her and in 2015 she appeared in the television series "The Slap" as Melissa, followed by 2 episodes as Young Tulip in the series "Preacher in 2016.
8. She's still going strong
In 2017 Ashley appeared in a film and a TV movie. She was cast in the role of Rachel Winters in "High School Lover," and as Kanika in the film "Going in Style." She landed a recurring role in the new television series "Emergence" in 2019 and she is still currently involved in the show in the role of Mila Evans. Her latest film project "Four Kids and It as Smash is in the post-production stage of development with no indication yet of the release date.
9. She already has ratings on Rotten Tomatoes
Rotten Tomatoes is a website that provides information on actors and the ratings that they are given by critics. She has already been listed on the site and has active ratings of her work so far. There are a lot of newer actors who don't get their work reviewed on the site until they've been in the business a lot longer. This shows that people are showing an interest in giving their opinions on the quality of their performances. So far, she has received an 81% approval rating for her performance in "Infinitely Polar Bear," and a 93% approval rating for her role in "Emergence."
10. Ashley Aufderheide is a rising star
Ashley has made a positive impression with her performances as an actress so far. While a lot of hard work goes into the kind of work that she does, Ashley makes it look effortless. Acting just seems to come naturally to her and at the age of 14, she is rapidly approaching celebrity star status. If she continues on her current trajectory, we see a bright and successful future ahead for her. Ashley is still fairly new in the business with just 8 acting credits in her portfolio but this will likely change soon. If she follows the same work pattern, she will have a couple of films or television series roles per year, and perhaps even more in the future, with her schedule permitting. We're looking forward to her continuing in her role in "Emergence" as well as the new film that is still in the works. Ashley Aufderheide is a rising star and we have high hopes and expectations for her to rise to the top.