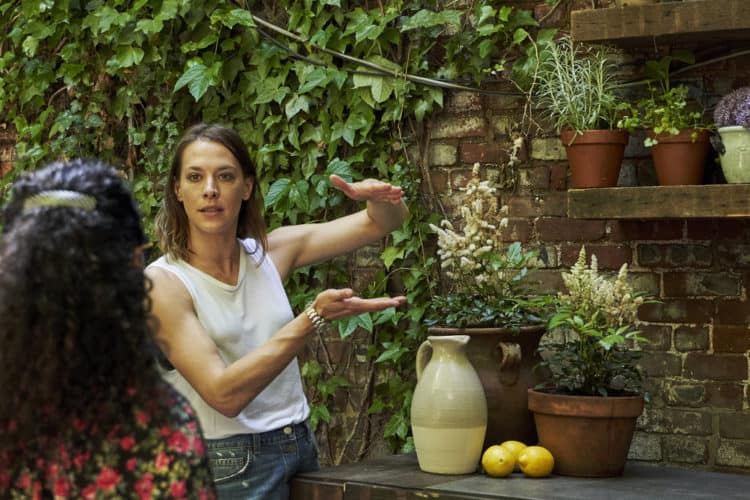 Most people would agree that Melissa Brasier is living the dream, she has a job she loves and she gets to work with her friends every day. As the only woman on a team of Manscapers, Mel brings a special presence to the cast of Backyard Envy. Mel is the team's construction lead and she has incredible knowledgable and a knack for envisioning beautiful outcomes. She's all about her work and puts 100% into every project she does. Basically, when Mel is working on something, you can rest assured that it's in good hands. Her fun personality also makes for great TV and it's easy to see why she and the rest of the manscapers have become such a big hit. Keep reading for 10 things you didn't know about Melissa Brasier.
1. She Used To Work In Interior Design
Like her friends and business partners on Backyard Envy, landscaping wasn't the first stop on Mel's career path. She attended Fashion Institute of Technology where she studied interior design. She worked in commercial interior design for several years before deciding to make the switch to landscaping.
2. She Was a Dancer
Mel a woman of many talents, and all of her experiences have come together to help her with the work she does now. She is a classically trained dancer who attended the Alvin Aliey School. She danced and toured for nearly 20 years before hanging up her shoes.
3. She Teaches Yoga
Staying active is something that has always been important to Mel. Even though she loves her job, sometimes it's nice to decompress and release stress and tension. One of her favorite ways to exercise her body and her mind is through practicing yoga. Not only does she do yoga, but she has also been a yoga teacher for many years.
4. She's A Wife And Mother
Mel is happily married to her husband, Matthew, who works as a creative director. The couple appears to have one child together, a daughter named Lulu. However, Matthew also has another daughter from a previous relationship, and Mel is very proud to be her bonus mom.
5. She's A Cancer Survivor
Mel has had to overcome lots of things in her life, with one of the most difficult being a battle with cancer. A few years ago, Mel discovered that she had a cancerous cyst in her uterus that resulted in her having to have a hysterectomy. She touched on the experience during an episode of the show and viewers deeply appreciated her vulnerability.
6. She Likes To Garden
Even though her role with the Manscapers is the construction aspect, she loves to garden. She enjoys spending time outdoors and working with different plants and flowers. Like many people, Mel feels comfortable and at ease when she is gardening and spending time outdoors.
7. She Encourages Entrepreneurs To Go All In
Being an entrepreneur is one of those things that is often glamorized, but most people don't realize how much work actually goes into building a successful business. If she could share one piece of advice with aspiring entrepreneurs, it would be this: "My best piece of advise if you are going to start your own business is to go ALL IN. Don't have a back up plan or a secondary source of income to fall back on, because if that's the case you will most likely run to that the second things get a little rocky (rather than sticking it out in your own venture). "
8. She's From Las Vegas
Mel was born and raised in Las Vegas, but she has since abandoned the desert life for four very distinct seasons. She currently lives in Brooklyn, but still travels back to Las Vegas frequently to visit her family. She loves living in Brooklyn and enjoys taking advantage of all the restaurants and stores the areas had to offer.
9. She Loves To Entertain Guests
Mel loves spending time with people, but she also enjoys being at home. For those reasons, she really likes to entertain her loved ones at her house. Despite living in New York City, her apartment has an above ground pool and plenty of yard space which makes it great for hosting gatherings.
10. If She Were A Flower She'd Be A Peony
If Mel could be any flower, she would be a peony – and her reason for choosing this flower couldn't be any sweeter. She said that Peony "is my 9-year-old step-daughter's name and because of that, all of my family identifies with that flower, like it's our family symbol."