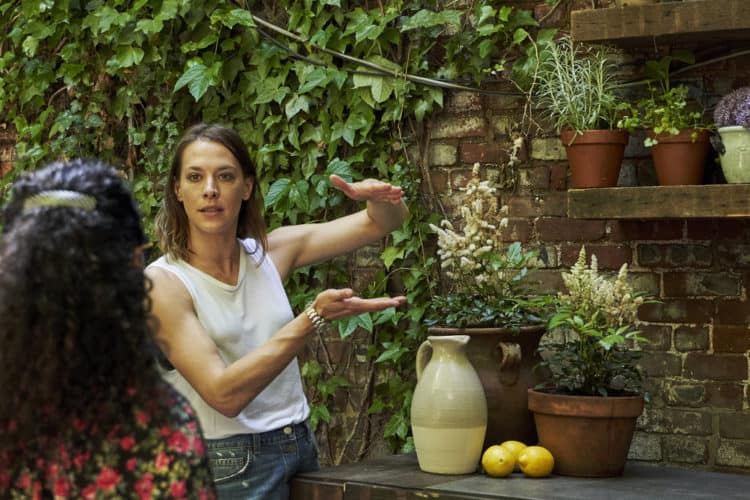 Since its debut in 2019, Bravo's Backyard Envy has become a huge hit. While Bravo is known for having reality shows that are full of drama, the network decided to take a different approach with Backyard Envy. The show puts a heavy emphasis on the projects being complete and focuses less on the cast members personal lives. However, that isn't the only thing that makes this series unique. Unlike other renovation/home design shows, the team on Backyard Envy specifically works with outdoor spaces. Once Mel, James, and Garrett get a hold of your space, you can bet you'll have the nicest looking yard on the block. But how does one go about getting featured on the show? Unfortunately, it's not an easy process. Keep reading to learn why it's so hard to get on Backyard Envy.
Here's How You Get On Backyard Envy
With the show's second season finally here, lots of people have started to wonder about the casting process. Seriously, who wouldn't love to have their property featured on a hot new home makeover series? Although I hate to be the bearer of bad news, there are a few factors that make your chances of being on the show nearly impossible.
For starters, the show isn't a full time job for the talented cast of Backyard Envy. Their design firm, Manscapers, is based in New York. Although they have recently expanded to Los Angeles, most of their clients are still based in New York City. This means that even if you could get on the show, you'd have to live in either New York or L.A. Additionally, outside of filming, the team has lots of other projects and clients. This means that only a small percentage of the work they do ends up being featured on TV. On top of that, the show doesn't seem to actually do any casting. Evidently, the people who agreed to do the show were already Manscapers clients.
With that said, the only way you could possibly get on the show is to hire the Manscapers for a project and become one of their clients. If you stick around long enough, you may end up being asked to be on the show. However, it's important to note that hiring them in no way guarantees you'll be on TV.
While this news may mean that your Backyard Envy hopes and dreams have been crushed, it also means that the show is as close to reality is it can get. Even though being on the show isn't a possibility for now, you can still tune in to get some ideas for ways to spruce up your yard. While some elements of the projects require professional level skills to pull off, there may be some minor tweaks and additions that you can easily implement into your space.
The Future Of Backyard Envy
Season two is already off to a great start. Not only does the team do amazing work, but their personalities make the show even more enjoyable. If the season two is as popular as season one, there's a very good chance the show will be brought back for a third season.
As Backyard Envy continues to get more popular, there is a chance that they made open up the casting process in the future. After all, the Manscapers work with lots of celebrity clients and many of them have already declined to be on the show. Even some of their nonfamous clients were initially hesitant about doing the show.
In an interview with Queerty, James DeSantis said, "We asked several of our celebrity clients if they would do it and they immediately said no. It's more work than it's worth for them. Also, the first season of a show, you have no idea. It could be like a Flipping Out where the clients are made to look bad or be dramatic. I think now that people have seen our show and how positive it is, maybe they'll be interested in future seasons. But even our regular clients, there was an element of having to convince them to get onboard. But then, the first day of filming, they're in hair and makeup, ready to go with three outfit changes. I was like, Oh, what happened to the trepidation? All of a sudden you're hamming it up! [Laughs]"
If Bravo does end up deciding to go the casting route, they will likely make an announcement. The network is also very good about posting its casting calls online. Until then, all we can do is keep our fingers crossed.
Tell us what's wrong with this post? How could we improve it? :)
Let us improve this post!