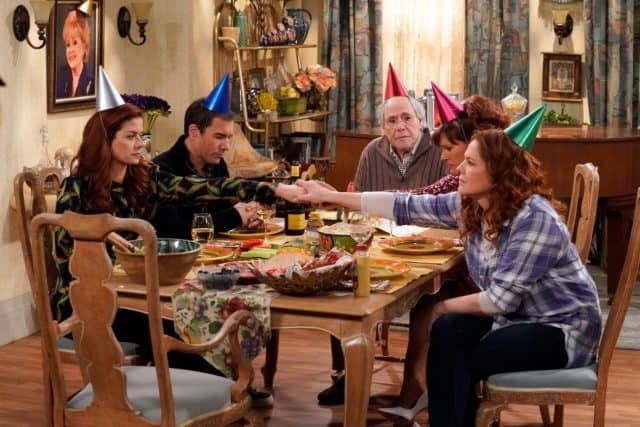 Will & Grace has been firing on all cylinders since its triumphant return to television. 20 years after the show first went on the air, and more than a year and a half after the world lost Academy Award nominated actress Debbie Reynolds, Will & Grace paid a fitting tribute to the late star. The penultimate episode of the season was dedicated to Grace's mother, who Reynolds played on and off from 1999 to 2006. For the cast and crew of Will & Grace, getting this tribute right was a top priority, which is perhaps why it was pushed to the end of the season.
The episode found Grace dragging Will back to her family home for her late mother Bobbi's birthday. Once there, Grace was pitted against her sisters on whether or not they should sell the family home. As the sisters reminisced about how much they missed their mom, they sang their mother's special birthday song, "All I Do Is Dream of You", an allusion to Reynolds's iconic role in Singin' in the Rain.
At this year's PaleyFest, held at the Dolby Theater in Los Angeles, Debra Messing remembered first working with Reynolds, and why it was personally important to her that the show honor her legacy the right way. "Working with Debbie was really indescribable. She was a broad in the greatest sense. She was always singing and dancing, and then going off and doing her one woman show [always introducing herself to the audience as Princess Leia's mother]. She and I would sit and talk about being a mother, because [at the time] I was a new mother , and the challenges of being a working mom. I really wanted us to honor her…she's with us."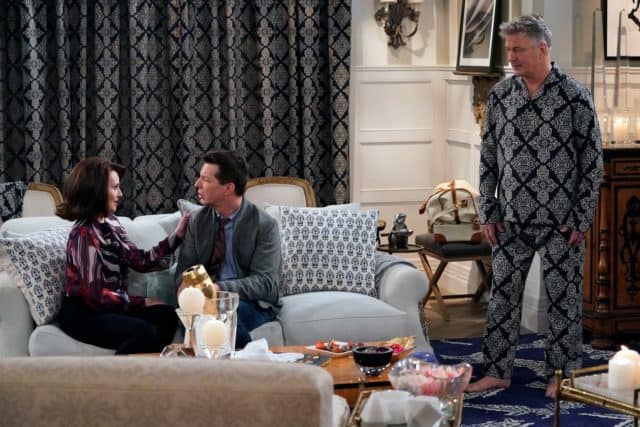 The episode also featured the return of Malcolm Widmark (guest star Alec Baldwin), Karen's once-a-year lover, and the split between Jack and his current beau. It was a strong commentary on monogamy, what it means for a new relationship and a decades long one. Jack took a big step forward this year by trying to commit to a monogamous relationship. But all of his hopes were dashed not only by his breakup, but by the knowledge that his best friend Karen had been having a secret affair for years (albeit, a once-a-year occurrence). Jack's faith in love was shaken, just as Grace's father was coming to terms with the loss of his lifetime love. Can we blame him? Just as there was only one Bobbi Adler, there was only one Debbie Reynolds.
Happy Renewals for more season of Will & Grace, and RIP Ms. Debbie Reynolds. Thanks for the laughs.