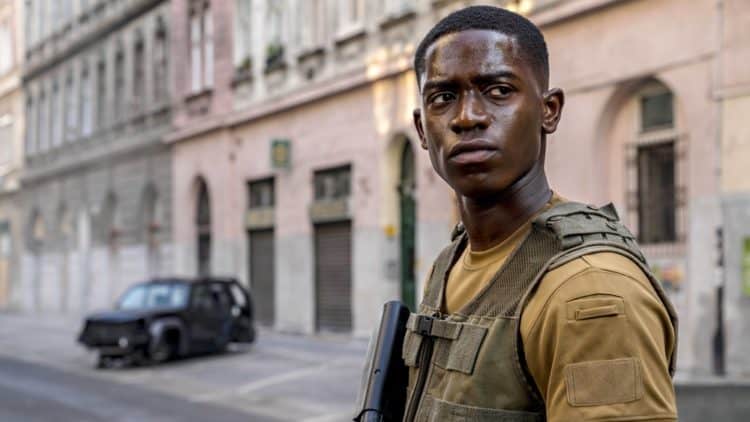 Damson Idris is undoubtedly one of the hottest up and coming stars in the acting world. He got his first major break when he was cast as Franklin Saint in the popular series Snowfall. His portrayal of the character was so convincing that many people had a hard time believing that he's actually British. Now Damson is getting ready to flex his muscle in the film world with a role in the upcoming Netflix movie, Outside the Wire. Not only does the film give Damson a chance to share his talent with an even wider audience, but it also gives him the chance to show just how versatile an actor he can be. Here are 10 things you didn't know about Damson Idris.
1. He Wanted To Become A Professional Soccer Player
If you've ever seen Damson on screen, it's clear that acting is his calling. For a while, however, he thought his future was going to be in sports. He crew up playing soccer and had dreams of becoming the next Cristiano Ronaldo. Once Damson was introduced to acting though, he knew he had to give it a shot.
2. He Learned His American Accent From A Rapper
Damson's American accent is so good that it's nearly impossible to believe that he's faking it. While most people can probably guess at that he's worked with a dialect coach, many people may be surprised to know who it is. Damson learned his accent from west coast rapper, WC, who is best-known for being a member of Westside Connection.
3. He Has A Degree In Theater
Sure, there are some people out there who are naturally good at acting, but that doesn't mean that they don't have to put work in to reach their highest potential. In order to make the most of his skills, Damson studied theater at Brunel University London where he earned a bachelor's degree.
4. He's A Big Denzel Washington Fan
Every actor has at least one other actor who they've always looked up to. For Damson, that person is Denzel Washington. Damson told Interview Magazine, "My hero is Denzel Washington, and then I looked at someone around a similar age to me who was American who is also an idol, Michael B. Jordan."
5. He Was In A Video Game
Live action roles have been Damson's main focus, but it looks like he's also giving voice acting a try. He voiced Marcus Corell in the 2017 video game Squardron 42. It'll be interesting to see if he takes on any other video game projects over the course of his career.
6. He Considers Anthony Mackie A Brother
Have you ever found yourself really hitting it off with someone you work with? That's exactly what happened to Damson when he and Anthony Mackie met on the set of Outside the Wire. During an interview with CBR Damson said, Mackie, above all things, he's like my big brother. He truly looks out for me and my career and he's full of advice, full of lessons. "
7. He Was Nervous About Filming Outside The Wire
Even though Damson is very confident in his abilities, he still gets a little nervous from time to time. Those nerves definitely started to kick in when he started filming for Outside the Wire. He told CBR, "I was petrified, I was really scared, not only to be doing my first action movie, but to act when things aren't actually there."
8. He Has Nigerian Roots
Damson was born and raised in England, but his family is originally from Nigeria. He comes from a large family where he is the youngest of six children. He was raised by a single mother who instilled in him the importance of hard work and education. Damson is very proud of the two cultures that have come together to make him the man he is today.
9. He Did His Own Stunts On Outside The Wire
Outside the Wire is full of action packed moments, and Damson got the chance to be a part of them. In an interview with Coming Soon he revealed that he did all of his own stunts for the movie. Surprisingly, he said that running was his favorite although it was more difficult than people think.
10. He Takes His Fashion Seriously
Damson may not be a model, but that doesn't mean he can't take his clothing choices very seriously. While discussing fashion with The Gentlemen's Journal Damson said, "I feel like the way you dress has an impact on your decisions, your ethics, your morals. Especially where I came from in South London. I'd love to see a day where everyone was wearing suits instead of tracksuits. What would that day be like? Travelling is the cure for ignorance. Having good taste is something I took, like a sponge, from all the different places I went to. "