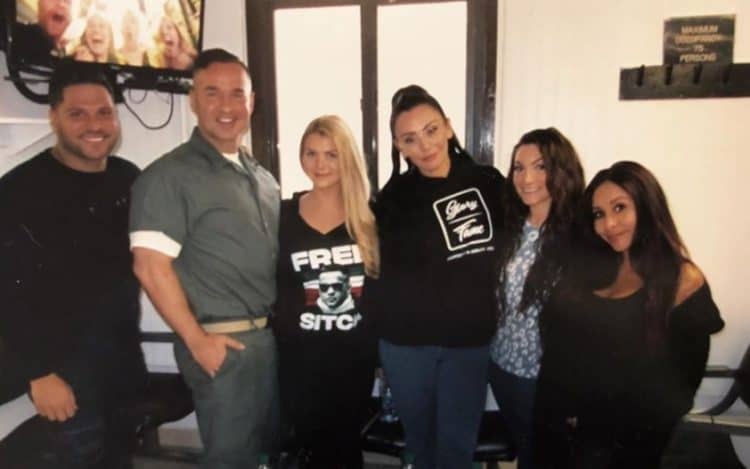 Who knew that prison was going to be a blast? Jaclyn Roth from In Touch has made it known that Mike Sorrentino from Jersey Shore has been having a good old time during his stay inside and he's even been able to see his buddies from the show a time or two. Really? That's where we're at in America at this point it would seem when it comes to the legal system, prison is becoming a joke, a party place, or at least it is for some folks. Normally you wouldn't think that being in prison is a breeze, even if it's just for tax evasion, but maybe that's a perk of having been a reality star for so long, the accommodations and the treatment might be a little more preferential. In fact his buddies are already saying how great of a time he's having on the inside and how big of a party they're going to have once he gets out.
Anyone else feel like shaking their head and heaving a big sigh right about now as we try to figure out why folks like this get glorified? I'd agree with Haley Phillippi of the Daily American on one point, it does help people belong to a certain group of individuals that like reality shows and follow them almost religiously. Apart from that however reality shows seem hard to avoid but are in general kind of a waste of time if you look beyond the scripts and realize that they're just another show that is there to entertain the public. This whole idea of going to prison being a gas and being something that's not all that bad isn't exactly accurate but judging by what's being said and shown of Mike's stay in the slammer it seems as though he might be getting a bit of special treatment here and there. That's not necessarily a good thing though.
It's true enough that some celebrities that have been found guilty of their crimes (it does happen believe it or not) have been sentenced to a year or less in prison. But while some would claim that their time is spent luxuriating in their cell with all they could want apart from their freedom some would gladly put the kibosh on that opinion. Prison isn't meant to be a thrill after all, or even a good time. You break the law and you get sent up the road to serve your time, that's the way the legal system is supposed to work. It's true that those who have money and fame can possibly find a way to make their stay a little more comfortable, but as some folks tell it, this only stokes the envy of the other inmates and makes life a bit harder for the individuals since favoritism in prison isn't something that's always allowed or tolerated. In fact favoritism is bound to land the person receiving it in more trouble than they can handle since too often prison is a place where you can't always count on the guards to come bail you out, unless you're a celebrity and are being taken care of.
Prison isn't a place where people run wild and attack each other in packs or just on a whim most times, but it's still not a pleasant place. As a celebrity though any individual that actually sees the inside of a prison is more likely to be treated with some favoritism or at least with kid gloves since the PR disaster that could occur if that celebrity is hurt on an administrator's watch would be nothing short of damning for any correctional institution. Those what would point the finger wouldn't be pointing it at the inmates that were responsible for any damage or harassment to the celebrity, nor would they even point at the guards that are supposed to be on duty and attentive enough to break anything up. Nope, they would point that finger straight at the person in charge, and the fiasco that would follow would be horrendous for any warden that dared try to justify doing anything other than pampering a celebrity in their custody.
That's where our society is at today though, no matter who wants to argue differently. There are laws for those of us that are considered common folk that are here to service those that entertain us, make our laws, and otherwise lord over us with their fame and fortune, and then there are laws for those that have the money, the fame, and the affluence within society. As you can already tell the application of those laws are less than equal and the celebration of those that have the kind of influence and money it takes to make prison more of a pleasing stay is more than a little irritating.