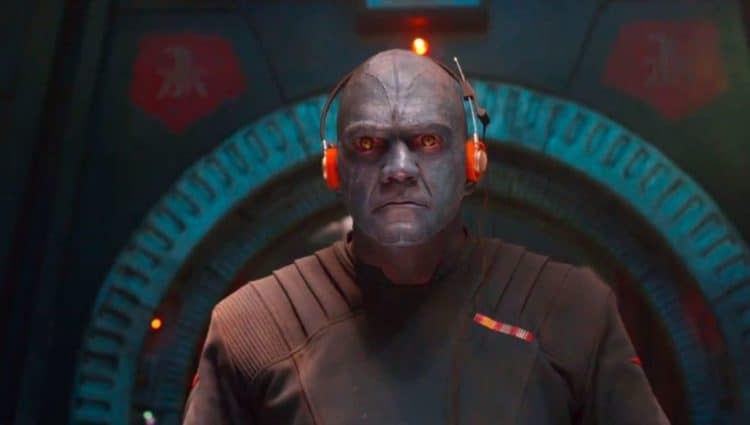 Spencer Wilding is a Welsh creature performer who has become a popular United Kingdom and Hollywood actor. The 6'6″ former kickboxer began working in film as a stuntman. Wilding soon became sought after as a special character actor. With imposing stature and looks he has had roles in several television shows and films since his career began in 2004. His latest role is perhaps his biggest, Darth Vader in the "Star Wars" film franchise.
Here are 5 things you didn't know about Spencer Wilding.
1. He was a champion Kickboxer
Spencer Lee Wilding was born in St. Asaph, North Wales on July 26, 1972. With a tall and strong physique early on, Wilding honed his skills as a kickboxer. He made the rounds through Wales as an amateur kickboxer beginning in 2004. He became an undefeated professional cruiser weight boxer and champion competing throughout Britain and Wales. Wilding continues to practice as a kickboxer along with his acting fame.
2. He was discovered by a family portrait photographer
While posing for a family portrait intended for his mother's mantle, the photographer noticed Spencer Wilding's unique physique and impressive looks. The photographer suggested Wilding find an agent in London. Eventually he did. His career as a "creature performer" in the United Kingdom took off as he got great roles in United Kingdom goals. Soon Hollywood found Spencer Wilding.
3. Early career
Spencer Wilding's first film roles as a creature performer were successful. He began acting in 2004 with a role as a special creature/werewolf in "Harry Potter". Other special character roles that followed include "Beowulf and Grendel", "Batman Begins", "The Golden Compass" and "Stardust". Wilding also appeared in the BBC television series "Dr. Who". He had other roles in the "Harry Potter" films and appeared as a White Walker in "Game of Thrones" in 2011. Spencer Wilding has appeared in 'Guardians of the Galaxy, "The Green Lantern", "Victor Frankenstein" and "Royals".
4. Blossoming career
Spencer Wilding has had his biggest role yet, Darth Vader in 2016's "Rogue One". Although James Earl Jones continued to be the voice of Darth Vader, Spencer is Vader. He will continue to appear as Darth Vader in future Star Wars films including the upcoming Han Solo film. "Star Wars" fans are excited at the prospect of seeing the film franchise's biggest villain in the latest film centering around Star Wars' biggest smuggler turned rebel.
5. He is involved with charity
Using his famous physique and Hollywood fame for good, Spencer Wilding is deeply involved with the ISPY anti-bullying campaign. He joins the charity and visits schools to talk to kids about the importance of not bullying other kids. Children respond to the movie hero. Wilding has also appeared at several Comic Con events, most recently in Florida. He befriended Port St. Lucie, Florida Police Officer Scott Johnson a couple of years ago and Johnson has said Wilding has a warm heart. Last month Wilding helped raise money for the St. Lucie Police Athletic League, Somerset College Preparatory Academy and the Treasure Coast Hope for the Homeless Foundation.
Tell us what's wrong with this post? How could we improve it? :)
Let us improve this post!