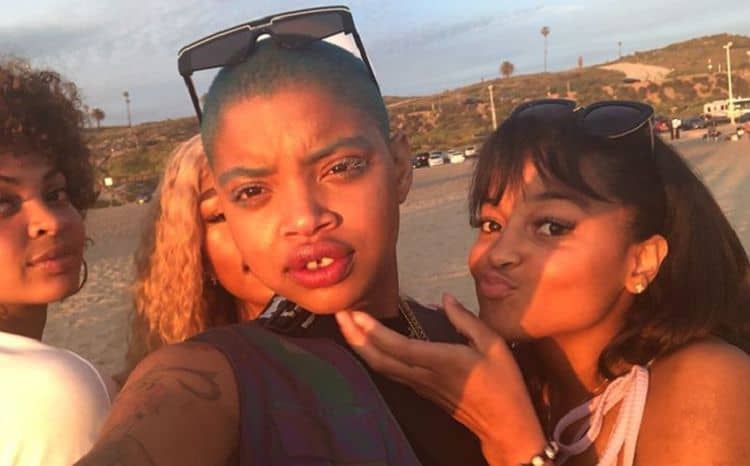 Slick Woods has one of the most unique looks in the modeling industry. Throughout her career, she has shown that it's possible to be successful, even if you don't fit the traditional look of a model. Slick is best-known for the work she's done with Rihanna's Fenty brand. She is now widely considered to be the face of the brand. In addition to her stunning looks, Slick's laid back personality has made her a favorite among fans. Slick has become popular for the good vibes she gives off. In just a few short years, she has managed to build a strong fan base, and there are countless people who want to see her win. Continue reading for 10 things you didn't know about Slick Woods.
1. She Was Diagnosed With Cancer
Why does it seem like life always has to throw a wrench in the plans right when things start going well? In the fall of 2019, Slick Woods revealed that she had been diagnosed with stage three melanoma. She began chemotherapy to fight the disease and she quickly started getting support from her fan base. Fortunately, Slick seems to be doing much better.
2. She Was Homeless
Slick's road to success hasn't been an easy one. She went through a long period of homelessness before her modeling career took off. She told Fashionista, "Being homeless, people don't understand … when you're really on the streets, you might go years without someone talking to you. I went two, three years during middle school, high school where people walked past me on the street when I talked to them. Said nothing, nothing to me."
3. She's A Mom
Slick Woods identifies as bisexual, but many people always envisioned her being with a woman. So when she announced that she was pregnant, lots of people were shocked. However, despite the fact that it may have been unexpected, Slick was very excited. She welcomed her beautiful son, Saphir, in 2018.
4. Her Real Name Isn't Slick Woods
You've got to admit, Slick Woods is a pretty catchy name. However, neither one of the names are part of Woods' legal name. Her actual name is Simone Thompson. When asked where the name Slick Woods came from, she said, "I started practicing my rolls, and when I'd roll the best reefs, they call me slick. The backwoods was slick."
5. She Was On Catfish
Catfish is easily one of the most entertaining and bizarre shows on MTV, and Slick Woods can see she's been a part of it. Ok before you get any ideas, Slick Woods wasn't actually on Catfish as a person who was being catfished. Instead, she joined New as a co-host for the show. She only appeared in one episode, but I'm sure fans would love to see her come back for more.
6. She Says Rihanna Reminds Her Of Her Mother
Rihanna and Slick Woods' relationship began when the singer noticed Slick on Instagram and decided to slide in her DMs. Slick has now become the face of Rihanna's Fenty brand, and the two have developed a strong friendship through their time working together. Woods says that she is almost brought to tears every time she sees Rihanna. Apparently, there is something about Rihanna that reminds Slick of her mother.
7. She Wants To Be A Creative Director
Modeling has afforded Slick with lots of opportunities she never thought'd she have. While she is grateful for all of the modeling work she's gotten, she has other plans for what she'd like to do in the future. She said she would love to be a creative director and eventually put together her own fashion shows.
8. She Dropped Out Of High School
Slick Woods dropped out of high school when she was just 17-years-old. When most people hear the term 'high school drop out', they automatically think of someone who is unsuccessful with limited options. However, Slick Woods was determined not to let stereotypes bring her down.
9. She's An Actress
On top of modeling, Slick Woods also has some experience working as an actor. She appeared in the 2019 film, Goldie, in which she played the title character. Like Woods, Goldie also had several hard ships to overcome. Slick says that, in many ways, playing Goldie was a therapeutic experience for her.
10. She Was Raised By Her Grandmother
When Slick Woods was a child, her mother went to prison. This resulted in Slick being raised by her grandmother. Unfortunately, Slick's homelessness began after her grandmother's divorce. In 2019, Slick's mother was released from prison after serving 17 years.