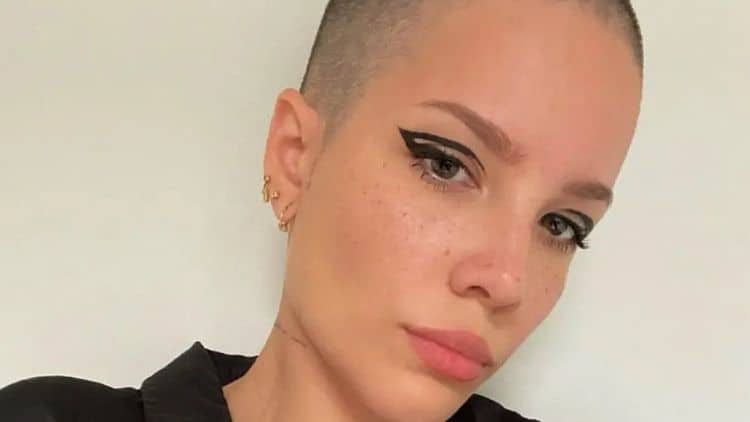 Over the last few years, the idea that gender isn't binary has become more and more popular. Now, instead of only identifying as men or women, there are many people who fall at other areas of the spectrum. As a result, pronouns have started to change as well. There are plenty of people out there who use pronouns they/them as opposed to he/him or she/her. Despite the fact that these things have become more popular, it can still be a scary experience for a person to share their pronouns. Music star Halsey recently got a lot of attention when she updated the pronouns in her social media bio.
Some people felt like the change came completely out of nowhere, while others applauded the singer for living in her truth. Keep reading to get more information on why Halsey changed her pronouns on social media.
What Are Halsey's Pronouns?
Most people who know of Hasley or have ever seen a photo of thw star, would probably assume that her pronouns are she/her. Recently, however, Halsey upgraded her bio and her pronouns currently say "they/she". The pronouns they/them/their are gender neutral pronouns often used to describe people who don't identify as male or female.
The move didnt't come with a major announcement, they simply updated their pronouns in their bio and it didn't take people long to notice the change. Halsey didn't provide an explanation as to why they made the change on social media, which of course has caused people to speculate. In reality, however, Halsey was probably just ready to share her truth with the world and wanted to make sure there was no confusion over their pronouns. It's important to keep in mind that using a gender-neutral pronoun does not have anything to do with sexual orientation. The use of gender-neutral pronouns also does not neccesarily mean that a person is transgender. In Halsey's case, she has not made any specific announcements regarding her gender identity.
Why The Change Was Such A Big Deal
To some people, pronouns may not seem that important. However, to people whose gender identity exists outside of the traditional she/he pronouns, having a huge star openly use a gender neutral pronoun is an important moment for visability. Unfortunately, many trans and/or non-binary people who use gender neutral pronouns are often overlooked or scrutinized. In some cases, something as simple as using a gender neutral pronoun has led to violence. By doing this as someone with such a large platform, Halsey has helped shed light on the fact that these gender neutral pronouns exist and should be respected.
Fan Response
Any time celebrities have something 'controversial' they want to share, they're always hesitant out of fear of ruffling anyone's feathers. After all, no one wants to risk losing fans and potentially leave their career up in shambles. Needless to say, Halsey was overwhelmed with happiness when she started to see her fan react positively to the news.
Many people took to social media to commend her on her courage. A Twitter user named _Y0ungG0d_ said, "i hope halsey changing their pronouns gives others the confidence to express what also makes them feel comfortable. it's okay to not fit into the categories society puts you in". Another user named 17Minutesx said, "i love halsey so much she literally changed my life i couldn't be more grateful for them." After seeing the support from her fans, Halsey posted a simple "Thank U" message on social media.
Other Non-Binary Celebrities
Halsey isn't the only celebrity who has started to share their use of non-binary pronouns. Over the years, other people in the spotlight have come out as non-binary. Elliot Page, star of the 2007 movie Juno, recently shared that he is transgender and non-binary. Singer/actress Janelle Monet came out as non-binary with a tweet that said, "There is absolutely nothing better than living outside the gender binary." Other well-known stars who are non-binary include:
Sam Smith
Bridgette Lundy-Pain
Jonathan Van Ness
Amandla Stenberg
Indya Moore
It's important to note, however, that people can identify as non-binary without using gender neutral pronouns.
The fact that these stars have gotten such a positive responses from the media and from their fans is proof that times are changing for the better. As people with large platforms continue to 'come out' in various ways, other members of the LGBTQ community — especially young people — start to realize they aren't alone regardless of how they identify. What may seem like a small announcement to some can actually provide life saving words of encouragement to someone else.
Tell us what's wrong with this post? How could we improve it? :)
Let us improve this post!