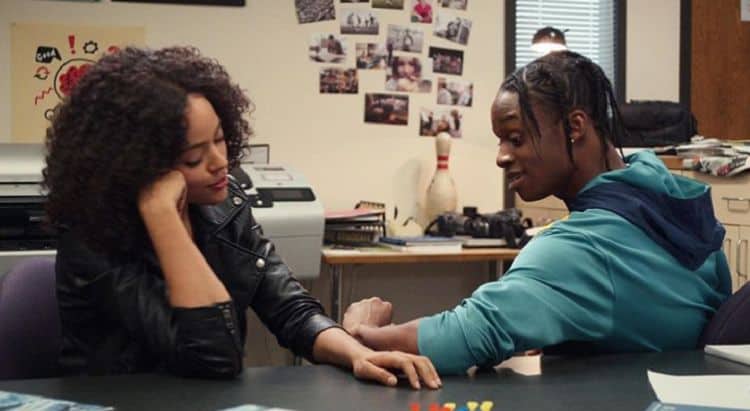 If you watch "Trinkets," you might already know who Quintessa Swindell is. This is an actor who is not going to conform to any kind of gender standard, and this is an actor who is breaking some big-time barriers in this actor's personal life and in the acting community. The Netflix series on which Swindell stars is one that has been given a huge audience – Netflix is huge, right? – and it's been gaining momentum for some time. However, we don't know that much about Swindell, and we thought it might be time to get to know this actor.
1. Swindell is Non-Binary
If you are not familiar with the term non-binary, it essentially means that Quintessa Swindell simply does not identify as either a woman or a man. Swindell does not use the term he or she or his or hers but rather the terms they or them. They don't like to be defined inside of any gender binary lines, and they prefer to just go with the flow and how they feel about their personality and their body.
2. Swindell is Young
They are very young, still. They were born on February 7, 1997, only a few years before the new millennium. They grew up in a very different than those of us who got to experience our childhood without cell phones and social media, and we think that it's sometimes such a sad situation for kids who had to go through their childhood with those things so important in the lives of everyone around them. It seems like they missed so much.
3. Swindell is Looking For Big Roles
Swindell is not looking to have small roles that are meaningless. They are looking for roles that are big time, and they have a dream role. They would love to be asked to play Angela Davis and do a 70s Civil Rights movie or show that really gets into that situation and depicts the importance of that generation.
4. Swindell is From Virginia
From what we understand, they are from a small town, too. This means that they did not have the community support growing up non-binary that someone might find in a bigger city with a lot more diversity. In fact, they said that they had to move out of their small town to finally find a community of like-minded people to be their support system.
5. They Are A Coffee Drinker
You know how we feel about people who don't drink coffee, so the fact that they do drink coffee is very important to us. We just can't comprehend how anyone can function without it (said while downing a third cup at 8 am). They drink black coffee with a superfood creamer. We like ours black, but we get that some people need a bit more to theirs. It's all good.
6. They Love David Bowie
Who doesn't, though? If you have to choose a celebrity idol, he's a good one to choose, right? Swindell loves David Bowie, and they make it very clear they will love him forever. He's got such immense talent, and that's something that we all get no matter who we choose as our personal idols.
7. They Have a Favorite Celeb Couple
Okay, you don't have to have a favorite celebrity couple that's actually together, though. You can have one that just plays a couple on television, right? Swindell's is Damon Wayans and Tisha Campbell from "My Wife and Kids," and we have to go with them on this one. That was such a great sitcom, such a genius cast, and such a good show. We always loved it. Also, we miss the old-school sitcoms we grew up with.
8. They Want to Be Thought of as Kind
And honest, which is always important. If we all had to choose one thing that we'd like people to remember us for, it would be something like kindness, honesty, having integrity, and being a generally good person.
9. It's Hard to Play Her Character
Tabitha, from "Trinkets," isn't always easy to play because she's a character who is in an abusive relationship. That's not easy to play. Putting yourself in that situation is difficult, but Swindell and their onscreen abusive boyfriend would sit down and talk about what they were about to do before they acted out a scene, and it really did make it easier for them to handle this with grace and dignity and to make it believable.
10. They Love Connection
We are down with this in so many ways, because it's what we all crave at the end of the day. Connection is the most important feeling in the world. If you're not feeling connected to the people you love and the people who are around you, what are you doing? It's easy to become disconnected in a world where we are so busy and there is so much going on, but connection is the root of happiness in our opinion. Being connected with yourself, with others; it's so important.