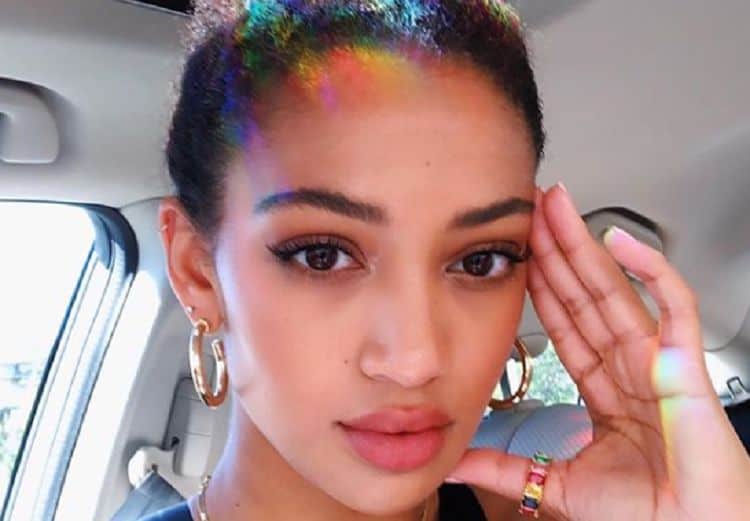 Samantha Logan is an actress who is best known by many fans as Nona Clark from her portrayal of the character in the ABC television series "666 Park Avenue." She is a veteran actress who has been in the business for a decade, appearing in 19 different roles in film and television. She's built up quite a following of admirers who are always interested in learning more about her. To appease the quest for knowledge, here are 10 things that you may not have already known about Samantha Logan.
1. She's a native of Boston
Samantha was born in Boston, Massachusetts on October 27, 1996. She is just 23 years old but she's been in the acting profession for approximately 10 years. Logan is an American who is of Trinidadian and Irish descent. She has had an intense passion for acting since she was a very young child. She wanted to pursue a career so badly that she talked her mother into moving to Manhattan when she was just 10 years old, so she could be where the action was.
2. She is a multi-talented young lady
Samantha discovered that she has a flair for acting, but she also has other talents. In addition, she can dance and sing as well. She is also a tenacious person and has been so since before she became a teenager. At an early age, Samantha knew what she wanted in life and she has gone after it and dedicated her life to the pursuit of a career in the entertainment business.
3. She is formally trained
Samantha has received a lot of specialized training in preparation for her career. She started when she was still a young child. In middle school, she attended the Professional Performing Arts School for musical theater. After this, she enrolled in LaGuardia Arts which is the "Fame" high school and she majored in drama.
4. Samantha took a lot of minor roles prior to fame
Before she became famous, Samantha Logan performed in several theatrical productions. She also appeared in a variety of commercials. She was happy with any acting role that she could land when she was preparing for her career. She got a big break when she was just 14 years old. The role of the young clairvoyant Nona Clark in "666 Park Avenue" was her first real break in the acting business.
5. She is also a dancer
Samantha Logan has been dancing since she was 10 years old. She worked with Mia Michaels, Dave Scott, Laurieann Gibson, and Brian Freeman, who are among the top choreographers in the business. She worked as a protege on tour and has established herself as an accomplished dancer.
6. She is a dog lover
Logan is a pet parent and she has two little four-legged furry friends that she loves very much. She owns a Shiz Tzu named Maximus. She also owns a ragdoll cat named Zoe.
7. We see her going a lot further in her career
Samantha Logan pushed hard when she was just a small girl of 10 years old. Because of her strong desire to become an actress, her mother took her and moved to Manhattan to give her the best opportunities to do what she wanted to do with her life. She put forth the effort and went after her dreams and she achieved them. We learned that she is also an aspiring director. Samantha also hopes that one day she can start a production company of her own. Based upon what she has accomplished in her life at the age of 23, we believe that she can do anything that she sets her mind to. If it is her desire to be a filmmaker then that is probably precisely what she is going to do.
8. She is in a relationship
For those of you who are wondering if Samantha Logan is single, the answer is that she is not. She has been in a relationship since 2017. Her current boyfriend is Dylan Sprayberry. Dylan is also an actor who is known for his role as Liam Dunbar in the series "Teen Wolf," as well as roles in "Common Law," "Glee," "Criminal Minds," and as the young Clark Kent in the film "Man of Steel" in 2013.
9. You can follow her on Instagram
Samantha has an Instagram account that she keeps updated with lots of great new photos. Just this one social media account will give you an idea of how popular she is. She has over 317,000 followers on the site. It appears that a great many of her fans and admirers have discovered this treasure trove of cool pictures and information. Samantha is following 1,048 herself and she does a great job of keeping fans updated. She has made a total of 960 posts on the site and there are pics of her in glam shots and in her professional settings as well as some of her as she appears in her everyday life when she's not being an entertainer.
10. Samantha Logan is a rising Star
Most recently Samantha has been cast in the television series "All-American" in a recurring role. She is still going strong in her acting career and although she's already a veteran of 10 plus years, we see her going a lot further. More roles are opening up for her and with the tenacity, passion, and drive that Logan possesses, the sky is the limit for her. She is young and confident and she knows who she is and what she wants out of life. She's been this way since she was a small child so we see no reason why any of this will change. Logan is willing to put in the hard work and apply herself to achieving her goals. We see a bright future ahead for her not only as an actress but as a future filmmaker.
Tell us what's wrong with this post? How could we improve it? :)
Let us improve this post!