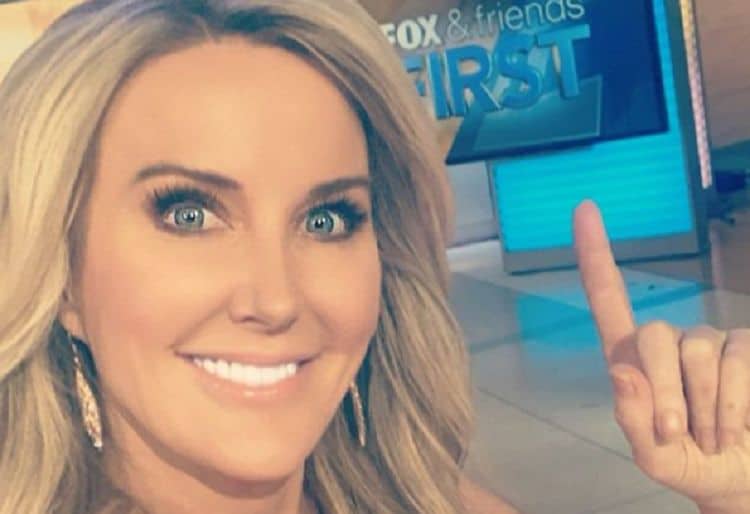 You should never judge a book by its cover yet by looking at Heather Childers, you would quickly conclude that she has had an easy life. However, that would be a wrong assumption considering that she had to wait for almost two decades to land her dream job. Besides, after settling in at Fox News Heather nearly became paralyzed after ignoring signs that all was not well in her body. Read on to see her struggle with an incurable disease and other facts about her career.
1. She always wanted to be on Fox News
Heather remained focus on becoming a news anchor, no matter how long it took. For over 18 years, she had been trying to go to New York and later on work for Fox News. However, her attempts did not yield any positive results, and Heather had to settle for other television stations, including a Fox affiliate in Georgia. Unfortunately, her contract was not renewed, and she had to become a public relations officer at Charlotte Motorway Speedway since no television station was offering her a job. However, it all changed when she went to New York and got her to work for her dream station.
2. She has steadfast faith in God
When DMX sang that he wanted the Lord to give him a sign, most likely he also was going through a rough patch and needed divine guidance. Heather has so much faith in God that it is what keeps her going to this day. When she was at a crossroads in her career, she at one time got up in the middle of the night to pray and ask God to give her a sign. All she kept seeing was herself sending another email to Fox News and trying her luck one more time. For the next two weeks after her night vigil prayer, Heather prayed earnestly; she got a call from Fox News, and the rest is history.
3. She actively participated in pageants
Heather comes across as one girl who loved the spotlight and would do anything to have it on her. She said that while she was young, she got many chances to enter pageants because she used to twirl the baton. However, the motivation was the opportunity to sing, perform on stage and most of all, take home the scholarship money. Heather was good at what she did because she was once named Little Miss South Carolina, Little Miss Darlington Speedway and Miss Charlotte Mecklenburg.
4. She wanted to be a country singer at some point in her life
Apart from wanting to become a news anchor, one other childhood dream that Heather held in her heart was to become a country singer. She not only performed in her pageants but also went to Las Vegas to sing at the Dunes & Tropicana. With time she must have realized that singing was not in the cards for her, therefore, concentrated on pursuing the news anchor job.
5. She always made excuses for her illness
Before Heather realized how serious her condition was, she kept making excuses for the pain she was feeling. Her legs would go numb, and she would beat them up in an attempt to make the senses come back. Since she also had leg cramps and sudden excruciating pain, Heather thought it must have been her lack of potassium that was causing it. Besides for someone whose work begins at 1 am, the news anchor would blame stress and lack of sleep. To her, all her health issues were a nuisance and not something worth taking seriously.
6. An accident at 16 resulted in an incurable illness
Accidents happen, and we move on with our lives as Heathers did after wrecking her 1964 Chevrolet Corvair. Unfortunately, despite undergoing multiple surgeries, she was still not in the clear as she learned much later. Doctors said that her spine was compressing into her spine, resulting in an incurable condition called cervical spinal stenosis with myelopathy. According to the medical professionals, the accident resulted in injuries to her head and neck; the neck trauma had been slowly progressing. The good news was that surgery could prevent it from further progression hence Heather went under the knife after consulting with seven neurosurgeons who all concluded an operation was the best option.
7. She had to give up on rollerblading
Since the age of 18, Heather became addicted to rollerblading, and she would always rollerblade when she lived in uptown Charlotte and also when she moved to Southpark Area. As she told Charlotte Observer her love for skating made her learn how to spin, jump and do tricks. However, after the surgery, doctors advised her not to rollerblade because she was lucky that she could walk; she had been told there was a 100% chance of becoming paralyzed.
8. Her father had prostate cancer
They say that when it rains, it pours, and that was the case for Heather's family. At the time of her recovery after undergoing surgery, Heather's father was going through his radiation cycles, having been diagnosed with prostate cancer a year earlier. They both stayed at their home in North Carolina recuperating as Heather's mother took care of them.
9. She has a supportive boyfriend
Most people will leave you at the first sign but despite all that Heather went through her man stood by her. Heather could not express enough gratitude to Thomas Zban, who traveled to be with her during her surgery and the days that followed. Thomas was not just there for emotional support, but being a radiologist, he also offered Heather some medical advice according to Holy City Sinner.
10. What she hated most about her surgery
As much as Heather is now mobile again thanks to the operation, she still hated having to wear a neck brace throughout the recovery process. She slept and showered in it, and despite knowing that she had to keep it on her neck for her heal, Heather was still tired of it and at times felt like removing and burning it.