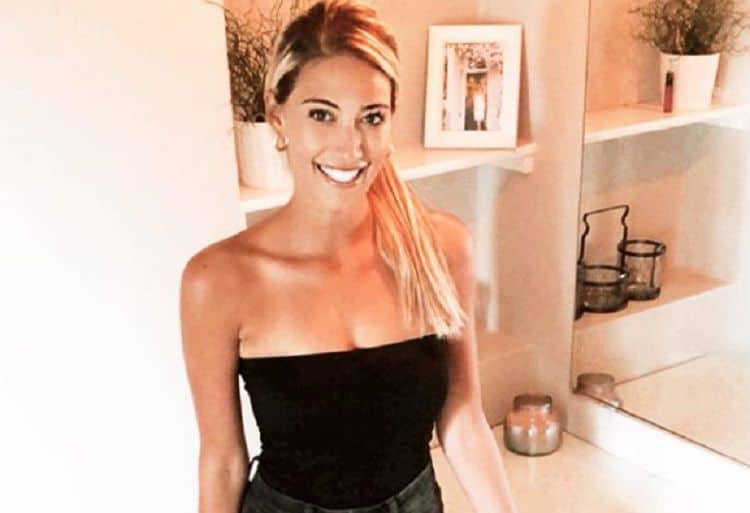 Bachelor fans come together this time of year to see who will be the next woman to win the heart of the man who was so brutally scorned by another woman in seasons past, and this year is no different. Bachelor Nation fans want to know who is going to take home Pilot Pete to meet their families, who will be part od the most dramatic season ever, and what will happen. Megan Hops is one of the 30 new women we are getting to know right now, and she's got an interesting story. Do you want to know more about this woman who is looking to find love on national television with 29 of her new best friends?
1. She Knows the Pilot Life
If we had to pinpoint one thing about her that might make some big sense, it's that she's probably going to make a great pilot wife. Why? Because she grew up the daughter of an airline pilot. Her father flew planes for a living, and she knows what it takes to be the family member of someone who is in the sky more than at home. She watched her mother do it. She knows the drill, she knows the routine, and she knows how it works for everyone when they are in the air. Big advantage for this girl.
2. She Knows the Friendly Skies
She knows them quite well, in fact. She's a flight attendant. She loves to be in the air. She loves to see the world. She loves that she gets to follow in the same footsteps her grandmother took, and she loves that she has that in common with her. We think it's such a cool job, and it's one that most people wouldn't think to consider when they get out of the workforce, but we think it's one that works out really well for her.
3. She's Looking to See the World
The reason she really loves her job is that she gets to see the world. She gets to see the people in the world with her. She gets to see things she's never seen in her life, she gets to be someone she's never gotten to be in her life, and she has a sense of freedom everywhere she goes. Sure, she's working on the way there, but what difference does that make? We assume flights are faster when you're not sitting down squished between two other people the entire trip.
4. She's A Dog Mom
It must be hard to be a dog mom when you're all over the world all the time, but we get it. We know that there are things that work out in the long run, and having a dog is one of those things for her. She loves to come home knowing that she's got an animal there who loves her and wants to spend time with her. Hopefully, she can also add a husband and some kids to the mix sooner rather than later, too.
5. She's A Hopeless Romantic
Her parents divorced when she hit the tender age of 18, but she's not someone who has given up on love. She got to see her mother fall madly and deeply in love with her new stepdad, and it's given her all the feels. She's a hopeless romantic who is looking to find love, and she's hoping that it's the forever kind of love that she can write home about in her own world.
6. She's Fun-Loving
One of the most fun things we've seen yet is the fact that this woman took a photo of herself with all of the new ladies and the man of the hour, and she asked the world on her Instagram feed how hot her new sister wives are. She's coming across as someone we love to love, and she seems so much like a woman we'd love to get to know. Like she down to make new friends and hopefully find some love at the same time.
7. She Works for the Same Airline As Another Contestant
She and Eunice Cho are both flight attendants, and they work for the same airline. If we are not mistaken, they both fly for United Airlines. They are both all over the world, which might be one of the many reasons they love their jobs so much. But, how much of their lives can they handle if they were to become wives and mothers and people who need to be home more than they need to travel the world?
8. She's Already at Home
She didn't make it very far on this show, but that's all right. Not everyone can make it through to the end, obviously. Only so many can go so far, and only one woman can make it to the very end, and that's what it's about. Megan Hops is not that woman, and she didn't make it very far. In fact, Pilot Pete sent all his flight attendant ladies home straight away.
9. We Don't Think Her Career Was What He Was Looking For
The show thought that since his mother and father met as a pilot and a flight attendant that things would work out the same way for him, but that did not happen the way that they thought it might. He didn't meet the love of his life at work already, and many fans were wondering why he needed to go on national television to meet a flight attendant. He might have lived that through his parents, but he wasn't looking for it this time around.
10. She's 26 and from San Francisco
She's a California girl through and through, even if she doesn't spend much time in her hometown. She's giving the world her attention, and that means she's looking for things that don't involve being at home that often. She might love home, and we love that, but she's just not there as often as she might want to be in the real world. Or, maybe she doesn't want to be there at all when it comes down to it.