Megan Fox and Machine Gun Kelly (Colson Baker) have been together since 2020, and their relationship has produced plenty of delightful and uncanny moments, from thirsty social media interactions to drinking each other's blood and showstopping red-carpet appearances. The power couple swears they are twin flames, but their romance hasn't been all rosy. They have had some hiccups along the way but are still together and committed to being lovers. Before they found each other, MGK was dating American fitness model Sommer Ray. The American rapper, musician, and actor had also dated Amber Rose and Emma Cannon, with whom he has a daughter.
Fox was also in a long-term relationship with Brian Austin Green, whom she started dating in 2004. Despite the 12-year age difference between them, Fox and Green got engaged in 2006 and wedded on the island of Maui in June 2010. With several breakups and reconciliations over their years of marriage, including three children, the American actress filed for divorce a second time in November 2020. Before the divorce was finalized in October of the following year, she had gone public with Machine Gun Kelly. Theirs' has been a flamboyant Hollywood love story, and here's a complete timeline of their relationship thus far.
Megan Fox and Machine Gun Kelly Met On A Movie Set In March 2020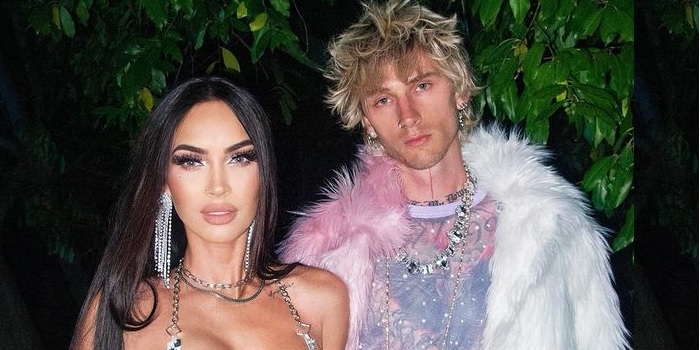 The couple met in Puerto Rico on the set of Randall Emmett's crime thriller Midnight In The Switchgrass. This was in March 2020, months after Fox's separation from Green in late 2019. When production was paused due to the coronavirus pandemic, Megan Fox and Machine Gun Kelly spent lots of time together and eventually fell in love. Fox told GQ they had an instance connection but didn't hook up right away. "It was obvious from (sic) second one what it was going to be," she said. The actress reminded the rapper of their first meeting while they bonded in the green room.
Although they consider their 2020 meeting the first time they really met, the couple had met a few years earlier at a GQ party in Los Angeles. Recalling that they didn't see each other's face the first time, Fox suggested that the forces behind their romance kept them away until the right moment. "…We weren't allowed to see each other yet. We weren't supposed to run into each other that night, so our souls, our spirit guides, were luring us away from each other…" stated the actress. Fox and Kelly's first date was a picnic at the roof of Sunset Boulevard's Roxy Theatre, where they made out while listening to pop punk.
They Went Public With Their Relationship In May 2020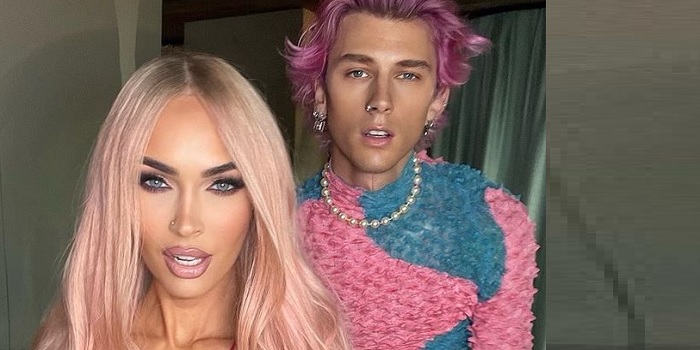 Following weeks of dating rumors, Megan Fox and Machine Gun Kelly confirmed their relationship in May 2020. They had been spotted together in public multiple times, fueling speculations about the actress' marriage to Green. This prompted the Beverly Hills, 90210 star to set straight the record in an episode of his podcast titled "Context with Brian Austin Green." He disclosed he parted ways with Fox in December 2019 after she expressed dissatisfaction with their marriage. Around the same time, Fox appeared in the music video for MGK's song "Bloody Valentine."
While they continued to appear in public together, they didn't officially confirm their relationship until July, when they gave their first joint interview on Lala Kent's podcast. Fox told the popular media personality that she and the rapper are an entity greater than soulmates. "I knew right away that he was what I call a twin flame. Instead of a soul mate, a twin flame is actually where a soul has ascended into a high enough level that it can be split into two different bodies at the same time. So we're actually two halves of the same soul…" she said. Kelly shared a similar sentiment later that month when he posted his first picture with Fox on Instagram. The mirror selfie came with a caption that reads, "waited for eternity to find you again …"
Megan Fox and Machine Gun Kelly Made Their Red Carpet Debut In November 2020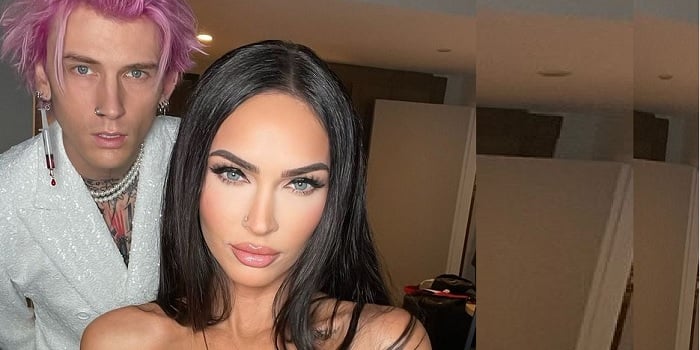 Megan Fox posted the first picture of Machine Gun Kelly on her Instagram page in the first week of August 2020. It was another mirror selfie of the two captioned "Achingly Beautiful Boy… My heart is yours." Reacting to that, her ex-husband posted pictures of his sons with the same caption. But later that month, Green stated during an Instagram live Q&A session that he has nothing against his ex-wife and her new partner. "…I really hope that he and Megan are happy," he said, after disclosing that he had heard bad stories about the Texas rapper.
In September, MGK revealed that he's experiencing love for the first time with Megan Fox. Speaking during an appearance on The Howard Stern Show, the rapper divulged that he didn't believe in love until the Mikaela Banes actress came along. "…I did fall in love for the first time…(it) was my first experience with being open to love… I definitely wasn't set up to believe that that's something that could ever exist," he announced. November came and Fox likened her feelings for MGK to "being in love with a tsunami or a forest fire." The couple's red carpet debut happened that same month at the American Music Awards. Kelly shared pictures from the event on Instagram with a caption that, in part, read: "slept next to a shotgun til she came into my life…"
The Couple Celebrated Their First Valentine In February 2021 and Got Engaged In January 2022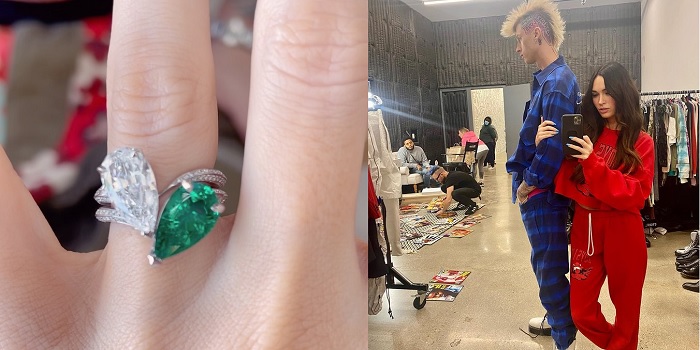 Celebrating their first Valentine in February 2021, Megan Fox and Machine Gun Kelly divulged their blood ritualistic practices. They both posted a tribute to each other on Instagram, with Fox asserting that her journey with MGK "will likely be perilous, but there is no destination without him." Kelly, on the other hand, posted pictures of him and Fox alongside a neck ornament containing a drop of Megan's blood. "I wear your blood around my neck," he wrote on the Instagram post captioned "My Bloody Valentine."
Their relationship flourished in the following months and culminated in an engagement in January 2022. Fox posted a lengthy writeup on Instagram to announce their engagement, disclosing they drank each other's blood to seal the occasion. "…He asked me to marry him… and just as in every lifetime before this one, and as in every lifetime that will follow it, I said yes… and then we drank each other's blood." The rapper gave the actress a unique ring representing their birthstones. He said he "designed it with Stephen Webster to be two: the emerald (her birthstone) and the diamond (my birthstone) set on two magnetic bands of thorns that draw together as two halves of the same soul forming the obscure heart that is our love."
Are Megan Fox And Machine Gun Kelly Still Together?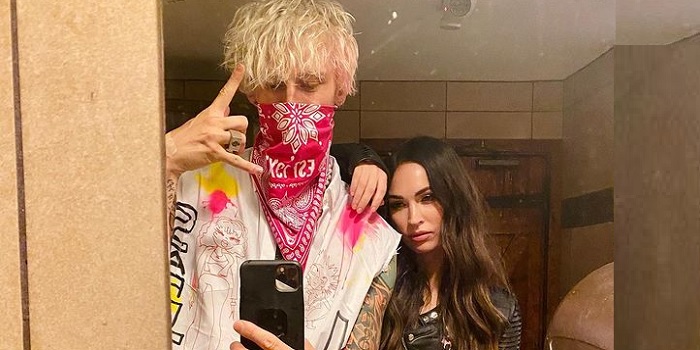 After they got engaged, Megan Fox and Machine Gun Kelly started building a family together. They adopted a cat named Whiskey in February 2022, and by May, the rapper had begun calling the actress his wife. MGK referred to Fox as his wife while he performed at the Billboard Music Award. Around the same time, they got matching tattoos on their ring fingers to celebrate Fox's 36th birthday. However, a decline in their posts about each other on social media gave rise to rumors of a breakup in the following months.
Fox gave credence to the rumors in February 2023 when she posted a cryptic message seemingly directed at MGK on Instagram and then deactivated her account. She posted excerpts from Beyonce's song "Pray You Catch Me," which read, "You can taste the dishonesty/ it's all over your breath." This triggered cheating speculations against Kelly, compelling Fox's return to Instagram to dispel the rumors. She stated that "there has been no third-party interference in this relationship of any kind." Sources close to the couple claim they had a break but have reunited and are working on their relationship. Megan Fox and Machine Gun Kelly might have held off their wedding plans, but they are still together.