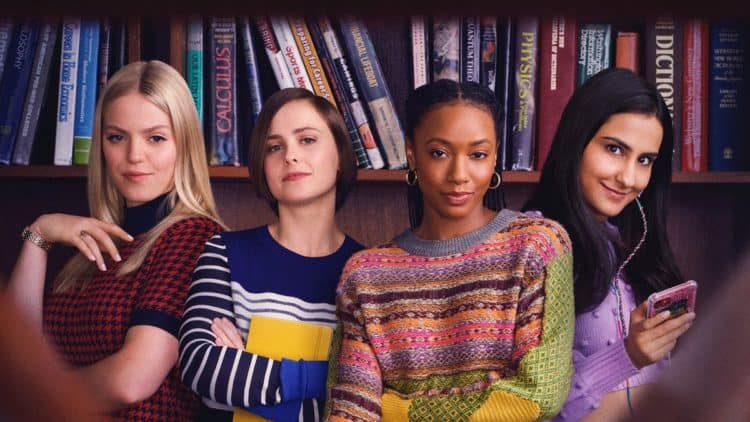 Mindy Kaling's new teen comedy series The Sex Lives Of College Girls, co-created with Justin Noble (alum writer of Brooklyn Nine-Nine), premiered last November 18 on HBO Max. It follows the lives of four college roommates as they navigate the world of early adulthood at the prestigious (and fictional) Essex College. The four girls come from totally different backgrounds, but together they create an interesting dynamic in this comedy series. Despite the racy title, the storyline dwells not only on these girls' sexual journeys but on their friendship and self-discovery as well, which will resonate with a lot of young women. The show features relatively new faces and we just had to dig a little to find out more about the women playing the main cast.
Pauline Chalamet
Yes, we thought Pauline Chalamet looked familiar, so we Googled if she was related to someone particular. Turns out she's the older sister of Dune actor Timothee Chalamet. It just made perfect sense for them to be siblings. You can kind of see it in their smiles. Pauline Chalamet plays Kimberly Finkle, a naive, rule-abiding valedictorian who comes from a small Arizona town and enters the prestigious college on financial aid. Chalamet is a perfect fit for her role, with the actress thinking just as much. In an interview with Harper's Bazaar, the actress said "I hope they're asking me to read for Kimberly" when she read the script for the series. And just like everyone else's first impression of what the show would be from the title of the series, Chalamet thought the show would just be about sex. "I read the title and I'm like, "Oh, my God. It's about banging girls who just have amazing sex. They're having orgasms left and right. They have all these different partners and they're exploring everything." But as it turns out the series tackles much more than these, as we are all about to find out as the show progresses. Chalamet made her debut in the film King of Staten Island in 2020. Growing up in a family heavily involved in the arts, Chalamet attended the School of American Ballet at age 8 and studied drama at Manhattan's LaGuardia High School of Music & Art and Performing Arts. She also studied at the Studio Théâtre d'Asnières in Paris and directed short films. Unlike her character in the series, who is shown to be a bit behind in her advanced French class, Chalamet is fluent in French and lived in Paris for several years. The actress is also a singer and musician.
Renee Rapp
Renee Rapp plays Leighton, an entitled legacy student who also attends Essex College. She's quite the mix between Alicia Silverstone in Clueless and Regina George in Mean Girls. Speaking of the latter, she did play Regina George in the Broadway adaptation of the movie, a role she snagged after she won Best Performance by an Actress at the prestigious Jimmy Awards (National High School Musical Theatre Awards), which recognizes musical theatre performances by high school students in the United States. Unlike her co-stars who have actual college experience, Rapp only gets to learn about it through the series. "Life is my collegiate experience at the moment, and let me tell you, it is kicking my butt. I've never been one to thrive in structural education settings. I decided college was not the best fit for me when I was 18," the young actress shared in her interview with Vulture. But one important thing she shares with her character in the series is identifying as queer. The actress said that some of Leighton's lines were hers. "'I just want to be me. I don't want to be the gay cousin,' those were hard for me to say because those are exactly my words." She also noted how doing the series has helped her explore her own identity. "I feel very able to openly explore that part of myself in the conduit of a comedy series. I can still laugh about my trauma. Like, that sucks, but it's funny in the way we deliver it!"
Amrit Kaur
Amrit Kaur plays the role of Bela Malhotra, who comes from a conservative family and has big dreams of being on SNL. Among the four girls, she's the most excited about starting her sexual journey on campus. If you're wondering where you've seen her, Kaur has appeared in several shows such as The Bold Type, American Gothic, Star Trek: Short Treks, Nurses, The D Cut, and Little Italy. The actress has also written and produced short films before. She wrote, co-produced, and acted in the award-winning short film The Heatwave back in 2020. Another fun fact about the actress is that she participated in the Miss World Canada Beauty pageant in 2014. It is quite interesting to know that playing her role in The Sex Life of College Girls was no easy feat. In her interview with Refinery, Kaur shared, "When the audition came out, they said they only wanted to audition people with an O-1 visa [which allows people in the arts to stay in the U.S. for up to three years]. I didn't have it, but my heart connected to the part, and my rep and I were just like: **** it, let's go for it. If they like me they'll have to figure it out. So I auditioned, and then I got a callback for a chemistry read, and they canceled it because they found out I didn't have the visa. My representation had to do a bunch of calls with immigration and convince them that they could get me an O-1 visa in a matter of weeks." To get that visa, the actress shared how Mindy Kaling, Justin Noble, and all the producers wrote letters to convince the government that she should have the part and no one else could do it. She definitely worked hard to get the role and, looking at how she portrays Bela on screen, we'd say it was all worth it.
Alya Chanelle Scott
Alyah Chanelle Scott is the show's cool soccer star Whitney who also happens to be the daughter of a senator (hilariously played by Sherri Shepherd). Whitney, however, is caught up in a messy affair with her soccer coach. Just like her co-star Rapp, Scott has a musical theater background. She has been part of musical productions The Book of Mormon, Pippin, and The Hunchback of Notre Dame. In an interview with Cosmopolitan, Scott shared how she relates with her character Whitney. The actress shared, "University of Michigan is a predominately white school, and Essex sort of has that vibe.… Going to school as a Black person, you're like, 'Wow, I feel like there aren't very many people like me, so I have to find my community.'" Scott's mom might not be a high-profile politician like Whitney's. She is, however, an aerospace engineer at NASA in Texas. Scott grew up in a religious family, but that didn't stop them from supporting her in the show. Scott shared in an interview with Grazia, "I think my mom was in shock for months. But now she is finally excited." The actress also shared that she almost did not audition for the role because of the show's title. "It put me off, too. I read the cast breakdown and that title and sent it back to my agent and said, 'Maybe not for me. I'm going to pass on this and this title.' But one of my reps told me just to read the script for the pilot and tell her what I thought. And I was like: Oh, I see. Because the show is not really about the act of sex, but about all the experiences around the idea of sex and everything that comes with that."
Tell us what's wrong with this post? How could we improve it? :)
Let us improve this post!