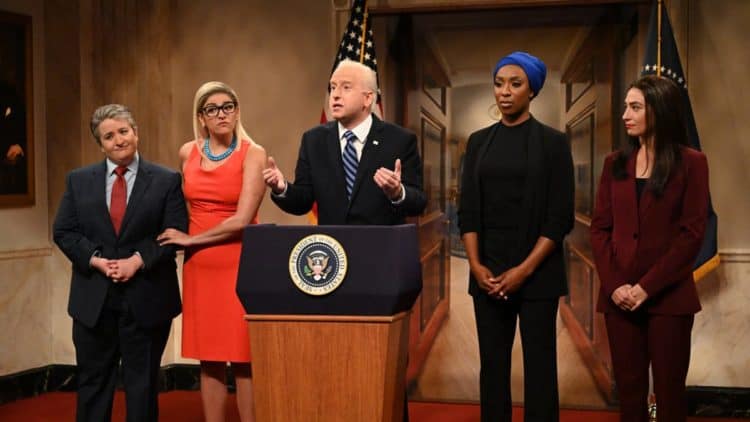 For more than 40 years, Saturday Night Live has been a fixture in the TV world. Over the years, it's given us countless skits and characters that have become an important part of popular culture. Another thing that SNL has become widely known for is its cold opens. Essentially a cold open is a technique that involves a series jumping right into a story — or in this case, skit — before rolling the title and/or credits. This is a great way to get viewers engaged and set the tone for the episode. In 2021, SNL has had many memorable cold openings, many of which will probably eventually be considered timeless classics. Here are the 10 best SNL cold opens of 2021.
10. Football Press Conference
Over the years, the NFL has found itself involved in quite a few scandals. These types of situations have proven to be great fodder for shows like Saturday Night Live. In the "Football Press Conference" cold open, which pokes fun at former Las Vegas Raider's coach, Jon Gruden's, email scandal. Gruden stepped down from the position after old emails surfaced that show him using racist and homophobic language. In the skin, James Austin Johnson portrays Gruden, and his performance is on point.
9. Minnesota News
On-air debates are a normal part of the news world, but sometimes they can go a little left. This is especially true when the topic involves race. The "Minnesota News" cold open is based on on-air interactions that happened during Derek Chauvin's murder trial. Although the topic at the center of the scene is serious, SNL handles it with its signature dry and sarcastic humor.
8. Facebook Hearings
In 2021, a former Facebook employee spoke out on Capitol Hill to address Facebook and its tactics. She expressed serious concerns about the direction of the company and the way it manipulates its users. This cold open turns the situation into something terrifyingly funny and you'll likely find it entertaining even if you never watched the original proceedings.
7. Britney Spears
2021 has been an interesting year for Britney Spears, and she has spent a lot of time in the spotlight due to her conservatorship. As the Free Britney movement gained traction throughout the year, it seemed very fitting for it to become the subject of a skit on SNL. In the Britney Spears cold open, Chloe Fineman portrays Spears as she hosts a fictional talk show where people come to apologize for things they've done wrong.
6. No More Masks
Throughout the COVID-19 pandemic, there has been lots of back and forth about the efficacy of wearing face masks. Dr. Anthony Fauci, the Chief Medical Advisor to the President of the United States, has been at the center of many of these debates. The back and forth nature of his comments has caused confusion and the "No More Masks" cold open perfectly highlights the chaos that has been present during the entire pandemic.
5. Biden Unites Democrats
Since being elected president, Joe Biden has received his fair share of criticism – as all presidents due. However, some of that criticism has come from people with his own party. In the "Biden Unites Democrats" cold open, James Austin Johnson does a great job bringing the president to life and he has all of his mannerisms and movements down to a science.
4. Mother's Day
The relationship between a mother and her children is something that is almost indescribable. Needless to say, the 2021 Mother's Day cold open was a very special moment for SNL cast members and their mothers. The skit also included a performance from Miley Cyrus where she covered Dolly Parton's song "Light of a Clear Blue Morning".
3. Aaron Rodgers Trump
If Saturday Night Live is good for one thing, it's parodying moments from the news. The Aaron Rodgers cold open is a great example. In the skit, Pete Davidson plays Rodgers as he makes some very questionable claims about the COVID-19 vaccine and his reason for not wanting to get it.
2. Ghost of Biden Past
This cold open is extra special because it marked the first time Jason Sudeikis returned to the show after leaving in 2013. In the skit, Joe Biden revisits his old self back when he was the Vice President and was deemed as more likable by many people. No matter what your political affiliation is, you can get a good laugh out of this one.
1. Vaccine Game Show
The "Vaccine Game Show" was another skit designed to display all of the confusion and contradictory information that has been spread throughout COVID. As the fake Dr. Fauci (Kate McKinnon) hosts a fictional game show to try to simplify the science behind COVID.
Tell us what's wrong with this post? How could we improve it? :)
Let us improve this post!