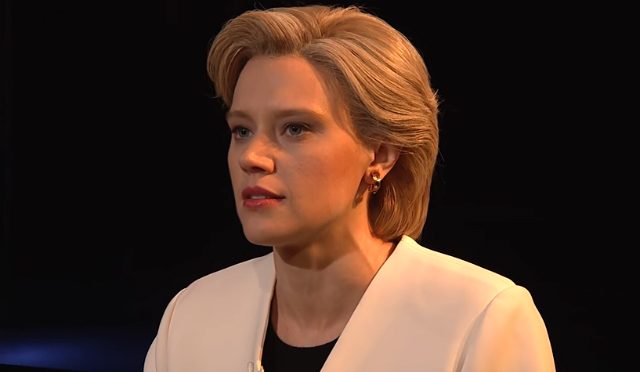 Saturday Night Live (SNL) showed real art in its cold opening this week. It has been a difficult week for at least half of America. The unexpected electoral vote election win of Donald Trump has elated some and destroyed others. Former Ku Klux Klan (KKK) leader David Duke spent the election night bragging about how the KKK helped Trump win. Meanwhile protesters to Trump's election are holding protest marches across the country.
Two days later, Canadian singer/songwriter Leonard Cohen died. With a stroke of genius, Saturday Night Live gives tribute to Leonard Cohen & Hillary Clinton via the brilliant Kate McKinnon.
Cohen wrote a lot of music, but his most famous is the haunting song "Hallelujah." The beautiful and mournful piece has been covered by many artists. It's message goes through the way love, to can lead to bliss and utter downfall. Love' power is inexplicable, and in the song we hear the cry of "Hallelujah" in the best and worst of circumstances.
Saturday Night Live Gives Tribute to Leonard Cohen & Hillary Clinton
For the Saturday Night Live piece, McKinnon, who has been portraying Clinton in comedy sketches on the show since March 2015, gives this moving performance as Clinton after her election loss.
[youtube https://www.youtube.com/watch?v=BG-_ZDrypec?rel=0]
For those people still in shock over Clinton's loss, this opening reflected everything they've felt, as well as the grace of Clinton herself during her concession speech. Once again, McKinnon, proved just how incredibly talented she is – and that's not just because she played the piano. Emotionally she tied the lyrics to Clinton's journey as a candidate clearly and profoundly. This was a beautifully done tribute to all Hillary Clinton tried to do.
Other SNL Election-Related Moments: Dave Chappelle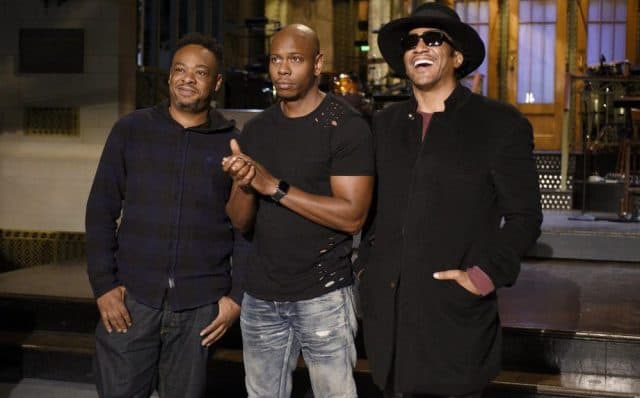 Following McKinnon's performance was the opening monologue of host Dave Chappelle: His straight-no-chaser humor missed nothing! The best line is hard to pick. For me, it's a toss-up.
Well, America's done it. We've actually elected an internet troll as our president.
I haven't seen white people this mad since the O.J. trial.
Chappelle is then part of a skit that picks up on the latter theme. It's a funny, but difficult look at liberal voters watching the election returns. Chappelle is joined by former cast member, comedian Chris Rock! Together the two play amused African-Americans watching their white friends melt down. When it's becoming clear that Trump is winning, one of them cries out:
Oh my God, America is Racist!
Yep. That's been the shocking realization of white liberals this election. For African Americans…well, let's just say we're not shocked that the KKK is planning a victory parade in North Carolina. The musical guest A Tribe called Quest, riffs on this a bit in their first number by listing all the various groups that will "gotta go" under the Donald Trump regime. Well done, SNL!