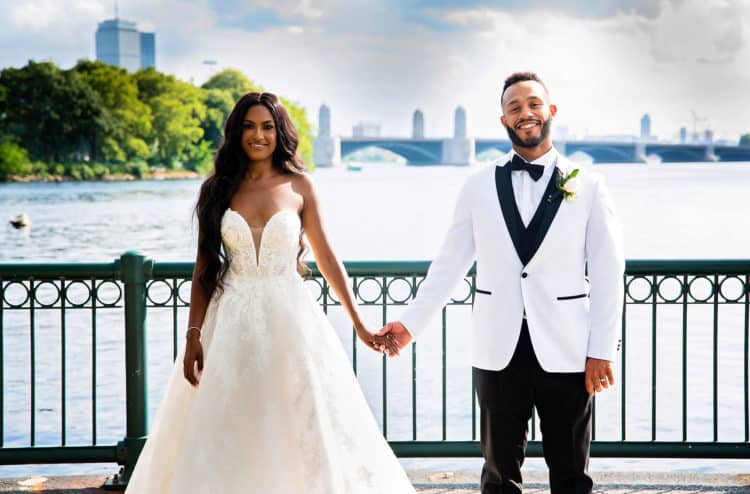 To most people, the idea of marrying someone you've literally never talked to or seen sounds ridiculous. However, for some people, that option feels like the perfect last resort after years of trying to find the right person. Since its first season, Married at First Sight has used this unique approach to help put couples together. During the show, couples are matched by a panel of 'experts'. However, cast members don't get to meet or learn anything about their new partner until their wedding day. Now in its 14th season, the popular Lifetime series is welcoming a new group of potential hopefuls who are looking to find love at first sight. Statistically speaking, the chance of finding a long-lasting marriage through the show is very slim, but these people are more than willing to take their chances. Keep reading to learn more about the cast of season 14 of Married at First Sight.
Alyssa and Chris
Alyssa is a 30-year-old animal lover who hasn't had much luck in the romance department. Unfortunately, her heart has been broken many times and she is hoping that the experts will be able to help her find someone she can be with forever. Chris, on the other hand, has had several long-term relationships but he could use some help to find the right person for him. Over the years, he has learned that may not be equipped with the tools to make a relationship work after all of the warm and fuzzies wear off. Hopefully, with the help of the experts, he can get the tools to build a lifelong relationship.
Michael and Jasmina
Like most people his age (28), Michael has spent lots of time on dating apps, but all of his scrolling and double-tapping hasn't taken him where he wants to be. Michael isn't giving up, though. He knows that he's ready to settle down and start building a future with someone, and he hopes that the experts will be able to match him with someone who is on the same page. Jasmina might just be that person for him. Although she hasn't had the best examples of relationships, or the best relationships herself, Jasmina knows that she wants a solid connection with someone. She is putting her full trust in the process that she will come out on the other side with a husband.
Mark and Lindsey
One of the things lots of people have criticized about Married at First Sight is the fact that the show often casts people who are in their 20s and, presumably, still have lots of time and opportunity to meet people in more traditional ways. That being said, fans will probably appreciate the fact that both Mark and Lindsay are in their 30s. Mark is 37 and he has spent several years trying to find his Mrs. Right. He even applied to be on Married at First Sight the first time the show was in Boston. Lindsey has looked up to her grandparents' long-lasting relationship, and she wants the same thing for herself. However, Lindsey also wants to ensure that her husband will truly be her partner in all things. Both Mark and Lindsey are ready to put their futures in the hands of the experts and see where the journey takes them.
Noi and Steve
Noi and Steve are also both in their 30s and they feel very confident that they know exactly what they want. In Noi's case, however, she tends to fall for people way too quickly and always ends up getting disappointed in the long run. She hopes that the experts can help her find a man who is ready and willing to fall just as quickly as she does – and stay committed. Steve has been ready to settle down for a while, and he wants to have a strong relationship like those he has seen in his family. Noi is excited about the idea of marrying someone at first sight, especially after finding out that his grandparents had an arranged marriage.
Katina and Olajuwon
Katina and Olajuwon are coming from completely different perspectives, but they both want the same thing in the end. Katina has spent the last few years focusing on herself and prioritizing self-love. Now, she's ready to welcome someone else into her life. Olajuwon has gone through a bit of a player phase, but after realizing those connections weren't meaningless he is ready to find the woman who he can call his wife and he would also like to have children.
Tell us what's wrong with this post? How could we improve it? :)
Let us improve this post!