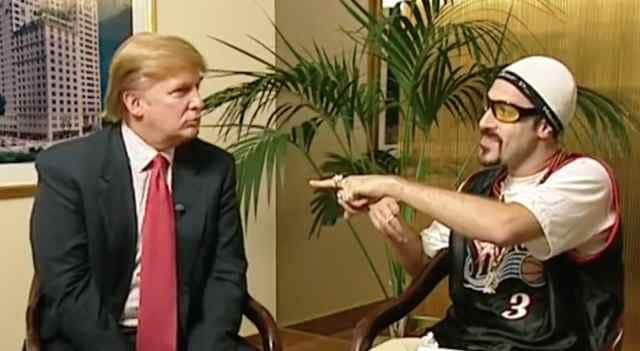 Hundreds of millions of years ago? Does Trump really know how long the world has been around? Does he even understand that millions of years ago people didn't even exist? I'm having trouble figuring out just who was the bigger idiot in this clip even though Cohen is actually quite intelligent despite his character. Anything involving Trump at this point just does not make him look that great. Part of me actually does wish it was possible to say that he's being painted in a negative light that makes him look a lot worse than he is. But that wouldn't be the whole truth. The guy might have a head for business, but something tells me that the rest of his day is spent either mouthing off or being stuck on Twitter for no other reason than because he wants to tick someone off.
Honestly he seems to get off on aggravating people, but in this interview it seems like Ali G. was the one causing the aggravation. Believe me, that was amusing. And the moment he talked about investing in anything to do with ice cream was even better because it's then that you can really see Trump getting ready to get up and leave. Now some people would say that as a businessman Trump had better things to do with his time. Others might say that despite the lame idea it was still fun to watch Trump get effectively punked without even knowing it at first. Honestly, anytime Trump seems like he's getting even the slightest bit perturbed it does my heart a little bit of good.
This is a guy that, as the POTUS, tweets more than an adolescent and throws tantrums that would be beneath a kid in grade school. He focuses on the NFL when the bulk of his attention should be on helping Puerto Rico after Hurricane Maria. He badmouths people and entire countries and expects everything to be okay because of who he is. If anyone's been punked in tremendous fashion it's the USA. Somehow the Cheetoh monster with the bad wig was allowed to run and then gain ground against the rest of the circus that was attempting to gain the top office.
A lot of times Trump acts as though he's beyond reproach and quite honestly it seems like he might be since he gets away with acting like a kid that's been given a shiny new toy and trashes it only a short while later before asking for another. Even worse are those that continue to support the man when there's been evidence of what he's like and how he sounds right in front of them. This isn't like sticking with a sports team when they start sounding off like a bunch of jerks or doing something you don't agree with. This man is the president of the United States of America, and as rule the person at the top spot needs to be someone with integrity and the kind of intellect that's been tempered by a fair amount of wisdom throughout the years.
Trump is a reverse miracle. He has NONE of that, and Ali G. kind of proved it in this interview.