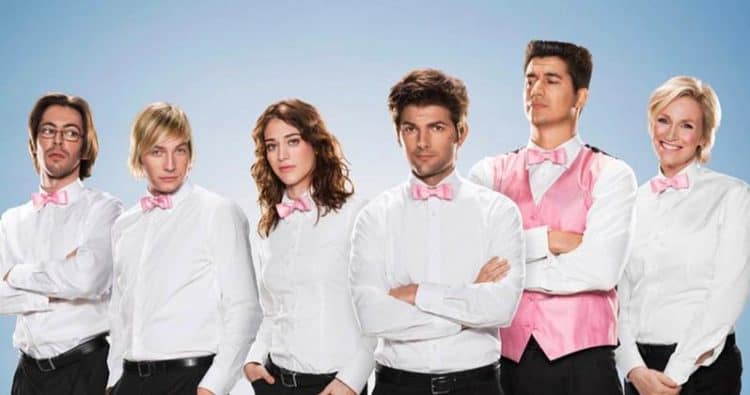 The claim that 'fans have been waiting for this' must allude to some trend that a lot of folks don't know about or don't remember since while Party Down is likely popular among those that knew about it, the upcoming revival doesn't appear to be something that's generating an intense amount of attention. It's worth taking a look at, there's no doubt of that, but perhaps people were on autopilot when they were watching and thought it was great since it was flashy and colorful, or maybe they simply didn't have enough to watch back then, since about the only thing that really stands out in this show are the actors, which is a positive note given that the cast members were the highlight of the show. But for a while now revivals have been another part of the trend that sees old movies and shows coming back and has been kind of an addition to the whole idea of reboots, remakes, and sequels. In short, bringing back old ideas and pushing them in a new way appears to have become the 'in' thing since innovation and creativity are still alive, but they're not the entire makeup of Hollywood at this time. At this point, one really has to wonder how many other ideas are going to be brought back and how many more will need to be endured until people are simply ready to move forward.
In the meantime, it sounds as though Party Down will be returning to Starz for a six-episode limited series, so it wouldn't appear that it's going to be sticking around for a prolonged time, but is perhaps coming back just long enough to remind people of the show and perhaps drum up a bit of interest. Finding the time in the busy schedules of the actors was tough enough it sounds like to make this happen, so it's pretty certain that this will be a one-and-done kind of thing. Fans might appreciate the brief return even if some might need to be reminded while others might not think it's enough. That's the trick with shows that people liked when they were still a thing though, some would gladly keep them around for a while, even if that meant that the quality would eventually fade, while others were probably looking to the next show and wondering when the current one was going to wrap up. Timing is an important thing with a lot of TV shows and how well people will remember them depends on this as well. A show that sticks around too long is going to watch its fanbase begin to crumble as the story starts to lose cohesion, while a story that cuts off too fast might confuse a lot of fans and upon a return have them wondering what's going on and if it's worth investing in the show again.
For all intents and purposes, Party Down was the type of show that ended when it should have, but coming back at all might not have been expected, since it almost sounds as though the cast simply came up with the idea to get back together for this project after spending a little time with each other at a retrospective held in honor of the show. Apparently it took some doing to work with the different schedules of the cast and crew, but eventually it was figured out how this could work, which has at this time led to a revival that should hopefully be on its way to Starz's lineup at some point. At this moment it doesn't sound as though an actual release date has been decided upon, but the fact that the show is coming should be enough for a lot of people since everyone involved will be making a concentrated effort to get this project rolling. Given that Party Down has had more of a cult status over the years it's fair to say that there will be a group of people that will be excited about this return, while others might need to be enticed to show some sort of interest. While the show does feature several well-known celebrities it's still going to be competing with quite a few other shows that Starz currently has on its lineup, not to mention the movies that have been keeping the site running strong at this time.
Right now any bit of content that comes along can help, so it's not hard to imagine why Starz would be grabbing up what it can, and reviving its own programs isn't hard to understand either. Perhaps at some point, the revivals will slow down or become a little more sporadic, but as of now, it would appear that this is one of the ways that streaming sites are utilizing to keep their subscribers happy.