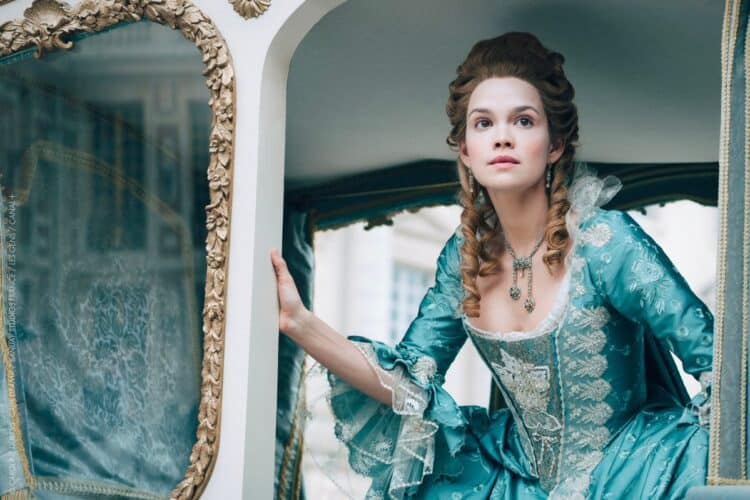 A collaboration between Canal + and BBC, Marie Antoinette is an upcoming historical drama TV series depicting the last queen of France before the French Revolution. The show is created by historian Deborah Davis, who previously gained critical acclaim for his work in the critically acclaimed film The Favourite. A powerhouse of writers will be handling the script of the show, led by Davis herself as well as Louise Ironside, Chloe Moss, and Avril E. Russell. Marie Antoinette will be directed by Pete Travis and Geoffrey Enthovan. Travis previously worked on projects like Cold Feet, The Jury, and Dredd, while Enthovan helmed movies like Children of Love, The Only One, and The Over the Hill Band. A promising list of actors, some of whom are newcomers to the scene, will be bringing life to the script. If you want to learn more about the actors set to appear in this historical series, read ahead. Here are the cast members of the upcoming BBC and Canal + historical drama series Marie Antoinette.
Emilia Schule
Russian-German actress Emilia Schule will be starring in Marie Antoinette, playing the titular character. She first gained recognition in Germany, where she started appearing in commercials for companies like Arcor, IKEA, Clearasil, and Deutsche Telekom. She then started appearing in German projects like Guten Morgen, Herr Grothe, Freche Madchen, Lucky Fritz, and Meine wunderbare Familie. In 2012, she appeared in the German comedy TV show Add a Friend. She eventually found herself working in American productions like Berlin Station and Treadstone.
Louis Cunningham
A newcomer, Louis Cunningham will be starring in the upcoming drama Marie Antoinette. His IMDb lists Marie Antoinette as his first project.
Jack Archer
British-Irish actor Jack Archer will be joining the cast of Marie Antoinette. Trained at the Royal Welsh College of Music and Drama, Archer appeared in The Haunting of Alice Bowles and Call The Midwife.
Jasmine Blackborow
Actress Jasmine Blackborow has also been confirmed to join the cast of Marie Antoinette. Most fans would recognize Blackborow for her role as Marie in the first season of the Netflix series Shadow and Bone. She also appeared as Jessica in the movie Demon Mind.
Gaia Weiss
Gaia Weiss is a French actress who has been added to the list of cast members of Marie Antoinette. She has worked on projects like Mary Queen of Scots, The Legend of Hercules, and Serial Teachers 2, where she played Vivienne Hamilton. In 2019, she appeared in the critically acclaimed film Judy, a movie that earned its star, Renee Zellweger, a Best Actress nod at the Academy Awards. On TV, Weiss has appeared in shows like Vikings, Outlander, and Medici: Masters of Florence. In 2020, she gained her first starring role as Marianne in the show La Revolucion. Aside from acting, Weiss is also a dancer, a hobby she discussed with Tempus: "I started dancing at the age of four. I dreamed of becoming a professional ballerina but unfortunately when the time came to audition for the big schools I was told I didn't have the right body for it, and that I could never dream of becoming a prima ballerina. I stopped at 15-years-old and decided to continue performing, but this time as an actor."
James Purefoy
Veteran actor James Purefoy is joining the cast of the historical drama Marie Antoinette. Purefoy has played many iconic characters on the small screen, including Mark Antony in the HBO series Rome, serial killer Joe Carroll in The Following, and Laurens Bancroft in the Netflix series Altered Carbon. He played the titular character in the British movie Solomon Kane in 2009, cast alongside Max von Sydow, Rachel Hurd-Wood, and Pete Postlethwaite. Prior to joining the cast of Marie Antoinette, Purefoy appeared in Pennyworth, El Candidato, No Man's Land, and A Discovery of Witches. In an interview with INews, Purefoy declared Michael Caine to be an acting inspiration of his: "He's a big hero of mine, simply for the fact of those films he made in the 70s and 80s: Jaws 4, The Swarm, The Hand. I love him for doing those films – he was a jobbing film star, or [he does The Voice] 'a movie actor' as he describes himself."
Marthe Keller
Veteran Swiss actress Marthe Keller is also playing a role in the upcoming series Marie Antoinette. She's worked on both European and American projects, most recently The Staggering Girl, The Romanoffs, After Love, Amnesia, In a Rush, and Page Eight. Aside from her on-camera work, Keller also works as an opera director.
Roxane Duran
French-Austrian actress Roxane Duran is joining the cast of Marie Antoinette. Already celebrated at a young age, she gained recognition for her role in The White Ribbon, a movie that won the Palme d'Or. On film she's played roles in Evolution, Paula, Lovers, and the upcoming Mrs. Harris Goes to Paris. Prior to joining Marie Antoinette, Duran appeared in episodes of Witnesses, Riviera, and Germanized, for which she appeared in 10 episodes.
Liah O'Prey
Young actress Liah O'Prey is also joining Marie Antoinette. She started her career as a child actress, making her debut in the horror movie Painless, where she played the character of Ines. She has since appeared in movies like Young Ones, West Coast, Black Snow, Mary Queen of Scots, La jauria, and Madame Claude. On TV, she's worked in Mortel, The Eddy, Domina, and Capitaine Marleau.
Crystal Shepherd-Cross
Actress Crystal Shepherd-Cross has also been listed as a cast member of Marie Antoinette. Her IMDb says she's worked in projects like Renaissance, La Pose, and La louve. Aside from acting, Shepherd-Cross also works as a director.
Caroline Piette
Caroline Piette performed in movies like BPM, Juste un regard, and Drumont.
Oscar Lesage
Young actor Oscar Lesage appeared in projects like The Almond Tree and The Room.
Yoli Fuller
Last on the list is Yoli Fuller, who will be joining the cast of Marie Antoinette. IMDb profiles the actor as follows: "Yoli Fuller is an actor, working in film and on stage. He is known for The Widow (2019), or Harlan Coben's No Second Chance (2015). He also played in Mosquitoes (2017) alongside Oscar winner Olivia Colman at the National Theatre of London. He is bilingual in English and French and also plays in Italian and German."